Taras Burdeinyi, Burisma Group CEO: We Started Reactiving Idle Soviet Wells
Burisma Group Started Reactiving Idle Soviet Wells
Burisma Group started reactivating Soviet wells that have been sitting idle from the 60s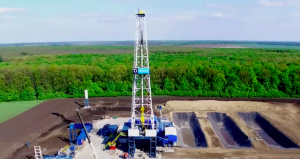 With latest equipment and innovative technologies, Burisma Group can work successfully on idle wells
Burisma Group started reactivating Soviet wells that have been sitting idle from the 60s
Three wells have already produced up to 3 cubic meters of oil and 5-6 thousand of gas"
— Taras Burdeinyi, Burisma Group CEO
KYIV, KYIV , UKRAINE, June 27, 2018 /EINPresswire.com/ -- Burisma Group started reactivating Soviet wells that have been sitting idle from the 60s.
Back then, it was believed that their watercut exceeded 85% making production unprofitable.
With technologies available at that time, obtaining resources was extremely difficult. Currently, the state is managing hundreds of such wells.
"We have rented 14 long-idle Soviet wells in the Poltava region. With latest equipment and innovative technologies, Burisma Group can work successfully on idle wells", said Burisma Group CEO Taras Burdeinyi. - As a socially responsible company, we also see this challenge as a chance to help Ukraine reclaim energy independence".
"Eventually, we will be able to get a clear picture of what we need in terms of equipment and technology to revamp production from marginal or idle wells," added Taras Burdeinyi.
According to him, so far this project has received funding in the amount of more than $50 million.
The first to make the list were the wells managed earlier by state-owned companies. These wells have been located and works have begun.
"We have rented these idle wells and started reactivating them. Three wells have already produced up to 3 cubic meters of oil and 5-6 thousand of gas. But it's too early to talk about exact results, " noted Taras Burdeinyi.
For more detailed information please contact our press-center: media@burisma.com
Burisma Group
Burisma Group
0 800 212 996
email us here
Burisma Group started reactivating Soviet wells that have been sitting idle from the 60s

EIN Presswire does not exercise editorial control over third-party content provided, uploaded, published, or distributed by users of EIN Presswire. We are a distributor, not a publisher, of 3rd party content. Such content may contain the views, opinions, statements, offers, and other material of the respective users, suppliers, participants, or authors.