K2 Energy Solutions will be exhibiting at the EES North America and Intersolar trade show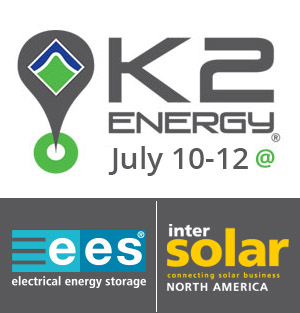 Exhibiting in the Electrical Energy Storage Section in booth #8033
This conference opens doors for innovation, information and opportunities that will keep K2 Energy on the front lines of cell, battery, and systems development."
— Megan Smith
HENDERSON, NV, UNITED STATES, June 21, 2018 /EINPresswire.com/ -- K2 Energy Solutions will be exhibiting at the EES North America and Intersolar trade show. Coming together with 130 energy storage exhibitors and more than 15,000 visitors in the epi-center of the U.S. energy storage market; K2 Energy will connect with all parts of the value chain in innovative battery and storage technologies. The rapidly growing energy storage market will explore energy storage systems in combinations with PV and more in San Francisco this July 10-12.
K2 Energy is actively involved in all aspects of battery solutions, from application specific cell chemistry to large scale energy storage system implementation, and looks forward to the coming opportunity to share their enthusiasm on all things battery related.
"This conference opens doors for innovation, information and opportunities that will keep K2 Energy on the front lines of cell, battery, and systems development." explains Megan Smith, K2's Marketing and Communications Manager, "We will be actively involved in discussions on all aspects of battery solutions, and are eager to partner with other attendees to find solutions to their battery application needs" Smith states.
EES North America and Intersolar will be an epicenter for Manufacturers, Distributors, Users and Suppliers in the energy field. K2 Energy will be exhibiting in the section of Electrical Energy Storage in booth #8033.
K2 Energy was founded in the growing technology hub of Henderson, Nevada in 2006, and is a leading developer and producer of Lithium Iron Phosphate cells, batteries, and systems used in advanced medical, industrial, and military applications. K2's world-class team of scientists and engineers has extensive experience in all aspects of energy storage design, systems integration, manufacturing, support testing and quality control. Our knowledge base encompasses from the cell, to pack, and system level while being able to optimize battery solutions to achieve customer goals.
George Chesonis
K2 Energy Solutions
702.478.3590
email us here

EIN Presswire does not exercise editorial control over third-party content provided, uploaded, published, or distributed by users of EIN Presswire. We are a distributor, not a publisher, of 3rd party content. Such content may contain the views, opinions, statements, offers, and other material of the respective users, suppliers, participants, or authors.