Florida Third Degree Felony Grand Theft Cover Up by Enterprise and National Car Rental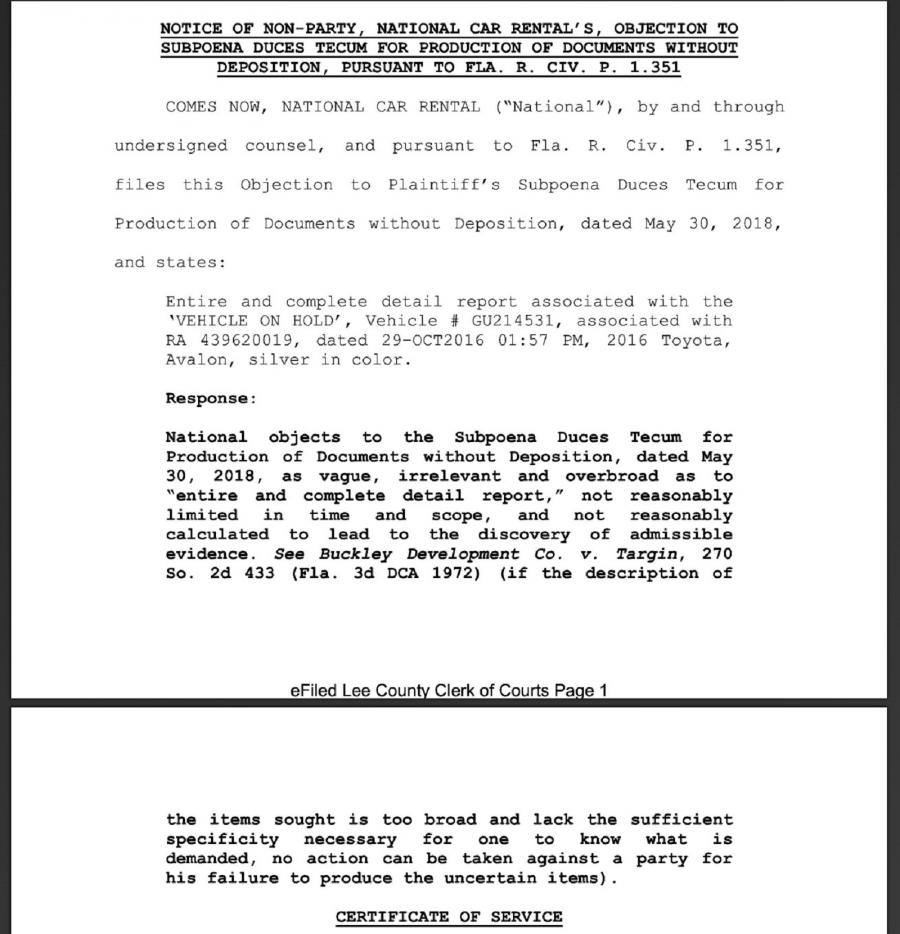 Enterprise National Car Rental files last-second objection to hide evidence from public
Behemoth rental agency desperate to hide facts after attempted third degree felony grand theft at the SW FL Fort Myers International Airport
Enterprise has been accused of running a ding-and-dent scam so often by readers of this site, I've lost count."
— Christopher Elliott, Elliott.org, founder and publisher
ST. LOUIS, MISSOURI, UNITED STATES OF AMERICA, June 12, 2018 /EINPresswire.com/ -- SubscriberWise, the nation's largest issuing consumer reporting agency for the communications industry and the leading identity protector for babies for girls and for boys, announced today the OBJECTION TO SUBPOENA DUCES TECUM and the attempted grand theft in the state of Florida following a fraudulent $502.80 'ding and dent' scam by tortfeasor Enterprise Holdings' National Car Rental.
View the OBJECTION filed with the Lee County Clerk of Courts on June 11, 2018: https://www.docdroid.net/N677b81/enterprise-national-objection.pdf
According to SubscriberWise, the eleventh-hour objection reveals a desperate attempt to hide evidence that was, ironically, exposed by a National Car Rental agent during the commission of the theft attempt at the SW Florida Fort Myers International Airport on October 29, 2016.
Remarkably, SubscriberWise reports—within hours of the launch of the Lee Port Authority Police criminal investigation and Wink News' cameras rolling at the SW FL Fort Myers International Airport—an Enterprise Area Manager urgently contacted the crime victim and cried 'human error,' promising the 'grand theft' (http://www.leg.state.fl.us/statutes/index.cfm?App_mode=Display_Statute&URL=0800-0899/0812/Sections/0812.014.html) money demand would end immediately.
Listen to the money demand: https://soundcloud.com/user-370781554/national-car-rental-damage-recovery-scam
Related: United States of America Child ID Guardian, FICO Professor, and Enterprise Holdings Theft Victim Returns to Capitol Hill -- https://www.businesswire.com/news/home/20180524006481/en/United-States-America-Child-ID-Guardian-FICO
Related: WRONG VEHICLE and Blatantly False Statements Provided Under Oath to Lee Port Authority Police by Defendant Enterprise Holdings -- https://www.businesswire.com/news/home/20180504005916/en/WRONG-VEHICLE-Patently-False-Statements-Oath-Lee
About SubscriberWise
By incorporating years of communications performance data and decision models, including FICO's latest analytic technology (FICO 9 Score), SubscriberWise® delivers unprecedented predictive power with a fully compliant, score driven decision management system. SubscriberWise is a risk management preferred-solutions provider for the National Cable Television Cooperative (www.nctconline.org). The NCTC helps nearly 1000 members nationwide.
SubscriberWise is a U.S.A. federally registered trademark of the SubscriberWise Limited Liability Co.
Media Relations
SubscriberWise
330-880-4848 x137
email us here
Report Car Rental Scams and Other Fraud to the FTC
Distribution channels:
Agriculture, Farming & Forestry Industry
,
Amusement, Gaming & Casino
,
Automotive Industry
,
Business & Economy
,
Conferences & Trade Fairs
,
Consumer Goods
,
Education
,
Human Rights
,
International Organizations
,
Law
...

EIN Presswire does not exercise editorial control over third-party content provided, uploaded, published, or distributed by users of EIN Presswire. We are a distributor, not a publisher, of 3rd party content. Such content may contain the views, opinions, statements, offers, and other material of the respective users, suppliers, participants, or authors.