1Heart is Awarded Best in Home Care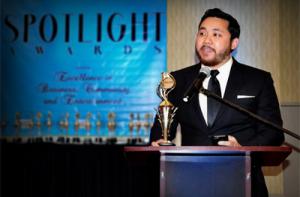 Kevin Tagarao (VP of Operations - 1Heart Caregiver Services) receiving the Best in Home Care Award on the company's behalf
LOS ANGELES, CALIFORNIA, UNITED STATES, May 24, 2018 /
EINPresswire.com
/ --
1Heart Caregiver Services
received another award for this year. This time the company garnered the 2018 Spotlight Award for Best in Home Care.
The Spotlight Awards held last May 20, in Whittier, CA was established to recognize carefully selected and diverse range of honorees and awardees who have displayed excellence in business, entertainment, and the community. This award-giving organization was designed to identify and honor the successful businesses and extraordinary talents in local entertainment, and leading community organizations in the Fil-Am Community in Southern California.
1Heart gets this 2018 award for the distinction of being one of the companies who has shown great success in their respective industries. Throughout its many years of providing
exceptional home care service in Los Angeles
, 1Heart was also able to bring their success to their other franchisee locations within Southern California and Nevada.
1Heart's Vice President of Operations, Kevin Tagarao was present during the event and received the award on the company's behalf. He was proud of 1Heart's staff's efforts and attributes this recognition due to everyone's dedication to work, the company's streamlined business process, and quality training. He also attributes this recognition particularly to the caregivers who have done their best to uphold the company's brand and good standing by providing quality home care service even in the most demanding conditions.
"I'd like to recognize not only our corporate staff who have done a great job these past couple months but also to our caregivers who I admire for their dedication to their work and compassion for our senior clients. Our caregivers are required to perform extraordinary work for seniors who suffer from an array of debilitating health conditions. Taking care of a human life is no easy feat. Yet every day they devote themselves to providing compassionate care to the loved ones of many families. I have nothing but the highest regard for individuals who dedicate their lives to the safety, comfort, and care of other people."
About 1Heart Caregiver Services®
1Heart Caregiver Services®, 1Heartcares.com, is a national premier senior care services company that provides professional private care duty to seniors and adults requiring assistance in their home and healthcare needs. 1Heart Caregiver Services is a Certified Member of the American Board of Home Care, CAHSAH (California Association for Health Services at Home), and the Los Angeles Chamber of Commerce. As a
franchisor
, 1Heart has also brought success to its other franchisee locations in Los Angeles County, Orange County, Ventura County, Santa Barbara County area, and in West Las Vegas, Nevada.
Belina Calderon-Nernberg
1Heart Caregiver Services
8053388100
email us here
1Heart Round-The-Clock Care "Sweater"