The Next Female Rap Artist on Deck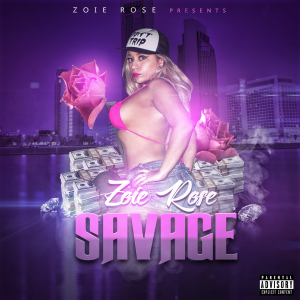 Meet Zoie Rose
HOUSTON, TEXAS, UNITED STATES OF AMERICA, April 30, 2018 /
EINPresswire.com
/ -- Jennifer Rose Leal known professionally as "Zoie Rose" is a rapper, singer, and songwriter from Corpus Christi, TX. Zoie started writing lyrics in middle school and continued to develop her own style. She first received attention for the Texas Mic Compilation. Rose has been quoted by many to rap with a fierce storytelling unique style. In her sexy petite voluptuous frame and exquisite green eyes "Zoie Rose" packs a helluva punch into her new hit singles "Savage" and "Let it Be".
After linking up with J Chamberlain and inking a deal with Size Up Entertainment.This rising new ferocious yet humble artist is set to become one of today's top female rap artist in the game. The new single "Savage" produced by Houston's own Pancho V, A.K.A "Pancho the Plug", Salty Water Records. You can find her music and new releases at
Zoierosemusic
.com.
The Texas rap scene is full of talent and Zoie recognizes that. When Zoie spoke with Size Up about her new solo project "Savage" Rose said, "I'm trying to come out of my own lane and you have to respect that". Zoie knows and has what it takes to get to the top. She shines in the spotlight and she is money when she steps up to the mic. You can expect nothing but big things from Zoie in the future. Keep up with Zoie and her newest track 24/7 at Zoierosemusic.com.
Jeremy Simple
Size Up
832 230 6941
email us here

EIN Presswire does not exercise editorial control over third-party content provided, uploaded, published, or distributed by users of EIN Presswire. We are a distributor, not a publisher, of 3rd party content. Such content may contain the views, opinions, statements, offers, and other material of the respective users, suppliers, participants, or authors.