Trump and White House Alerted by Czar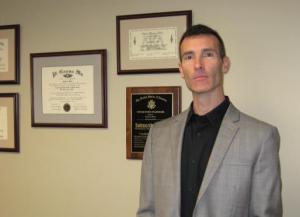 Global Credit Czar and Child Protector David Howe

U.S. Credit Czar Howe Seeks FTC System to End Stolen Futures!
SubscriberWise: Federal SSN crime, application fraud, and attempted theft; police confirm 9-year-old's identity stolen by live-in lover. Howe alerts POTUS
Unfortunately, the negative consequences of wrecked credit from a stolen identity will often last for years. The emotional toll can be much more devastating and may last a lifetime."
— David Howe, global Credit Czar and FICO Oracle
WASHINGTON, D.C. , USA, June 21, 2017 /
EINPresswire.com
/ --
SubscriberWise
, the largest issuing CRA for the communications industry and the nation's leading advocate for children victimized by identity fraud, announced today the confirmation of a child's criminal victimization by a live-in lover who attempted to avoid unpaid programming and unreturned equipment charges from multiple accounts spanning nearly 20 years with the Ohio-based MSO.
The identity was stolen during a service request on June 12, 2017, and submitted with a SubscriberWise permissible-purpose consumer credit inquiry at MCTV (
www.mctvohio.com
). The inquiry generated a 'No Hit' that resulted in a manual review as part of federally mandated 'Red Flag' compliance guidelines. Police confirmed the child's victimization on June 20, 2017, during a follow-up phone call with SubscriberWise CEO and
MCTV credit manager
David Howe.
"Last week MCTV was criminally victimized, again," lamented SubscriberWise founder and MCTV credit manager David Howe. "And worse, another innocent and defenseless child had his identity criminally exploited during the commission of the crime.
"As usual, the perpetrator has a large unpaid balance with unreturned equipment. The perpetrator's lover – who happens to be the 9-year-old victim's mother – also has an unpaid account. The mother's ex-lover, the victim's father, owes money and equipment as well.
Related (YouTube): Gessner and Howe Discuss Children, Data, FICO, Fraud, and More during 2017 NCTC WEC:
http://www.youtube.com/watch?v=vALtVPCs6j0&feature=youtu.be
"Yesterday, Massillon Police unequivocally confirmed for me the 9-year-old's criminal victimization -- less than 24 hours after I hand-delivered the evidence to the department," Howe stated. "The officer advised that a report would be available promptly and the case would be forwarded to the detective bureau.
"On Monday evening the perpetrator called and acknowledged his guilt to me, immediately after the police initiated their contact. I was surprised by his contact because a prior attempt – before law enforcement involvement – yielded an abrupt disconnection when I attempted to confirm identity. Today, he called again and I explained the matter is now under the jurisdiction of the State of Ohio.
"As always, I appreciate the thorough and immediate response by the Massillon Police and, in particular, Officer Hyatt, the patrolman who handled the evidence and Red Flag criminal complaint (
https://www.ftc.gov/tips-advice/business-center/guidance/fighting-identity-theft-red-flags-rule-how-guide-business
).
"Is there anyone in America that still has questions about why these child identity crimes are occurring hundreds of times every day in this nation?" Howe rhetorically continued.
"Yes, every day at least 200 hundred children are victimized when their otherwise spotless identity is hijacked – most often by a parent or guardian with access to the child's personal information – and no one should expect a reduction in these easy-to-commit crimes anytime soon.
Related: FICO G.O.A.T. and U.S. Credit Czar Howe Tweets President Trump: 9 Child Victims Every Hour in U.S.A.:
http://www.businesswire.com/news/home/20170214006387/en/FICO-G.O.A.T.-U.S.-Credit-Czar-Howe-Tweets
"Sadly, and despite the hundreds and hundreds of cases exposed by SubscriberWise over the years, there remains absolutely zero federal technology solutions to adequately protect a child's social security number at the national repositories.
"Unfortunately, the negative consequences of wrecked credit from a stolen identity will often last for years. The emotional toll can be much more devastating and may last a lifetime.
"And this begs the question," continued Howe. "Will Congress ever do its job and adopt SubscriberWise's proposed technology and educational legislative solutions to protect the most innocent among us (
http://www.enhancedonlinenews.com/news/eon/20140911006498/en/Child-Identity-theft/Identity-fraud/SSN-index)?
I wonder.
"Perhaps it's time I plan a serious run for Congress," Howe pondered.
''Yes, damn it, for the children I must run,'' concluded
the Czar
.
About SubscriberWise and Credit Czar David Howe
SubscriberWise® launched as the first U.S. issuing consumer reporting agency exclusively for the cable industry in 2006. In 2009, SubscriberWise and TransUnion (
http://newsroom.transunion.com/transunion-and-subscriberwise-announce-joint-marketing-agreement
) announced a joint marketing agreement for the benefit of America's independent cable operators. Today SubscriberWise is a risk management preferred-solutions provider for the National Cable Television Cooperative.
SubscriberWise contributions to the communications industry are quantified in the billions of dollars annually.
Over the past decade and counting, Howe has been consulted by the highest levels of executive management from the leading communications operators in the country including Sprint, Time Warner, Mediacom, Metrocast, Atlantic Broadband, Armstrong, Antietam, Comporium, Grande, Cincinnati Bell, NPG, NewWave, GTA Teleguam, Cable ONE, Shentel, and many many others.
Having directly prevented multitudes more child identity thefts than any single individual including law enforcement professionals nationwide, David Howe is recognized as one of the most productive and engaged child identity theft experts of the 21st century. Howe's expertise on the subject of identity theft has been shared with virtually all levels of state and federal law enforcement agencies including field agents from the FBI. In 2014, Howe was contacted by IBM's RedCell Counter Fraud and Financial Crimes Intelligence organization for training and information concerning child identity fraud.
Howe is also the highest FICO achiever in worldwide banking and financial history since human beings started counting on their fingers. Howe is the only known individual – living or deceased – to have obtained and documented simultaneous perfect FICO 850 and Vantage Scores across every national credit bureau.
SubscriberWise is a U.S.A. federally registered trademark of the SubscriberWise Limited Liability Co.
Media Relations
SubscriberWise
330-880-4848 x137
email us here