FarStone Releases VirtualDrive CD/DVD Emulation Software V16.10 for Windows 10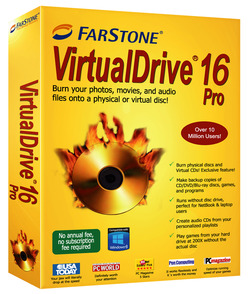 VirtualDrive, one of the original virtual CD/DVD software first released in 1996, now supports Windows 10 and comes with new features and enhancements.
IRVINE, CALIFORNIA, USA, August 7, 2015 /
EINPresswire.com
/ -- FarStone Technology, known for their refined VirtualDrive virtual CD/DVD and TotalRecovery PC system backup solutions, has released VirtualDrive 16.10. VirtualDrive converts a CD, DVD or Blu-ray as a compressed image, or "virtual CD", which can be played on a "virtual drive" that the software creates.
Virtual CDs run directly on the hard drive with access speed nearly 200 times faster than CD-ROMs, accelerating performance for PC games, video CDs, photo CDs, and CD/DVD-based applications.
"We are pleased to announce the release of version 16.10 of VirtualDrive that supports the coming Windows 10. " said Peter Lin, Product Manager of FarStone. VirtualDrive allows users to use ISO files immediately without needing a DVD drive or burn to DVD discs. In addition to bug fixes, there are some new features added in this new release. "Users will be happy with our new release" said Peter Lin.
VirtualDrive 16 Main Features:
• Windows 10 Compatible
• Use DVD ISO image electronically without the need of a DVD drive or DVD disc
• Make unique customized virtual CD/DVD images
• No noise, no tear and no lost CD/DVD
• Perfect Pad and computers without a DVD drive
• Play up to 23 virtual CD/DVDs simultaneously
• Share CD/DVDs on a network
• Hot-key for hard-core CD/DVD users and gamers
• Automatically load and insert virtual CD/DVDs into virtual drives upon system startup
• Portability and Convenience
• VirtualDrive Network edition for easy management of virtual CD/DVD/BDs for multiple users
About VirtualDrive
FarStone VirtualDrive has been in the virtual CD/DVD/BD emulation and burning industry for more than a decade. VirtualDrive converts a CD/DVD into a Virtual CD image file (VCD), which plays in any one of up to 23 emulated virtual CD/DVD/BD drives. VirtualDrive allows you to emulate, burn, copy, create, and share virtual CD/DVD or Blu-ray electronically.
Pricing and availability
VirtualDrive Pro is designed for home users and priced at $49.95 per license. VirtualDrive Network is ideal for businesses, schools and libraries, priced at $69.95 for each workstation. Volume licensing is available from their license programs.
About FarStone Technology, Inc.
Founded in 1993, FarStone Technology develops pc and data backup, hard disk imaging, and virtual CD/DVD drive emulation software. FarStone is an ISO 9001 certified software publisher holding multiple technology patents. Headquartered in Irvine, CA, the company licenses its PC and server backup software to corporations, small businesses, educational institutions and consumers worldwide. FarStone's global technology partners include Intel, AOL, Phoenix Technologies, Trend Micro, and Asus.
Media Contact:
Peter Lin (peter@farstone.com)
19493364321
News Provided By:
Submit Press Release 123
Salma Zaman
Submit Press Release 123
(972)646-2788
email us here