Registration Now Live for the Industry Leading Benelux Infrastructure Forum 2015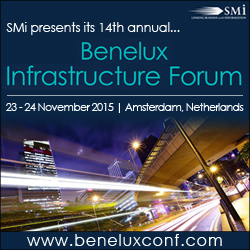 SMi is delighted that registration is now open for the 14th Annual Benelux Infrastructure Forum, taking place on the 23-24 November in Amsterdam, Netherlands.
AMSTERDAM, NETHERLANDS, June 15, 2015 /
EINPresswire.com
/ -- Recent years have seen changes to ways in which large scale infrastructure projects have been financed. While many projects still largely depend on long term bank debt, with the introduction of stiffer regulations, funding is also sought from other sources including private sector investing, project bonds, pension funds, government funding and institutional investors. These all have different criteria, however without these funding sources, the rapid rise in infrastructure developments in the Benelux area could not continue.
Following on from the success of last years'
event
, SMi is proud to announce that registration for the extremely successful - and industry leading - 14th Annual
Benelux Infrastructure Forum
is now open. This year's conference will examine highly relevant developments in the pipeline, including new PPP projects and the increasing focus on renewable energy ventures, especially in relation to offshore wind and how these are funded. There will also be a focus on new and existing projects such as the UK Biomass Project, PPP in maritime and road infrastructure, flood infrastructure assets and much more…
Benefits of Attending in 2015:
Through a series of exciting case studies, presentations and panel discussions this premier event will allow unrivalled networking allowing for a gathering of the industry's infrastructure developers, investors, financiers & government agencies as they discuss and debate latest developments in the Benelux region. This year's event will look at new pipeline opportunities in areas including:
• Evaluating mechanisms to procure infrastructure projects
• Project bonds – what is happening and what does the future hold?
• Reviewing smaller PPP projects and what lessons can be learned from them
• Developments in public transport and funding for these projects
• Project life cycle, value for money and risk management…
Expert Speaker Line-up Includes:
• Frank Schramm, Co-CEO, BBGI S.A.
• Dominik Zunt, DG Economic and Financial Affairs (ECFIN), coordination with EIB Group, EBRD and IFIs, Financing of Climate Change, Infrastructure Policies and Euratom (ECFIN L3), European Commission
• Han Claessens, Senior Investment Manager, PGGM Investments
• Jeroen Kies, Assistant General Manager, Structured Finance Department, Sumitomo Mitsui Banking Corporation Europe
• Rob Peters, Finance Manager, Rijkswaterstaat, Dutch Ministry of Infrastructure and the Environment
• Willem Stitselaar, Managing Director, Macquarie Capital
• Jan Willem Van Roggen, Managing Director, NIBC Bank
• Francois Yves Gaudeul, Director, Infrastructure Debt, Allianz Global Investors
• Benoît Theys, Real Estate & PPP Finance Manager, AG Real Estate
• Johan Mouraux, Partner, DLA Piper
• Prof. Dr. Chris Zevenbergen, Strategic Advisor Of The Executive Board, Chair Flood Resilience Group UNESCO-IHE, Dura Vermeer Group NV, UNESCO-IHE and TuDelf
• Joris van Papenrecht, Commercial Director, BAM PPP The Netherlands and Belgium
• Ian Conlon, Financial Instruments Team, Unit B4, DG MOVE, European Commission
• Roeland van der Zee, Senior Consultant, Aon Global Risk Consulting
• Karel Joos, Partner, Interel
• Bernward Kulle, Executive Board Member, ÖPP Deutschland AG
For those who want to register for this event there is currently an
early bird saving
of £300 until July 17th.
For more information please visit
www.beneluxconf.com/ein
or contact Andrew Gibbons on +44 (0) 207 827 6156 or agibbons@smi-online.co.uk
-------------------------- END --------------------------
About SMi Group:
Established since 1993, the SMi Group is a global event-production company that specializes in Business-to-Business Conferences, Workshops, Masterclasses and online Communities. We create and deliver events in the Defence, Security, Energy, Utilities, Finance and Pharmaceutical industries. We pride ourselves on having access to the world's most forward thinking opinion leaders and visionaries, allowing us to bring our communities together to Learn, Engage, Share and Network. More information can be found at
http://www.smi-online.co.uk
Sarah Watson
SMi Group Ltd
+442078276156
email us here