Private LTE & 5G Network Infrastructure a $6.4 Billion Opportunity, Says SNS Telecom & IT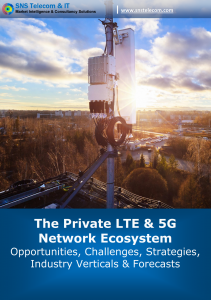 Sample Extract From SNS Telecom & IT's Database of Global Private LTE/5G Engagements
Global Spending on Private LTE & 5G Networks for Vertical Industries by Technology Generation: 2023 – 2026 ($ Million)
Global spending on private LTE and 5G network infrastructure for vertical industries to account for more than $6.4 Billion by the end of 2026
Global spending on private LTE and 5G network infrastructure will grow at a CAGR of approximately 18% between 2023 and 2026, eventually accounting for more than $6.4 Billion by the end of 2026"
— SNS Telecom & IT
NEW YORK, UNITED STATES, September 28, 2023 /EINPresswire.com/ -- SNS Telecom & IT's latest research report indicates that global spending on private LTE and 5G network infrastructure for vertical industries – which includes RAN (Radio Access Network), mobile core and transport network equipment – will account for more than $6.4 Billion by the end of 2026.
Historically a niche segment of the wider cellular communications industry, private cellular networks – also referred to as NPNs (Non-Public Networks) in 3GPP terminology – have rapidly gained popularity in recent years due to privacy, security, reliability and performance advantages over public mobile networks and competing wireless technologies as well as their potential to replace hardwired connections with non-obstructive wireless links. With the 3GPP-led standardization of features such as MCX (Mission-Critical PTT, Video & Data), URLLC (Ultra-Reliable, Low-Latency Communications), TSC (Time-Sensitive Communications), SNPNs (Standalone NPNs), PNI-NPNs (Public Network-Integrated NPNs) and network slicing, private networks based on LTE and 5G technologies have gained recognition as an all-inclusive connectivity platform for critical communications, Industry 4.0 and enterprise transformation-related applications. Traditionally, these sectors have been dominated by LMR (Land Mobile Radio), Wi-Fi, industrial Ethernet, fiber and other disparate networks.
The liberalization of spectrum is another factor that is accelerating the adoption of private LTE and 5G networks. National regulators across the globe have released or are in the process of granting access to shared and local area licensed spectrum. Examples include but are not limited to the three-tiered CBRS (Citizens Broadband Radio Service) spectrum sharing scheme in the United States, Canada's planned NCL (Non-Competitive Local) licensing framework, United Kingdom's shared and local access licensing model, Germany's 3.7-3.8 GHz and 28 GHz licenses for 5G campus networks, France's vertical spectrum and sub-letting arrangements, Netherlands' geographically restricted mid-band spectrum assignments, Finland's 2.3 GHz and 26 GHz licenses for local 4G/5G networks, Sweden's 3.7 GHz and 26 GHz permits, Norway's regulation of local networks in the 3.8-4.2 GHz band, Poland's spectrum assignment for local government units and enterprises, Bahrain's private 5G network licenses, Japan's 4.6-4.9 GHz and 28 GHz local 5G network licenses, South Korea's e-Um 5G allocations in the 4.7 GHz and 28 GHz bands, Taiwan's provision of 4.8-4.9 GHz spectrum for private 5G networks, Hong Kong's LWBS (Localized Wireless Broadband System) licenses, Australia's apparatus licensing approach, India's CNPN (Captive Non-Public Network) leasing framework and Brazil's SLP (Private Limited Service) licenses. Even China – where mobile operators have been at the forefront of initial private 5G installations – has started allocating private 5G spectrum licenses directly to end user organizations. Vast swaths of globally and regionally harmonized license-exempt spectrum are also available worldwide that can be used for the operation of unlicensed LTE and 5G NR-U equipment for private networks. In addition, dedicated national spectrum in sub-1 GHz and higher frequencies has been allocated for specific critical communications-related applications in many countries.
Private LTE and 5G networks are continuing their upward trajectory with deployments targeting a multitude of use cases across various industries, ranging from localized wireless systems for dedicated connectivity in factories, warehouses, mines, power plants, substations, offshore wind farms, oil and gas facilities, construction sites, maritime ports, airports, hospitals, office buildings and university campuses to regional and nationwide sub-1 GHz private wireless broadband networks for utilities, FRMCS (Future Railway Mobile Communication System)-ready networks for train-to-ground communications, and hybrid government-commercial public safety LTE networks, as well as rapidly deployable systems such as the German Armed Forces' ZNV (Deployable Cellular Networks) solution, Hsinchu City Fire Department's satellite-backhauled portable 5G network for emergency communications and BBC's (British Broadcasting Corporation) temporary private 5G network used during King Charles' coronation. Custom-built cellular networks have also been implemented in locations as remote as Antarctica and there are even plans for installations on the moon's surface and outer space.
SNS Telecom & IT estimates that global spending on private LTE and 5G network infrastructure for vertical industries will grow at a CAGR of approximately 18% between 2023 and 2026, eventually accounting for more than $6.4 Billion by the end of 2026. As much as 40% of these investments – nearly $2.8 Billion – will be directed towards the build-out of standalone private 5G networks that will become the predominant wireless communications medium to support the ongoing Industry 4.0 revolution for the digitization and automation of manufacturing and process industries. This unprecedented level of growth is likely to transform private LTE and 5G networks into an almost parallel equipment ecosystem to public mobile operator infrastructure in terms of market size by the late 2020s.
The "Private LTE & 5G Network Ecosystem: 2023 – 2030 – Opportunities, Challenges, Strategies, Industry Verticals & Forecasts" report presents an in-depth assessment of the private LTE and 5G network ecosystem, including the value chain, market drivers, barriers to uptake, enabling technologies, operational and business models, vertical industries, application scenarios, key trends, future roadmap, standardization, spectrum availability and allocation, regulatory landscape, case studies, ecosystem player profiles and strategies. The report also presents global and regional market size forecasts from 2023 till 2030. The forecasts cover three infrastructure submarkets, two technology generations, four spectrum licensing models, 15 vertical industries and five regional markets.
The report comes with an associated Excel datasheet suite covering quantitative data from all numeric forecasts presented in the report, as well as a database of over 6,000 global private LTE/5G engagements – as of Q2'2023.
The report will be of value to current and future potential investors into the private LTE and 5G market, as well as LTE/5G equipment suppliers, system integrators, private network specialists, mobile operators and other ecosystem players who wish to broaden their knowledge of the ecosystem.
For further information concerning the SNS Telecom & IT publication "Private LTE & 5G Network Ecosystem: 2023 – 2030 – Opportunities, Challenges, Strategies, Industry Verticals & Forecasts" please visit: https://www.snstelecom.com/private-lte
Marketing
SNS Telecom & IT
info@snstelecom.com