MindTech 2023: Behavidence Unveils Revolutionary Neurotransmitter Monitoring Technology

MindTech 2023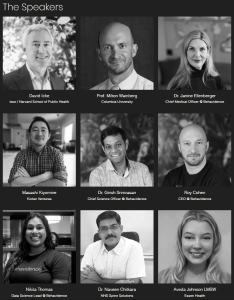 Speakers at MindTech 2023 - David Icke, Prof. Milton Wainberg, Aveda Johnson, Roy Cohen, Dr. Janine Ellenberger, Dr. Girish Srinivasan, Nikita Thomas, Dr. Navven Chitkara
Behavidence hosts MindTech 2023 in NYC on Oct 24, unveiling non-invasive brain monitoring tech via smartphones. Experts discuss mental health innovation.
NEW YORK, NY, UNITED STATES, September 20, 2023/
EINPresswire.com
/ --
Behavidence
, a pioneer in the field of digital biomarkers, is set to host MindTech 2023, a exclusive event exploring the intersection of digital innovation and mental health. Scheduled for October 24th, 2023, in New York, this event will feature an array of esteemed speakers and unveil a revolutionary non-invasive technology to monitor daily changes in neurotransmitters in the brain using smartphones and wearable devices.
MindTech 2023 promises to be a pivotal moment in the evolution of mental health screening, monitoring, and treatment. The event will bring together leading experts and visionaries to share insights, discuss breakthroughs, and envision the future of mental healthcare. Attendees can look forward to an exciting lineup of speakers, including:
1. David Icke - Executive Chair at ieso and formerly VP Digital Health at Humana.
2. Professor Milton Wainberg - Distinguished Professor at Columbia University, renowned for his pioneering work in mental health research.
3. Masashi Kiyomine - Partner at Kicker Ventures, a venture capital firm specializing in health technology investments.
4. Dr. Naveen Chitkara - A distinguished neurosurgeon at NHS Spine Solutions Hospital, known for his contributions to advancing digital healthcare solutions.
The highlight of the event will undoubtedly be Behavidence's groundbreaking technology unveiling. This new non-invasive technology will enable individuals to monitor daily changes in neurotransmitters in the brain using their smartphones or wearable devices, offering a profound leap forward in mental health monitoring and management.
Additionally, Behavidence will present cutting-edge studies on digital biomarkers for mental health and share the latest algorithm performance in predicting mental health disorders based on phone usage patterns. These innovations hold great promise for enhancing early diagnosis and treatment of mental health conditions.
In a significant development, Dr. Girish Srinivasan will also share an initial case study highlighting the product's ability to predict biological and physical changes in the brain as seen in MRI scans. This represents a trailblazing leap in non-invasive continuous monitoring of the brain and opens new avenues for personalized and more efficient mental health care.
Behavidence's impressive strides in the field of digital biomarkers have not gone unnoticed. The company is proud to announce its nomination for the prestigious Prix Galien Award for Digital Health Innovation later in the same week as the event.
MindTech 2023 is specifically designed for mental health professionals, psychiatrists, psychologists, physicians, and health tech investors who are eager to stay at the forefront of digital health advancements.
Don't miss out on this extraordinary opportunity to witness disruptive announcements, gain invaluable insights, and network with leaders in the field of digital health. Join us on October 24th, 2023, in New York for MindTech 2023.
For registration and more information about the event, please visit
www.mindtech23.com
.
Maria Torounidou
Behavidence
email us here
Visit us on social media:
Facebook
Twitter
LinkedIn