Industrial Pumps Market: Global Industry Analysis and Market Snapshot, 2021 to 2030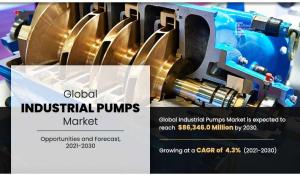 The global industrial pumps market possesses organic growth potential during the forecast period. The demand for pumps is witnessed from oil & power industries.
PORTLAND, OREGON, UNITED STATES, September 18, 2023/EINPresswire.com/ -- A report published by Allied Market Research on the global industrial pumps market states that the industry generated $55,830.1 million in 2020 and is predicted to garner $86,346.0 million by 2030 with a notable CAGR of 4.3% from 2021 to 2030.
𝙂𝙚𝙩 𝙞𝙣𝙨𝙞𝙙𝙚 𝙎𝙘𝙤𝙤𝙥 𝙤𝙛 𝙩𝙝𝙚 𝙧𝙚𝙥𝙤𝙧𝙩, 𝙧𝙚𝙦𝙪𝙚𝙨𝙩 𝙛𝙤𝙧 𝙨𝙖𝙢𝙥𝙡𝙚: https://www.alliedmarketresearch.com/request-sample/8620
Market Dynamics:
The report offers a comprehensive analysis of the global industrial pumps market, from a macro-level perspective encompassing the overall market, industry supply chain, and market dynamics, to micro-level insights that delve into specific segment markets categorized by type, position, driving force, end user, and regions. Furthermore, in addition to assessing the company's portfolio and financial performance, the study also examines Porter's five forces model and offers an overview of the company's services and products. These statistical tools are instrumental in providing crucial data pertaining to profitable opportunities within the sector.
The global industrial pumps market is experiencing growth due to a rise in construction rate, increase in demand from the mining sector, and rapid urbanization and industrialization among emerging economies. However, high operating costs, unstable prices of raw materials, and competition originating from local manufacturers restrain the market growth to some extent. Nevertheless, an increase in the need for effective wastewater management and a rise in awareness concerning energy conservation and the implementation of government regulations are estimated to provide lucrative opportunities in the upcoming years.
Industrial Pumps:
Industrial pumps play a vital role in process industries by facilitating the regulation, control, and direction of various substances, including gases, liquids, vapors, slurries, and more. These pumps are predominantly crafted from materials such as cast iron, stainless steel, carbon steel, and other high-performance metal alloys to ensure efficient flow control. They find extensive application across industries like water and wastewater management, oil and power generation, food and beverages, chemicals, and others.
Upcoming Trends in the global industrial pumps market:
The incorporation of IoT (Internet of Things) into these pump solutions creates a human-machine interface, enabling a more detailed real-time monitoring of pump operations with reduced human intervention. Digitalization has brought about revolutionary advancements and technologies in the field of pump development. Researchers are harnessing the power of big data by integrating digital technologies into pump systems. This integration aims to enhance their efficiency by analyzing, predicting, and addressing recurring issues, ultimately optimizing their performance.
𝙈𝙖𝙠𝙚 𝙖 𝙋𝙪𝙧𝙘𝙝𝙖𝙨𝙚 𝙄𝙣𝙦𝙪𝙞𝙧𝙮: https://www.alliedmarketresearch.com/purchase-enquiry/8620
Frontrunners profiled in the global industrial pumps market report:
THE WEIR GROUP PLC
ATLAS COPCO AB
KSB SE & CO.
KGAA
ITT INC.
GRUNDFOS HOLDING A/S
THE GORMAN-RUPP COMPANY
XYLEM INC.
EBARA CORPORATION
FLOWSERVE CORPORATION
SULZER LTD.
Segmentation analysis:
Global industrial pumps market by type,
Reciprocating
Centrifugal
Rotary
Other
Global industrial pumps market by position,
Non-submersible
Submersible
Global industrial pumps market by driving force,
Electrical driven
Engine driven
Global industrial pumps market by end user,
Chemicals
Water & wastewater
Oil & gas
General industry
𝙏𝙤 𝙋𝙪𝙧𝙘𝙝𝙖𝙨𝙚 𝙩𝙝𝙞𝙨 𝙋𝙧𝙚𝙢𝙞𝙪𝙢 𝙍𝙚𝙥𝙤𝙧𝙩: https://www.alliedmarketresearch.com/checkout-final/f178c8456b9ab42188fe20f1d9211669
In conclusion, the report provides a thorough analysis of the industrial pumps market, offering valuable insights to industry professionals, equipment manufacturers, established players, and new entrants. This current market intelligence serves as a foundation for formulating market-oriented strategies, policies, and potential investment decisions.
David Correa
Allied Analytics LLP
+1 800-792-5285
email us here
Visit us on social media:
Facebook
Twitter
LinkedIn