Fall in Love with Skin: Navigating Peel Season Safely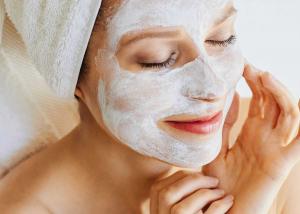 Embrace the changing season with a nourishing face mask. Indulge in self-care during Peel Season to unwind and rejuvenate. Discover the magic of radiant skin.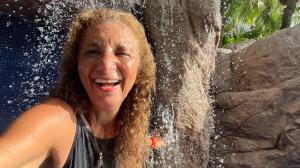 Dr. Akoury's passion for your best health knows no bounds! From beautiful skin tips to a wealth of wellness wisdom, she's here to empower your journey. Beautiful skin is just the beginning of the holistic care she's eager to share.
Embodying Transformation and Harmony: The AWAREmed logo symbolizes our holistic approach to wellness, uniting mind, body, and spirit for optimal well-being. Join us on a transformative journey towards lasting health.
Dr. Akoury's Insights for Gentle Skincare for the Changing Seasons
Beauty is in the skin! Take care of it, oil it, clean it, scrub it, perfume it, and put on your best clothes, even if there is no special occasion, and you'll feel like a queen."
— Fatima Mernissi
JOHNSON CITY, TENNESSEE, UNITED STATES, September 8, 2023/
EINPresswire.com
/ -- Peel Season Begins: The Ultimate Guide to Safe and Nourishing Skincare*
Today, as the autumn leaves start to fall and temperatures begin to drop, skincare enthusiasts welcome the much-anticipated "Peel Season." This time of year marks the perfect window for deep exfoliating skin treatments and peels. For those unfamiliar with the term, Peel Season is the opportune period for rejuvenating and revitalizing one's skin.
The Season's Advantage: As the days grow darker and colder, sun exposure and sensitivity become less of a concern. This makes it an ideal time to indulge in deeper exfoliation, prepping the skin for the harsh winter months ahead. However, it's important to note that "Peel Season" doesn't necessarily involve skin peeling treatments.
Dr. Akoury's Expert Advice: Dr. Akoury, a prominent figure in the field of skincare, advises against treatments that involve actual peeling due to the potential harm they can cause. Dermatologists echo this sentiment, highlighting that the removal process strips away more than just dried-up mask residue. It also disrupts the vital surface layer of the skin, known as the stratum corneum.
The Importance of the Skin's Barrier: This protective barrier, the stratum corneum, is the skin's first line of defense against a multitude of issues, from acne to aging to dryness and pollution damage. It consists of one's microbiome, acid mantle, and lipid matrix, all crucial components for maintaining healthy, radiant skin.
🚫 Risks of Peeling Treatments: While post-peel results may initially appear impressive with fresh, glowing skin, long-term effects can include increased breakouts, dullness, and dryness. Continuous use of peeling treatments can exacerbate these issues. Moreover, the plastic ingredients in some peeling products can prevent them from effectively penetrating pores.
A Safer Alternative: Dr. Akoury strongly recommends opting for nourishing exfoliating treatments or wash-off masks instead. With the weather turning colder and drier, skin hydration becomes paramount.
🍯 DIY Hydrating Mask: Here's a delightful DIY hydrating mask that can easily be prepared at home:
1️⃣ Combine 1 teaspoon of honey
2️⃣ Add 2 teaspoons of milk
3️⃣ Mix in 1 teaspoon of cocoa powder
🧖‍♀️ Apply the mask generously to the face.
⏰ Leave it on for 15 minutes.
🌊 Rinse thoroughly with warm water.
This simple yet effective mask will leave skin feeling refreshed and hydrated, without the risks associated with harsh peeling treatments.
As Peel Season commences, prioritize the health and well-being of the skin. Embrace gentle exfoliation and nourishing skincare routines to keep the skin looking its best throughout the colder months.
For media inquiries, please contact:
Shannon Head
Social Media Manager
shannon@awaremed.net
*Along with Dr. Akoury's 40+ years of experience and knowledge, the following resource(s) were used to write this article:
https://www.icecreamderm.com/about-us/articles/newsletter/featured-article/how-peel-off-face-masks-could-be-be-damaging-you/
Dalal Akoury
AWAREmed Health and Wellness Resource Center
+1 843-957-1196
email us here
Visit us on social media:
Facebook
LinkedIn
Instagram
YouTube
TikTok
Transform Your Skin with Natural Ingredients: Learn How With Dr. Akoury & AWAREmed