Green Acres Sew and Vac To Host BERNINA StitchWise Elevate Your Overlocking Event
Attendees will learn new ways to use overlockers and enhance their skills with Joanne Leonard
MEMPHIS, Mo., Sept. 01, 2023 (GLOBE NEWSWIRE) -- Green Acres Sew and Vac, a local family business specializing in the sales and services of sewing machines and vacuums, is excited to invite intermediate sewists and quilters to their BERNINA StitchWise Elevate Your Overlocking Event. The event will take place on September 7th and September 8th, 2023 from 9:00 AM to 4:00 PM at their store located at 221 W. Grand Avenue in Memphis, MO.

The BERNINA StitchWise Elevate Your Overlocking Event is designed to help those with an intermediate skill set to explore new techniques to use with an overlocking machine and hone in on new skills. Attendees will be led by overlock specialist, Joanne Leonard, and experience BERNINA L 8 Series machines.
Highlights of the event include: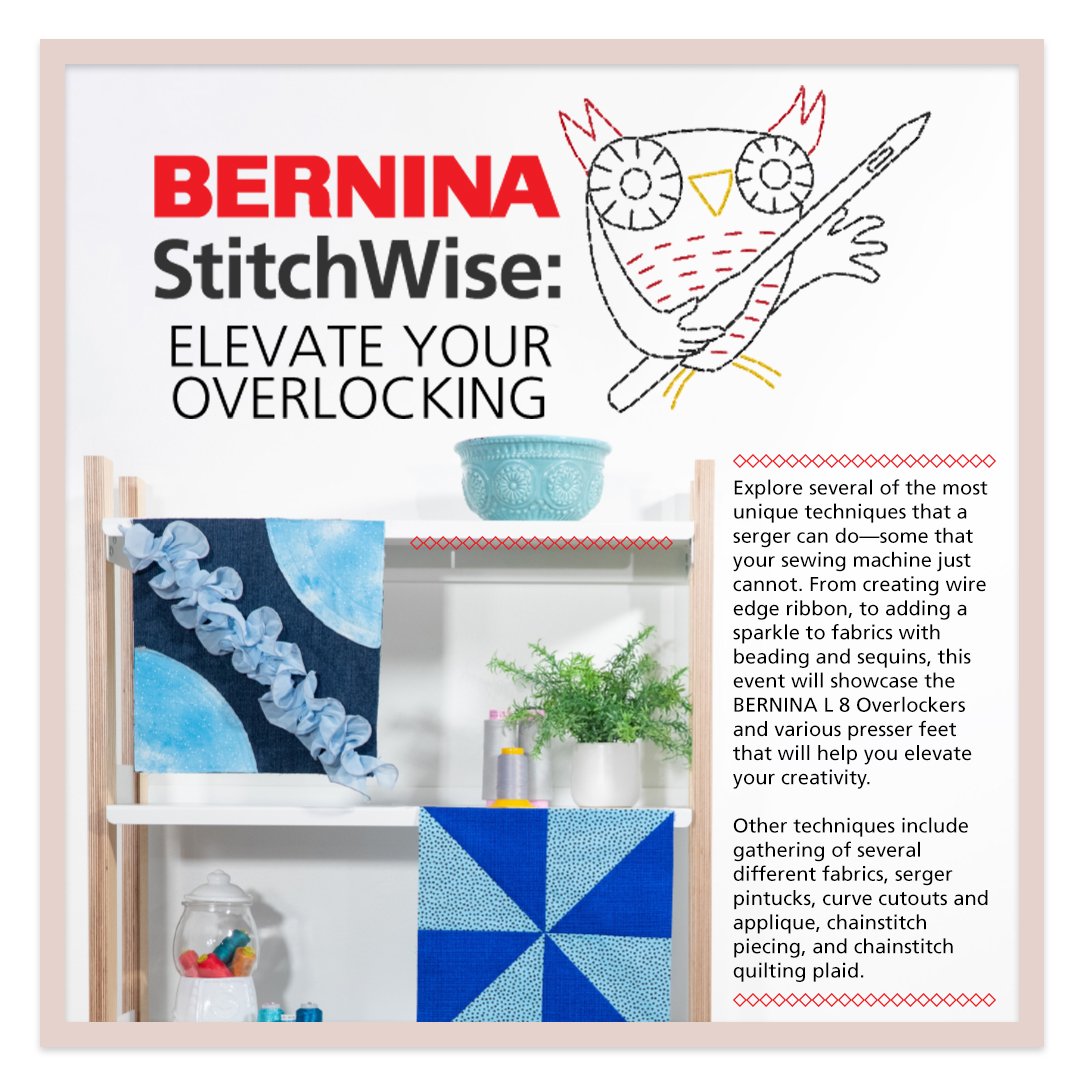 Hands-On Experience: Attendees will receive hands-on instruction on how to use the BERNINA L 8 Series machines. These sergers have been designed to offer speed and precision, as well as stitch control.
Technique Showcase: Instructor will demonstrate unique techniques to make projects standout. From creating wire-edged ribbon and adding beading to curve cutouts and appliqués, this class has been designed to unlock a wealth of knowledge.
Quilt Block Piecing: As part of the event, attendees will be piecing together different quilt blocks. This activity will allow further exploration of the machines and techniques.
To ensure a personalized learning experience, space is limited, and registration is required. The registration fee for this exclusive event is $150, which includes all materials, access to serger machines, instruction, and lunch.
Burnell Oberholtzer of Green Acres Sew and Vac, shared, "We're thrilled to be hosting this event with Joanne Leonard to teach the techniques and skills required to make projects standout with an overlocker. We hope attendees will take advantage of these new learnings and leave with a newfound excitement on the possibilities of these machines."
For registration and more information about the BERNINA StitchWise Elevate Your Overlocking Event, please visit greenacressewvac.com or call (660) 465-7131.
ABOUT BERNINA
BERNINA is the world's premier manufacturer of quality state-of-the-art sewing, quilting and embroidery machines, overlockers and embroidery software. Since being founded over 130 years ago, BERNINA has maintained a strong commitment to serving the creative community. This dedication threads through the Swiss precision found in every machine, the training and education available through our over 400 fully trained independent BERNINA Dealers and the endless tutorials and content shared on the BERNINA WeAllSew blog and social media channels. BERNINA products are designed for beginning to advanced sewists and priced to meet a variety of budgets, with new products being introduced every year.
CONTACT:
Samantha Shreve
Lola Charles Communications
EMAIL: samantha@lolacharlescommunications.com