Introducing StallionCompare.com: Revolutionizing the Stock Horse Breeding Industry with Innovative Tools for Breeders
StallionCompare.com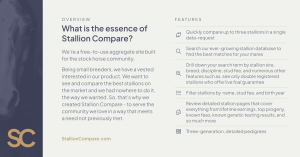 Stallion Compare announcement features list.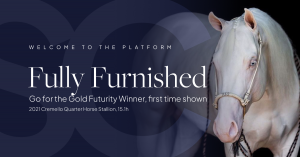 Welcoming latest stallion added to our site, Fully Furnished.
Discover StallionCompare.com: Empowering stock horse breeders with advanced tools. Find your perfect match today! Free at www.stallioncompare.com.
StallionCompare.com empowers breeders to effortlessly compare and discover perfect matches for their broodmares. We hope our invaluable tools simplify the process."
— Natashya Vince
KINGSTON, ONTARIO, CANADA, August 30, 2023/EINPresswire.com/ -- In a bold move that is set to reshape the stock horse breeding industry, StallionCompare.com has officially launched its pioneering online platform, introducing a new era of efficient and informed stallion selection for breeders. With a mission to simplify and elevate the breeding process, StallionCompare.com offers a comprehensive suite of advanced tools designed to empower breeders and broodmare owners in their quest for the perfect equine matches.
The platform's debut marks a significant milestone in the world of equine breeding, as StallionCompare.com introduces a revolutionary approach to stallion selection. Designed to be user-friendly and intuitive, the platform provides breeders with cutting-edge features that allow them to search, filter, and compare stallions based on a wide range of criteria. This innovative approach aims to streamline the breeding journey, enabling breeders to make well-informed decisions that lead to successful outcomes.
Founder and CEO of StallionCompare.com, Natashya Vince, explains, "Stallion selection is a pivotal factor in the breeding process, and we are committed to empowering breeders with the tools they need to make the right choices. Our platform is designed to make stallion discovery and comparison a seamless experience, allowing breeders to focus on what they do best."
A standout feature of StallionCompare.com is its stallion comparison tool, which offers breeders the ability to assess potential matches side by side. This feature not only saves valuable time but also empowers breeders to make more confident decisions. Additionally, the platform offers comprehensive stallion profiles, genetics information, and frequent updates to ensure that breeders have access to accurate and up-to-date data.
One of the most striking aspects of StallionCompare.com is its commitment to accessibility and inclusivity. The platform operates as a free-to-use service, offering stallion listings and advanced search capabilities to both stallion owners and breeders without any associated costs. This approach reflects StallionCompare.com's dedication to fostering collaboration and growth within the breeding community.
"We believe that information and tools should be accessible to all breeders, regardless of their resources. Our platform's user-centric design is aimed at enhancing the breeding experience and providing an environment where breeders can thrive," Natashya highlights.
As the platform gains momentum within the industry, StallionCompare.com is positioned to become an indispensable resource for breeders, stallion owners, and broodmare owners alike. The platform's innovative approach and unwavering commitment to excellence set the stage for a new chapter in breeding success and collaboration.
StallionCompare.com's impact extends beyond its feature-rich platform; it embodies a vision for the future of the stock horse breeding landscape.
In a landscape that thrives on collaboration and information sharing, StallionCompare.com emerges as a game-changer, providing breeders with the tools they need to make informed and strategic decisions. Its launch marks a pivotal moment for the industry, signaling the advent of an innovative era that is poised to enhance breeding practices, facilitate meaningful connections, and drive successful outcomes.
For additional information about StallionCompare.com and its transformative features, please visit www.stallioncompare.com or reach out to Natashya at hi@stallioncompare.com.
Natashya Vince
StallionCompare.com
hi@stallioncompare.com
Visit us on social media:
Facebook
Instagram