TraitWare and Guide Star Work Together to Make Strong Enterprise Security Simpler and More Accessible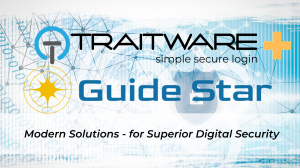 TraitWare and Guide Star partner to address the critical need for strong and stable security measures for businesses of all sizes
The landscape of security is constantly evolving, and so we must be able to adapt and modernize. ... This partnership promises to transform the outline of digital security. ..."
— Evan Rice - Guide Star
RENO, NEVADA, UNITED STATES, June 1, 2023/
EINPresswire.com
/ --
TraitWare®
, a leading innovator of passwordless phishing-resistant multi-factor authentication (MFA) for simple secure login, and
Guide Star
, a division of CCI Systems, a renowned specialist in IT and cybersecurity solutions, today announced they are joining forces. The partnership will help make strong security more widely available, particularly for small to midsize businesses (SMBs) which have become top targets for cybercriminals.
In today's connected world, the need for strong and stable security measures has become crucial for all companies. Traditional password-based security - and even traditional MFA - are failing under attack. In 2022, there were 382,000 reported attacks on companies that had (Phishable) MFA in place.
SMBs can be particularly vulnerable as they typically lack proper cybersecurity protocols.
Verizon reports
that 60% of SMBs that suffer an attack, will fail within 6 months.
TraitWare and Guide Star are joining together to help enterprises of all sizes and sectors mitigate risk with cutting-edge technology and simplify processes from enrollment to login. Guide Star's deep industry expertise and TraitWare's Passwordless Phishing-Resistant MFA solution combine to provide the best the industry has to offer.
"We understand that companies often struggle to find a balance between best practices, affordability, and adaptability. With a shared vision for better security for the enterprise and the belief in a passwordless future, we are thrilled to be working with Guide Star to ensure companies meet strict industry standards and regulations and have access to solutions that are affordable and easy to use," says Trait Ware CEO, Heath Spencer.
TraitWare's passwordless MFA eliminates shared secrets by combining device and user identity verification. This technology will reduce the risk of unauthorized access.
"The landscape of security is constantly evolving, and so we must be able to adapt and modernize, with easy-to-use, cost-saving solutions like TraitWare," says Evan Rice Guide Star Senior Vice President. "This partnership promises to transform the outline of digital security, delivering solutions that will set new standards for the industry."
About Guide Star:
Guide Star is a division of CCI Systems, based out of Iron Mountain, Michigan. Guide Star specializes in virtual service-based security and technology solutions. Guide Star is technology-agnostic, and tailors solutions that provide analysis of existing infrastructure and recommends ways to improve systems and data security. Guide Star assists with increasing the existing cyber program or implementing a new program, depending on the company's needs. For more information, visit
www.guide-star.com
, call (800) 684-2115, or email sales@guide-star.com. Follow Guide Star on LinkedIn.
About TraitWare:
TraitWare's enterprise-class, patented, plug-and-play solution combines native Multi-Factor Authentication (MFA) and Single Sign-On (SSO), eliminating the need for usernames and passwords, while making life easier for users, increasing security for organizations, and reducing IT support costs. With TraitWare, enterprises can manage all software authentications from a single console. Their award-winning authentication platform and mobile app offers NIST AAL2-level authentication assurance, full end-to-end deployment options for Enterprise (SAML, OpenID Connect, OAuth 2.0, SSH) & WordPress, and a simple user login, without usernames and passwords. This eliminates associated vulnerabilities including phishing, theft, or misuse. For more information, visit
www.traitware.com
, call (530) 264-7661, or email contact@traitware.com. Follow on Facebook, Twitter, LinkedIn and YouTube.
Media Contacts:
Elizabeth Perry elizabeth.perry@traitware.com
Katie Ottersen katie.ottersen@guide-star.com
Elizabeth Perry
TraitWare
+1 775-710-3999
email us here
Visit us on social media:
Facebook
Twitter
LinkedIn
Instagram
YouTube