Hydraulic Hammer Market Huge Demand, Business Strategies, High Growth Rate by 2031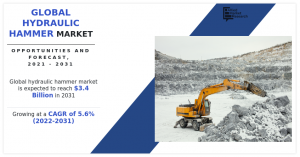 Hydraulic Hammer Market Expected to Reach $3.4 Billion by 2031
PORTLAND, OR, UNITED STATES, May 25, 2023 /EINPresswire.com/ -- The global hydraulic hammer market size was valued at $2 billion in 2021, and is estimated to reach $3.4 billion by 2031, growing at a CAGR of 5.6% from 2022 to 2031. A hydraulic hammer, also known as a hydraulic breaker or rock breaker, is a powerful attachment used in construction, mining, and demolition activities. It is typically attached to an excavator or a backhoe loader and is used to break up and demolish hard materials such as concrete, rocks, and pavement.
Download Research Sample with Industry Insights @
https://www.alliedmarketresearch.com/request-sample/3241
The line of hydraulic hammer tools carries advantages over gas and air hammers in the industry of construction. Hydraulic hammers offer higher productivity in terms of performance, versatility, and budget. As high-quality demolition tools, they break up the surface and get the job done fast and effectively when operated by a trained technician.
Major driving factors of the hydraulic hammer market are extensive increase in investments by governments, majorly in developing countries on constructing new infrastructures such as roads, dams, tunnels, residential & commercial buildings, and other public infrastructures. Moreover, expansion of mining sector for extracting metals, coal and minerals are fueling the hydraulic hammer market growth. Moreover, introduction of technologically advanced equipment in mining sector is expected to provide future growth opportunities in the market.
Make Purchase Inquiry: https://www.alliedmarketresearch.com/purchase-enquiry/3241
Top Players:
Atlas Copco, Breaker Technology Inc, Caterpillar, Everdigm, Furukawa, Indeco, John Deere, Miller UK, MKB(KONAN), Montabert, MSB, Sandvik, soosan heavy industries, Stanley Hydraulics, Volvo, Nuosen Machinery, Rammer
Key Findings of The Study
• The report provides an extensive analysis of the current and emerging global hydraulic hammer market trends and dynamics.
• Depending on product type, the heavy duty (more than 31 ton) segment has dominated the hydraulic hammer market, in terms of revenue in 2021 and
light duty (up to 10 ton) segment is projected to grow at a significant CAGR during the forecast period.
• By business, the aftermarket segment has registered highest revenue in 2021.
• By end user industry, mining segment has registered highest revenue in 2021.
• Asia-Pacific is projected to register highest growth rate in the coming years.
Buy This Research Report @ https://www.alliedmarketresearch.com/checkout-final/3ee3287a19f05cb09171bb557baaffd5
David Correa
Allied Analytics LLP
+ 1-800-792-5285
email us here