Madison Beach Hotel Announces 2023 Grassy Strip Music Series Line-Up
Grassy Strip Concert Series, Madison Beach Hotel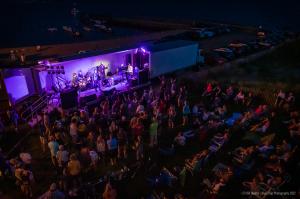 The Fixx On Stage 2022
The Fixx (From The Audience)
Grassy Strip Music Series at Madison Beach Hotel returns for the 2023 summer season with free, live outdoor shows, Weekly June 30 – August 31
This summer's line-up is incredible. The weekly summer experience at Madison Beach Hotel has truly become a time-honored tradition on the shores of Long Island Sound."
— John Mathers, General Manager
MADISON, CONNECTICUT, USA, May 23, 2023/EINPresswire.com/ -- The Grassy Strip Music Series at Madison Beach Hotel returns for the 2023 summer season with free, live outdoor shows beginning Friday, June 30 and then running each Thursday for ten weeks.
"This summer's line-up is incredible," said General Manager John Mathers. "The weekly summer experience at Madison Beach Hotel has truly become a time-honored tradition on the shores of Long Island Sound."
Free and open to the public, The Grassy Strip Concerts are 7:30 p.m. to 9 p.m. Summertime food and beverages will be available for sale.
SHOW LINE-UP*
Friday, June 30: Dave Clark's "ALL ABOUT JOEL" (Billy Joel Tribute)
Sponsored by Scott, Tiffany, and Matthew Duques.
David Clark's "ALL ABOUT JOEL" is a musical tribute conceived and presented by Long Island veteran singer/piano player David Clark. He continues to gain attention and popularity across the country with stunningly accurate piano playing, lead vocals, and an eerily similar stage look to the Piano Man himself while engaging the audience with wit and humor.
Thursday, July 6: The Linda Ronstadt Experience (Linda Ronstadt Tribute)
Sponsored by GSB.
American Idol Star Tristan McIntosh creates a stunning portrayal of Linda Ronstadt in the prime of her career. Supported by a superb backing band, Tristan's formidable vocal talent and stage presence will transport you to a time when Linda Ronstadt ruled the airwaves as one of the most popular female vocalists in music history.
Thursday, July 13: Adam Ezra Group
Sponsored by United Concrete
Working outside the confines of the traditional music industry, Adam Ezra and his bandmates – Corinna Smith (fiddle), Alex Martin (drums), Poche Ponce (bass) - built a community of fans through sheer grit and determination, regularly performing hundreds of shows a year for the past two decades without any major label or mainstream radio support.
Thursday, July 20: The Brothers Doobie
Sponsored by RJ Cafe
Inspired by the Brothers superior song writing, The Brothers Doobie delivers powerful harmonies and a fun filled high energy performance covering a catalog of Doobies hits spanning both the Johnston and McDonald eras. Yes, The Brothers Doobie masterfully play them all, from Listen to the Music to What a Fool Believes, from Long Train Running to Minute by Minute, from Black Water to Takin' it to the Streets, and all the rest.
Thursday, July 27: The James Montgomery Band
Grammy-nominated blues singer and harpist James Montgomery and his band perform Delta blues and proof that R&B is alive and thriving. Growing up on the streets of Detroit, James learned first-hand from the masters - James Cotton, John Lee Hooker, and Jr. Wells. James has continued to carry out the blues tradition and is still a vital blues presence and one of the most dynamic performers on stage.
Thursday, August 3: Nick Bosse & The Northern Roots
Sponsored by United Concrete
Nick Bosse is an independent Nashville recording artist with 10 years in the music entertainment industry. His soulful country music vocals are backed by a power-house band, The Northern Roots, with talented musicians from Connecticut and Rhode Island. Nick's songwriting and music styling are influenced by country, southern rock, and bluegrass legends; which he projects in every live performance.
Thursday, August 10: Jake Kulak & The Modern Vandals
Sponsored by Lawson's Finest Liquids
Award-winning musician Jake Kulak has been performing professionally in front of audiences since the age of 12. Thrilling audiences from Norway to Boston, from Sydney Australia to NYC, and down to the Mississippi Delta, Jake plays guitar-driven blues/rock music which highlights his improvisational ability.
Thursday, August 17: Whatup Funk Band
Founded in 1992 by Kevin "the Frank" Franklin, this southern CT based seven piece combo has dedicated themselves to the groove, the funk, and the funkier side of pop music culture. The Whatup Funk Band's intricate instrumentation and catchy re-imagined arrangements of classics new and old are rhythmically infectious and keep crowds dancing at every event.
Thursday, August 24: Jeff Pitchell & Texas Flood
Blues Hall of Fame award winning guitarist Jeff Pitchell's style blends B.B. King and Duane Allman, which was endorsed by Gregg Allman. His diverse songwriting catalog recalls the variety of Eric Clapton's classics and his vocal delivery, which ranges from smooth tenderness to Billy Gibbons ZZ Top-like power, received high praise from J. Geils.
Thursday, August 31: Christine Ohlman & Rebel Montez
The Grassy Strip grand final will be held on August 31 with Christine Ohlman the Beehive Queen. With her trademark mile-high platinum beehive hairdo and enviable collection of sequins and rhinestones, Ohlman looks like a lady to be reckoned with, and when she opens her mouth to sing, the truth comes out. In her own words—"I give it to an audience straight, which is the way I like it myself."
*Show Line-Up Subject to change without notice.
Jennifer Toone Corrigan
In Toone Communication
+1 401-258-8830
jtoone@intoone.com
Visit us on social media:
Facebook
Instagram