Gloria Squitiro Releases Central, Second Book In Gutsy And Earthy "C'Mon Funk!" Series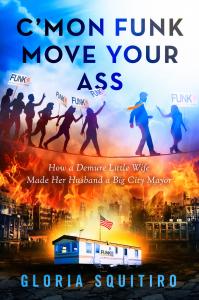 New Book Release "C'Mon Funk! Move Your Ass: How a Demure Little Wife Made Her Husband a Big-City Mayor"
Gloria Squitiro, a writer & first lady
"C'Mon Funk!" Series by Gloria Squitiro
"C'Mon Funk! Move Your Ass: How a Demure Little Wife Made Her Husband a Big-City Mayor"
The politics of giving birth in America, of being a woman in our country, even the politics of living within a family. All it took was planning and organizing. What mom isn't good at that?"
— Gloria Squitiro
NEW YORK, NY, UNITED STATES, May 24, 2023/
EINPresswire.com
/ -- Based on her true life story of the gutsy role she played in her husband
Mark Funkhouser
's ("Funk")'s nontraditional run for Mayor of Kansas City, Missouri (2007-2011), Gloria is releasing her central and second book in her "C'Mon Funk" trilogy, titled "
C'Mon Funk! Move Your Ass
: How a Demure Little Wife Made Her Husband a Big-City Mayor".
Far from demure, Gloria, who "remains an Italian girl at heart," openly shares her own earthy humor mixed with an intellectual quickness/"quip-ness" about the crescendo of events leading up to and culminating in her husband's mayoral election victory, overstepping the traditional political powers of that day.
Though Gloria was not interested in politics, in the end, the campaign wasn't any different from what she was already used to, "The politics of giving birth in America, of being a woman in our country, even the politics of living within a family. All it took was planning and organizing. What mom isn't good at that?"
In this pivotal second book, Gloria draws readers into a visceral account of the day-to-day tensions and simple joys within her and her husband's promise to one another to have Funk make a real difference for the people of Kansas City by running for mayor. She keeps her readers beside her every step of the way.
"C'Mon Funk! Move Your Ass: How a Demure Little Wife Made Her Husband a Big-City Mayor" is published by
Gloria Squitiro
Publishing House, LLC. The book is available to purchase through Gloria Squitiro's website or at this link on Amazon:
https://tinyurl.com/5aemf53x
ABOUT GLORIA SQUITIRO
Gloria Squitiro has a bachelor's degree in psychology. She is published in Harper's, See Beyond, and Medium/Authority Magazine. She is the author of the bestselling May Cause Drowsiness and Blurred Vision: The Side Effects of Bravery, the first in the three-book C'mon Funk memoir series.
She has been married to Mark Funkhouser for forty-plus long-ass years. Gloria's mission in life is to make every other man on Earth grateful he's not married to her. Gloria dreams of building an Artist Healing Retreat Center on the Big Island of Hawaii.
Squitiro's personality type has changed! She is now an ENFJ: extroverted (not really!), iNtuitive (kind of stupid spelling), feeling, and judging. These types are idealistic and thoughtful and strive to impact the world positively. They can't help but do the right thing, even when the doing is difficult.
In 2006, Gloria became Funk's campaign manager by default. She has the rare distinction of being the only First Lady legally banned from the city hall office where her husband was mayor. Good Morning America, Fox and Friends, NPR, The Wall Street Journal, the New York Times, USA Today, the Washington Post—even Great Britain's left-wing Guardian and America's right-wing Rush Limbaugh—reported stories about her.
They can throw her out, but they can't shut her up!
###
Grayce McCormick
Lightfinder Public Relations
lightfinderpr@gmail.com
Visit us on social media:
Facebook
Twitter
LinkedIn
Instagram
YouTube
Other