South FL SEO Revolutionizes SEO Services for Divorce Attorneys in Florida
https://www.florida-divorce-attorney.com Lighthouse Score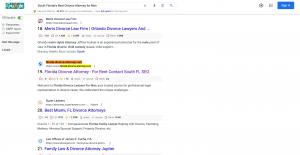 https://www.florida-divorce-attorney.com/ ranks in the top twenty in under a week
https://www.florida-divorce-attorney.com ranks in top 50 for South Florida Divorce Attorney for Men in less than a week!
Revolutionizing SEO for Divorce Attorneys in Florida: South FL SEO Takes on the Challenge to Dominate Search Results
Combining in-depth research, strategic keyword targeting, and a focus on website performance, South FL SEO is determined to revolutionize the SEO landscape for divorce attorneys in Florida."
— Joseph Charnin
FORT LAUDERDALE, FLORIDA, UNITED STATES, May 21, 2023/
EINPresswire.com
/ --
South FL SEO
, a leading digital marketing agency based in Fort Lauderdale, FL, announced its groundbreaking decision on May 11th, 2023, to provide specialized
SEO
services exclusively for Divorce Attorneys in Florida. Departing from traditional agency approaches, South FL SEO embarked on a unique path to establish its expertise in this highly competitive market by building and ranking a site as a demonstration and proof of its team's talent.
Recognizing the importance of data-driven strategies, South FL SEO conducted an extensive review and analysis of hundreds of websites ranking for various long-tail keywords related to divorce. Then, leveraging the power of Google Trends (
https://trends.google.com
), they identified the most frequently searched keywords for Divorce in Florida. Armed with this valuable information, South FL SEO initiated its SEO campaign on May 14th, targeting keywords such as "
Florida Divorce Attorney
" and "Florida Divorce Attorney for Men."
During their comprehensive analysis of the top twenty competitors, South FL SEO uncovered a significant flaw in most websites - performance and structural deficiencies. Thanks to the invaluable insights provided by Google Lighthouse, a tool integrated into all Chrome browsers, South FL SEO discovered that most top-ranking sites fell short of the recommended score of 75%. In response, South FL SEO designed and built a website that excelled with a score of 90%+ on the Lighthouse scale.
The exceptional performance and strategic implementation of long-tail keywords positioned South FL SEO in the top twenty search results within a mere week for the keyword phrase "South Florida's Best Divorce Lawyer For Men." Additionally, their article titles rapidly ascended to the top five search results. Encouraged by these early successes, South FL SEO now embarks on its most formidable challenge yet - propelling the site,
https://www.florida-divorce-attorney.com/
, into the top five search results for the highly competitive keyword "Florida Divorce Attorney."
Over the next sixty days, South FL SEO will dedicate its resources to refining its strategies and driving targeted traffic to
https://www.florida-divorce-attorney.com/
. By doing so, they aim to demonstrate their capability to meet the unique demands of larger law firms and establish themselves as the go-to SEO provider for the legal community.
For media inquiries or more information, please contact:
Joseph Charnin
Media Relations Manager
South FL SEO
Phone: 954.693.6422
Email: media@southflseo.com
Website:
www.southflseo.com
Joseph Charnin
South FL SEO
+1 954-693-6422
media@southflseo.com
Visit us on social media:
Facebook
Instagram
Welcome to South FL SEO