Le premier festival français de films indigènes du Brésil aura lieu à Paris les 22 et 23 mai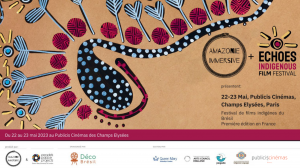 Le premier festival de films indigènes du Brésil arrive en France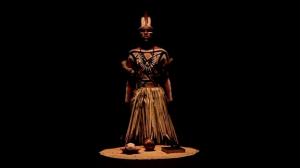 Film O verbo se fez carne, "Le verbe s'est fait chair", Ziel Karapoto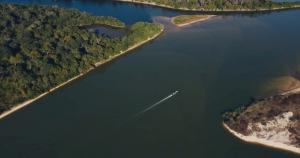 Film Febre da mata, "La fièvre de la jungle", Takuma Kuikuro
PARIS, ILE-DE-FRANCE, FRANCE, May 12, 2023/
EINPresswire.com
/ -- Le premier festival de films indigènes du Brésil arrive en France. Il aura lieu les 22 et 23 mai prochains au cinéma Publicis aux Champs Elysées, suivi d'une première exposition à Londres entre le 15 et le 21 mai.
Le festival du film indigène ECHOES est un projet qui présente des films réalisés par et avec des artistes indigènes du Brésil. Le festival est organisé par Amazonie immersive et est porté par People's Palace Projects et l'université Queen Mary, avec le soutien de l'ICA de Londres. Le festival fait porter la voix des cinéastes indigènes souhaitant sensibiliser les visiteurs à leurs modes de vie et à la préservation de leur habitat. Grâce aux représentations cinématographiques le soir ainsi qu'à des activités immersives en journée, le festival met en valeur ces peuples et territoires qui continuent d'éprouver les conséquences de l'agriculture intensive, de l'exploration du bois et des ressources souterraines, ainsi que de l'expansion du milieu urbain.
En journée, différents ateliers seront proposés, le matin de 9h30 à 12h et l'après-midi de 14h à 16h30. La réalité virtuelle d'Amazonie Immersive sera au rendez-vous pour se sentir comme en Amazonie ! Le 22 mai, une conférence menée par Marine Calmet, présidente de l'association Wild Legal au sujet des droits de l'environnement aura lieu. Le 23 mai, all4trees animera un quiz de la fresque de la forêt réalisé afin de comprendre les causes et les conséquences de la déforestation. Les deux journées, on assistera à une animation par un sage amérindien Kalina où nous pourrons écouter les tambours et chants traditionnels. Un stand de produits biologiques, naturels et socio-économiques vendus par Déco Brésil sera en plus à votre disposition.
Le soir, le public est attendu dès 18h45 pour l'ouverture. La projection des films aura lieu de 19H30 à 21H45, suivie d'une séance questions & réponses avec trois réalisateurs autochtones présents. 7 films seront diffusés le lundi et 6 le mardi. Retrouvez le synopsis de chaque film
en cliquant sur ce lien.
Au sujet des trois réalisateurs
- Graciela Guarani est productrice, réalisatrice, enseignante et activiste, née dans la nation Guarani Kaiowá. Elle fait partie des femmes autochtones qui ont été à l'origine de la création de productions audiovisuelles originales. En 2020, elle a participé à la 70e édition de la Berlinale en tant que membre du cercle de dialogue "Women in Media and Film". Elle a fait partie de l'équipe de réalisation de la deuxième saison d'Invisible City de Netflix (2022/23). Plus récemment, elle a coécrit et réalisé des épisodes de la prochaine série de TV Globo, Impossible Stories, ce qui fait d'elle la première femme autochtone à réaliser un programme pour la chaîne.
- Ziel Karapoto est un artiste, cinéaste et commissaire d'exposition originaire de Karapotó Terra Nova. Il est le coordinateur de Karaxuwanassu (ASSICUKA), une association indigène en milieu urbain. Diplômé en arts visuels de l'université de Pernambouc, il est chercheur-artiste sur les cultures antiracistes en Amérique latine (CARLA-UFBA). Il a réalisé le court-métrage O verbo se fez carne (2019). Il a été commissaire de festivals de cinéma et membre du jury, notamment pour le Quilombo Film Festival of Black and Indigenous Cinema à Maceió, au Brésil
- Takuma Kuikuro est un cinéaste de renommée mondiale qui a grandi en Amazonie, au Xingu. Il a appris son métier grâce au projet Video in the Villages et a réalisé plusieurs productions remarquables, dont The Day When the Moon Menstruated (2004), The HyperWomen (2012), Karioka (2014), London as Village (2016) et Jungle Fever (2022). En 2017, il a reçu un Honorary Fellow Award de l'université Queen Mary de Londres, et son travail a été exposé à la Biennale de Venise et au Glasgow Science Centre dans la perspective de la COP26 en 2021. En 2022, il a fondé le tout premier festival du film consacré au cinéma et à la culture indigènes à Brasília.
Tarifs :
- 12 € pour les adultes
- 6€ pour les enfants
Afin de soutenir les évènements d'Amazonie Immersive, rendez-vous sur la campagne Ulule :
Amazonie Immersive - Ulule
Marcelo Dias
Ryto Public Affairs
+55 11 98568-1381
email us here