521 Promo's Board Games Present A Unique Fundraising Opportunity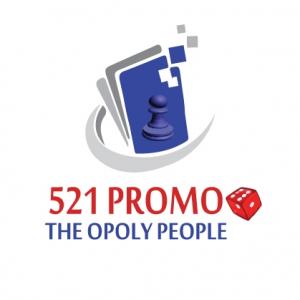 The custom board game provider, 521 Promo, sets out to help businesses that want to conduct unique fundraising with guaranteed returns.
ATLANTA, GEORGIA, UNITED STATES, April 28, 2023/
EINPresswire.com
/ -- 521 Promo, a leading custom board game manufacturer, looks to provide unique
custom board games
designed to help clients raise money. Each game has customizable components, such as playing tokens and dice, so that clients can feature logos and business information. Organizations can choose from a variety of themes ranging from sports to educational games. These board games provide a unique fundraising opportunity as well.
The fundraising opportunity includes selling advertising space or names to various businesses. The selling price for this advertising depends on the number of games ordered, but the client's event's success should be enough to cover the cost of the product, plus there's no shipping involved. So, doing this is an ideal practice for a business.
521 Promo's board games offer a unique and fun way to fundraise. Custom board games are a great way to generate more revenue for any organization, as the advertisements are seen by consumers who may have yet to be exposed to them. The game also provides an opportunity for customers to learn about their company or cause, which can lead them back into business again when they are ready to make a purchase!
The company's CEO said, "We're excited to be working with numerous businesses at 521 Promo, we have helped many raise thousands of dollars for our clients, and their board games are a great way to get everyone involved in the spirit of giving."
They added, "We're thrilled that so many people have chosen our games as part of their fundraising efforts; our goal is always to help organizations reach their goals by offering them high-quality products at affordable prices. We hope these organizations will continue using our board games for years!"
This initiative also offers a unique and engaging way to raise funds while promoting community spirit. With a designated minimum order, organizations can create a custom "opoly" game featuring their town or organization. The games are designed and managed by 521 Promo, ensuring high-quality artwork and timely delivery.
521 Promo is a board game manufacturer that helps businesses and common people get a unique product. Its products are perfect for fundraising, corporate events, Christmas, and more. Don't hesitate to get in touch with the company today if anyone is interested to know more about 521 Promo's unique fundraising opportunities!
About 521 Promo -
521 Promo is a leading personalized board game maker which provides free consultation and quotes. It is one of the top businesses in the sector. It looks to offer a unique solution for businesses looking to get their name out there. With the company's team working relentlessly, the company has developed a platform where clients can also design their personalized board games in their homes/offices.
Media Contact
521 Promo
+1 678-866-3583
Info@521Promo.com
Visit us on social media:
Facebook
Twitter