Affiliate Marketers Beware: The Programs to Avoid and the Ones to Prioritize
TopRanked: the Authoritative Affiliate Directory
Dom Einhorn, Founder, TopRanked.io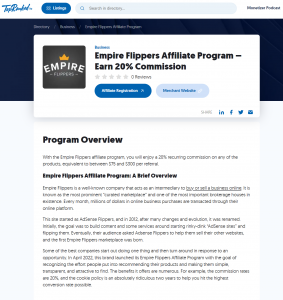 Empire Flippers Affiliate Review
There are over 11,000 affiliate programs in the US alone. Worldwide, that number swells to 50,000+. Separating the wheat from the chaff is a monumental task.
"Our objective is to provide affiliate marketers with an authoritative and trustworthy resource that delivers the best programs to them on a platter," states Dom Einhorn, TopRanked's founder."
— Dom Einhorn
JACKSON, WYOMING, USA, March 20, 2023 /
EINPresswire.com
/ --
TopRanked
, an authoritative directory offering reviews of over 1000 affiliate programs, today revealed some startling statistics on the affiliate marketing industry.
While the average affiliate marketer earns a tad over $53,000 annually (source: Payscale), these averages can be deceiving. On one hand, some affiliates earn six-figure incomes while others earn nothing at all. Largely at fault here is the required minimum payout threshold set forth by some affiliate programs. For example, affiliate marketers must accrue a minimum of $US100 in commissions (or approximately the equivalent in another currency) in order to receive a payout from Amazon Associates.
Industry pundits like Niall Roche of Authority Hacker, split affiliate marketers into four distinct categories:
Beginner – $0 to $1000 in revenues per month
Intermediate $1000 to $10,000 in revenues per month
Advanced – 10k to $100k in revenues per month
Super Affiliate – $100k+ in revenues per month
The Affiliate Marketing Benchmark Report discovered that only 3.78% of all survey respondents made more than $150,000 in annual affiliate income, 7.94% earned between $100,000 and $150,000, 5.15% between $50,000 and $100,000, 16.21% between $10,000 and $50,000, and 57.55% less than $10,000.
But, aside from sometimes high minimum payout thresholds, one of the largest obstacles to affiliate success can be summed up in two words: bad programs. The difficulty lies in identifying the good from the bad, and with tens of thousands of affiliate programs to choose from, that task can be overwhelming, especially for affiliate newbies.
This is where TopRanked.io comes in. In the highly crowded field of affiliate marketing, the TopRanked directory is rapidly establishing itself as the go-to resource for vetted and reviewed affiliate programs.
"Our objective is to provide affiliate marketers with an authoritative and trustworthy resource that delivers the best programs to them on a platter," states Dom Einhorn, TopRanked's founder.
"Taking into consideration the growing global scope of the affiliate industry, we offer in-depth reviews of over 1000 of the highest-rated affiliate programs in both English and Spanish, with several additional languages to follow," adds Lucas Caneda, TopRanked's co-founder and COO.
Among some of the top-producing programs, one can find many SaaS affiliate programs like Microsoft Office 365 or
Empire Flippers affiliates
. Other leading categories fall into the education, finance/ Fintech or gaming space.
In order to maximize affiliate earnings, the team at TopRanked puts special emphasis on residual revenue generators, i.e. the type of programs that pay affiliates
lifetime recurring commissions
instead of one-off affiliate bounties.
"If we have learned one thing in our 30 years spent in the affiliate industry, it is that the efforts required to generate one transaction are just about equivalent to those required in generating a monthly recurring customer. But, as an affiliate, you stand to earn 5-10 more in commissions in the second scenario," states Dom Einhorn.
As one could assume, capitalizing on the lifetime value of a customer in a high-yield industry can pay off in spades for affiliate marketers who position themselves in the right niches. Take online dating, for example. Commissions in this space can be very lucrative, with dating affiliates getting paid anywhere between 30% and 75% in commissions – for the life of the client. In the SaaS industry, commissions are similar.
According to SaaS scout, the global affiliate market industry is reportedly worth $12 billion. The United States takes the top rank with more than $4.5 billion worth of market share. Coming in next is the United Kingdom with 15% and Germany, with 11%. But, most interestingly, over 190 countries contribute to the global tally and the industry as a whole is growing by double digits annually.
There has never been a better time to join the affiliate marketing ranks than today, and TopRanked intends to put you on the fast track to strong earnings.
Dominique Einhorn
ChallengerX plc
+33 6 37 04 74 12
email us here
Visit us on social media:
LinkedIn
YouTube
The World of Startups: a conversation for investors and entrepreneurs alike.