Silversmith Jan Marie Larson's "Thimbles For You" Now Presents Gorgeous & Unique Hand Sewing Tools & Chatelaines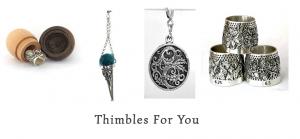 DES MOINES, IOWA, UNITED STATES, February 14, 2023 /
EINPresswire.com
/ -- Thimbles For You, an Iowa-based business offering beautiful handmade sterling silver thimbles, now introduces gorgeous and unique hand sewing tools and chatelaines.
Thimbles For You is a Fairfield, Iowa-based business offering beautiful handmade sterling silver thimbles to individuals who enjoy hand sewing. Run by silversmith: Jan Marie Larson, the service now introduces gorgeous
hand sewing accessories and chatelaines
that excellently serve their purposes while making lovely collectible items for display.
At Larson's thimblesforyou.com, customers can find unique and beautiful designs of sewing chatelaines and accessories, ranging from handmade needle keepers in sterling silver, sterling silver thread cutters (backed with a 16mm round Olfa blades), wood acorn thimble holders, spool holders for threads, tailors' thimbles, many styles of sterling silver pincushion holders filled with felted wool and covered with hand dyed silk velvet and more.
The beautiful chatelaines that Larson designs are also heirloom quality pieces. Available in different colors and styles and made with much consideration, these chatelaines make the perfect jewelry pieces and collectible items while serving as high quality tools. Some of Larson's chatelaine designs include Acorn Slide Chatelaine, Lily of the Valley Chatelaine, Jan's Heart Sterling Silver Chatelaine, Thistle Chatelaine small, Cheyenne Chatelaine Large, Wild Rose Chatelaine, Elm Tree Chatelaine, Rose Pincushion Purse, Rococo Chatelaine Sterling silver, Tube Slide Chatelaine, and Little Mermaid chatelaine. Her inspiration comes from the world around her, and in recent years, from the quilts at all of the shows where she sells her silver thimbles and sewing tools.
"Feel free to explore my website at thimblesforyou.com if you're looking for beautiful handmade sewing tools and chatelaines," says Jan at Thimbles For You. She will be attending over 40 quilting and sewing events all across the USA and in Australia, Iceland and England this year.
"In this busy world that we live in, hand sewing is a way to calm both hands and heart. There are so many new fabrics and methods of assembling! But the hand sewing technique, like our grandmothers and aunts, once did, is comforting and calming. Watching a few small pieces come together into a larger beautiful dress or quilt is meaningful today. Many younger women are coming to Quilt, Craft, and Sewing Shows. I have the privilege of helping them find their heirloom sewing tools and working on teaching them how to use them," Larson added.
A little about Jan Marie Larson: Larson is a busy farmer's daughter in Fairfield, Iowa. She started learning silversmithing after your youngest daughter went off to college. A neighbor/friend called and stated: "I need help with my silversmithing. You can learn this!" So Jan put her organic crop inspecting on hold and started working for TJ Lane every morning – polishing and finishing her thimbles. Larson was a fashion design major in college. She loves the process of pulling parts together. She has an eye for details and will not accept less than perfect. She loves making sewing tools for sewing friends around the world. Jan and her husband, Dave, have 9 grown children and 6 grandkids. She is a fiber artist and silversmith who makes all kinds of beautiful tools for hand sewing.
About Thimbles For You -
Thimbles For You is a business run by silversmith Jan Marie Larson. It offers gorgeous designs of handcrafted sterling silver thimbles, sewing accessories, and jewelry pieces that every generation can enjoy.
Media Contact
Thimbles For You
+1 641-751-9061
email us here
Visit us on social media:
Facebook
Twitter
Instagram