Anglers Look to Catch Biggest Fish at 28th Annual Governor's Surf Fishing Tournament May 19 at Island Beach State Park
ANGLERS LOOK TO CATCH BIGGEST FISH AT 28TH ANNUAL GOVERNOR'S SURF FISHING TOURNAMENT MAY 19 AT ISLAND BEACH STATE PARK
(19/P037) TRENTON – The 28th annual Governor's Surf Fishing Tournament, a popular competition for anglers of all ages, will be held at Island Beach State Park in Ocean County on Sunday, May 19.
The tournament offers participants a great way to enjoy the sport of surf fishing while vying to catch the biggest fish of the day. Registration begins at 5 a.m. for those who have not pre-registered. Fishing takes place from 6:30 a.m. to 1 p.m.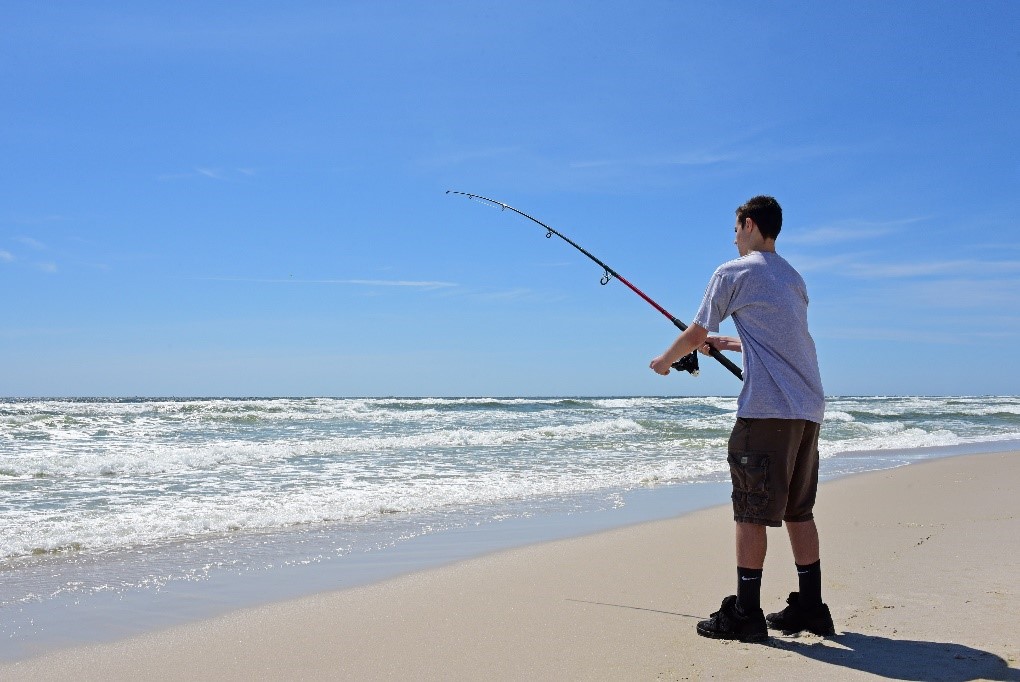 "This popular event highlights the excellent saltwater fishing available in New Jersey and provides a great opportunity for families and friends to spend time together in the outdoors," said Department of Environmental Protection Commissioner Catherine R. McCabe. "We look forward to a fun day of fishing and spirited competition."
The Governor's Surf Fishing Tournament is sponsored by the DEP's Division of Fish and Wildlife and Division of Parks and Forestry, as well as the New Jersey State Federation of Sportsmen's Clubs, the Jersey Coast Anglers Association, and the New Jersey Beach Buggy Association.
The Governor's Award will go to the person who catches the longest fish. The winner's name will be engraved on the Governor's Cup, on permanent display at Island Beach State Park. The winner will also receive a plaque as well as a fishing rod and reel.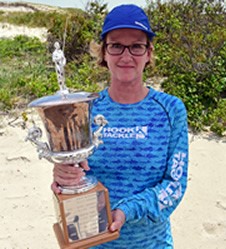 Last year's winner was Keri Mauger (pictured) of Mohnton, Pa., who caught a 36-inch bluefish.
"We expect hundreds of people of all ages and with all levels of experience to come out to take part in this great event," said Ray Bukowski, the DEP's Assistant Commissioner for Natural and Historic Resources. "This tournament not only showcases their skills but also highlights what a great pastime fishing is for everyone."
The registration fee the day of the tournament is $20 for anglers age 18 and older and $5 for ages 13 to 17. There is no fee for children age 12 and under. The tournament entry fee is waived for student teams.
All funds raised by the tournament will go toward improving beach access, constructing access ramps for disabled saltwater anglers, providing surf fishing instruction programs and equipment, and developing marine education and restoration projects.
Park entry fees are waived for all registered tournament participants. However, if you wish to drive on the beach to fish you must have either a 3-Day or Annual Mobile Sport Fishing Pass.
High schools from across the state will participate alongside tournament anglers in the High School Team category, created to introduce surf fishing to youth who are part of a formal fishing club, members of a Hooked on Fishing – Not On Drugs group, or an informal group.
The team that catches the longest fish will have its school name engraved on the High School Team Cup and receives a first-place plaque. Plaques will also be awarded to the second- and third-place winners.
All fish must meet minimum length requirements. Tournament anglers may be asked to verify that they have registered with the New Jersey Saltwater Recreational Registry, which helps the Division of Fish and Wildlife gather information to manage fishery resources.  If not already registered for 2019, please do so before arriving at the beach the day of the tournament. Registration is free. Visit www.nj.gov/dep/saltwaterregistry/ and follow the instructions on the page.
For more information about the Governor's Surf Fishing Tournament, including a list of past winners, visit www.njfishandwildlife.com/gsft.htm
Island Beach State Park preserves one of the longest stretches of undeveloped barrier island-type ecosystems in the Northeast and is located south of Seaside Park. For park information and directions, visit www.state.nj.us/dep/parksandforests/parks/island.html
###