Bargaining in bad faith: attack on public sector begins
AFL supports UNA application to reopen arbitration
/EIN News/ -- EDMONTON, Alberta, May 14, 2019 (GLOBE NEWSWIRE) -- The Alberta Federation of Labour (AFL) supports the United Nurses of Alberta's (UNA) application to the Alberta Labour Relations Board to review the decision to delay arbitration of the wage reopener for close to 30,000 UNA members in response to a demand by Alberta Health Services.

On Friday afternoon, May 10, employer bargaining representatives informed arbitrator David Jones and UNA that they had been instructed by the provincial government to put the arbitration on hold.  They did not provide an explanation for the government's position beyond suggesting the government wishes to "engage in consultation" with public sector unions.
Arbitrator Jones thereupon granted the employer's request for a delay beyond the date specified in UNA's Provincial Collective Agreement.
"These actions mean the Kenney government is essentially ignoring a legally binding contract.  It's also the first step towards using state power to unilaterally cut wages," say Gil McGowan.
The Supreme Court of Canada has repeatedly ruled that workers have a constitutional right to make collective representations and to have their collective representations considered in good faith.
"We are simply asking the government to not break the law," McGowan said.  "It's one thing for governments to obtain a wage freeze through negotiations with unions and workers, it's another thing to impose those freezes without negotiation."
UNA has also filed grievances against Alberta Health Services, Covenant Health and other employers involved in the negotiations.
Read UNA Media Release (link): https://www.una.ab.ca/998/government-interferes-in-unaahs-arbitration
MEDIA CONTACT:

Ramona Franson
Director of Communications
rfranson@afl.org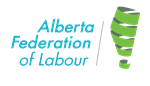 EIN Presswire does not exercise editorial control over third-party content provided, uploaded, published, or distributed by users of EIN Presswire. We are a distributor, not a publisher, of 3rd party content. Such content may contain the views, opinions, statements, offers, and other material of the respective users, suppliers, participants, or authors.