Johnny Dangerfield explains benefits of attending Digital Dealer Conference & Expo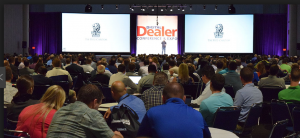 Johnny Dangerfield looks forward to Digital Dealer Conference & Expo 26 and shares insight into the popular automotive industry event.
MOUNT PLEASANT, SOUTH CAROLINA, USA, January 11, 2019 /
EINPresswire.com
/ -- An automotive conference and expo offering expert advice from industry leaders and showcasing the latest tactics in dealer sales, marketing, and online strategy, seasoned automotive sector professional
Johnny Dangerfield
shares details of his own past experiences at the popular Digital Dealer Conference & Expo.
"We attend Digital Dealer Conference & Expo twice a year for insight into the most innovative industry technologies and business techniques," reveals Dangerfield, owner and founder of
Automaxx of the Carolinas
. "Digital Dealer Conference & Expo has been incredibly beneficial for us at Automaxx, especially in recent years," he adds.
Based in Summerville and serving the tri-county area, Automaxx of the Carolinas is South Carolina's number one independent automotive dealer by annual sales volumes.
"Digital Dealer Conference & Expo is where top automotive dealers go to get ahead of the technology curve," Johnny Dangerfield explains, "delivering the largest variety of industry speakers, peer-to-peer opportunities, and exhibit hall offerings out there, all carefully tailored to promote only the most groundbreaking automotive dealership strategies."
Focused on building custom business solutions, discovering new technologies, growing dealerships, and expanding the knowledge of those involved in every aspect of such businesses, Digital Dealer Conference & Expo is widely regarded as the premier automotive industry event of its type in the United States.
"Attendees may choose from well over a hundred educational sessions fronted by top executives, consultants, and trainers, demoing the latest products and services from countless technology-focused automotive product and service providers," adds Dangerfield of he and his team's own experiences at past Digital Dealer expos and conferences.
Other offerings from the next scheduled event are set to focus on learning best practices and developing new ideas with peers from similarly-sized dealerships and receiving expert counsel from top keynote speakers, including executives from the country's top 100 dealerships, according to Digital Dealer Conference & Expo organizers.
"Additional carefully tailored support surrounding dealer operations and management, sales strategy and variable operations, and marketing and advertising are also on offer, all of which have proved to be incredibly useful for us at Automaxx of the Carolinas based on attending past events. As such, we're looking forward to Digital Dealer Conference & Expo 26 which is due to be held in Florida this April," adds Dangerfield, wrapping up.
Digital Dealer Conference & Expo 26 will be held in Orlando, Florida between April 9 and April 11, 2019. For more information about the event, please visit
https://www.digitaldealer.com/conference/
. Alternatively, to find out more about
Johnny Dangerfield and Automaxx
of the Carolinas, please head to
https://www.843auto.com/
.
Bryan Powers
Web Presence, LLC
+1 7863638515
email us here