Services that accept HYCON – overcoming limitations of the cryptocurrency platform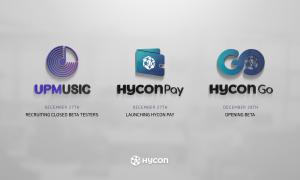 SEOUL, KR, January 2, 2019 /
EINPresswire.com
/ -- Team HYCON is unveiling a software that enables cryptocurrency payment called 'HYCON Pay' on 27th. On the live-internet talk show, the CEO of Glosfer Taewon Kim, the mother company of team HYCON, announced The hotel 'Over the mountain' in Gapyeoung, South Korea has decided to take HYCON in their payment system.
By starting 'HYCON Pay', HYCON has finally available for daily lifestyle. In the future, HYCON will be accepted in different places. For those who's making payment using this technology, they will be advantaged by having 25% discount. More stores in the city are under discussion to take HYCON Pay as their payment method. "There aren't a lot of cryptocurrencies you can use at shops at the moment. However, by targeting certain places like amusement parks as a start, the advantage of using cryptocurrency will be highlighted." He added, "Gapyeong is a perfect place to start HYCON Pay because this is a well-known area for tourists."
On the same day, a music streaming service based on blockchain 'Upmusic' is starting beta tester recruitment (CBT). 6 months free voucher will be given to those that are participating in this process. Upmusic aims to improve current process of the market by sharing fair profits for anybody who register their music.
Upmusic delivers beloved old-times songs to the latest pop music like BTS. Most importantly, HYCON is accepted on this platform. As Steemit is the most well-known blockchain SNS in the industry, this business ambitiously aims to become the most popular music provider. A lot of businesses in this particular blockchain industry are struggling even from the ICO stage. Competition with non-blockchain music companies is another obstacle. However, Upmusic took off ICO and is successfully standing on its foot.
'HYCON GO', previously known as 'HYCON Adventure' will start its testing service on 28th. Users are eligible to participate events such as auction, voting, ICO and airdrop with the amount of HYCON they hold. 0.5 to 3% of service fee will be gathered with HYCON. The total fee that spent with HYCON will be burned.
Last month, token economy of HYCON has re-designed. Ten billion total cap has been reduced to 5 billion. 90% of mining reward was shrunk. Taewon said "Circulated volume in the offline stores will be more than supplied coin in the network. Having Spectre protocol, applied for the first time of the world, its technological value is increasing significantly. Next year, HYCON will be more valuable as it plans to collect HYCON fee and it will be burned regularly.
Glosfer
Glosfer Inc
+82264787000
email us here