3D Hologram Rental Company Announces Discounted Pricing to Florida Businesses and Event Planners for Early 2019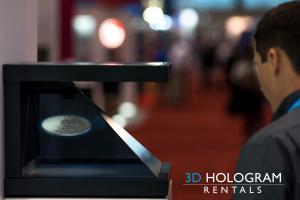 3d Hologram Rentals at McCormick Convention Center Chicago
Expo at McCormick Place Chicago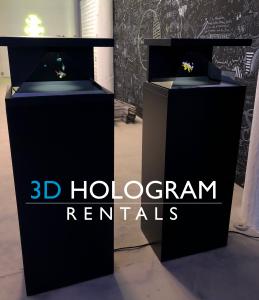 3D Hologram Rentals Double Display
3DHologramRentals.com is offering discounted pricing during the months of February and March 2019
Because we will already be in the area for an extended period of time, we can eliminate transportation and logistics related costs and pass along those savings directly to the end client"
— -
CHICAGO, ILLINOIS, UNITED STATES, November 10, 2018 /
EINPresswire.com
/ -- Chicago based
3DHologramRentals.com
is scheduled to be in the Southwest Florida area in February and March of 2019 where they are contracted to work on an extended project for a local Florida company.
As a result, 3D Hologram Rentals will be offering discounted pricing on their unique and innovative hologram displays to local Florida businesses. Whether it be a for a corporate office that wants to highlight a product or logo in its lobby or for an event planner that wants to wow attendees at its next conference, 3D technology can bring an exciting, cutting-edge punch wherever it is seen. Mark Smith, owner of the unique holographic display company, explains "Because we will already be in the area for an extended period of time, we can eliminate transportation and logistics related costs and pass along those savings directly to the end client." Businesses and companies in the Fort Myers, Naples, Sarasota, Miami, Fort Lauderdale, Tampa, Orlando, and other FL locations might want to be the first to in their area to take advantage of this offer and stand out using this new 3D technology.
View videos of their 3d hologram projects that have been featured on Youtube::
https://youtu.be/Zg39Bs7eF-Q
https://youtu.be/Hcnkm74Jph0
https://youtu.be/lMYdkjGpf8Q
https://youtu.be/1KwCvzPzaOs
Contact at info@3dhologramrentals.com or call at 630-620-0000 to rent now!
Holograms are already being deployed in a wide variety of settings. Event planners, in particular, have found that these devices are an excellent way to bring an instant degree of class and uniqueness to any event--whether it's a high -end event, a corporate meeting for shareholders, or a business conference and trade show. The content of the hologram can be custom created, ensuring that the image matches the theme or purpose of the event.
3D Hologram Rentals is an industry pioneer and leader in hologram technology. The company features next-generation holographic displays that create on-brand visual splendor. 3DHR offers unique 270º holographic display units that will make clients' brands impress like never before. The 3DHologramRentals award-winning creative team can create virtually any kind of holographic visuals from scratch, ranging from text and particles to CAD-accurate 3D renderings. For the budget-conscious, they also have a wide variety of templates and customizable content available.
More information is available via
www.3DHologramRentals.com
or by calling their office location at 630-620-0000
About 3D Hologram Rentals: Chicago Based 3D Hologram Rentals is a hologram device rental company with a well-earned reputation for technical prowess and technological innovation. To see samples of their work or get more details on their pricing models, visit their website at
www.3DHologramRentals.com
.
When you work with 3D Hologram Rentals, you are working with leaders in the industry, exceptionally focused on creating new experiences for your guests and clients.
• 3D, life-like images in a powerful POP or trade show tool. • Incorporate physical elements and actual products into your display. • Set up for any environment - just add power. • Incredible interactive control over your imagery. • Sleek, modern design that puts the focus on your product or company. • Build audience engagement and interest. • Exceptional return on investment.
www.3DHologramRentals.com
Contact us at info@3dhologramrentals.com
or call us at 630-620-0000 to rent now!
Mark R. Smith
3D Hologram Rentals
630 620 0000
email us here
Visit us on social media:
Facebook
Hologram Example Video