Glosfer Partners with APRO Service Group on Blockchain-based Business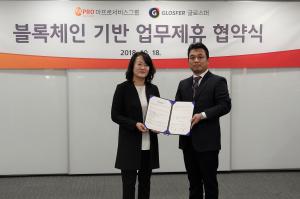 Director Jin-hee Jeon of APRO Service Group (left) and Director Young-sik Park of Glosfer after signing the agreement
Planning on the Application of Blockchain to Financial Industry to Jointly Develop New Fintech Markets
SEOUL, SOUTH KOREA, October 26, 2018 /
EINPresswire.com
/ -- Glosfer (CEO Taewon Kim), a first-generation blockchain company in Korea, announced that it has partnered with APRO Service Group to collaborate on blockchain-based businesses.
APRO Service Group is a consumer finance company with KRW 9.3 trillion (USD 8.2 billion) in total assets, over 1.2 million customers and 14 affiliates, including OK Savings Bank, OK Capital and APRO Credit Information, as of 2018. The company has expanded to China and Southeast Asian countries including Indonesia and Cambodia.
Under the partnership, the two companies will develop fintech business models using blockchain technology to aid APRO Service Group in expanding its market at home and abroad. Glosfer's proprietary blockchain platform HYCON will be utilized to that end.
"APRO Service Group has a strong presence domestically and internationally, and the main objective of this partnership is to use blockchain technology to penetrate untapped markets in Korea and overseas," APRO Service Group said. The company also "aims to utilize blockchain, a core technology of the fourth industrial revolution, to blaze a trail in new fintech markets and establish a firm foothold for Korean financial services looking to expand overseas."
CEO Taewon Kim of Glosfer said "[we] have secured an opportunity to build use cases for HYCON through this partnership" and added that "Glosfer will offer its technical expertise and support so that APRO Service Group can provide its high-quality consumer finance services in new markets at home and abroad."
Glosfer
Glosfer Inc
+ +82264787000
email us here

EIN Presswire does not exercise editorial control over third-party content provided, uploaded, published, or distributed by users of EIN Presswire. We are a distributor, not a publisher, of 3rd party content. Such content may contain the views, opinions, statements, offers, and other material of the respective users, suppliers, participants, or authors.