The Industrial Robotics Market is estimated to hit $14.494 billion by 2023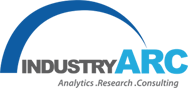 The Industrial Robotics Market
The Industrial Robotics Market was estimated to register $11.28 billion in 2017 and is projected to reach $14.494 billion by 2023 at 4.4% CAGR.
HYDERABAD, TELANGANA, INDIA, June 29, 2018 /
EINPresswire.com
/ -- According to the new market research report by
IndustryARC
titled "Industrial Robotics Market: By Size (2,4,6,8 Inches); By Type (GaN on Sapphire,GaN on Si,GaN on SiC,GaN on GaN); By Products (Laser, LED, PSD, Others); By Industry (Automotive, Healthcare, Consumer Electronics, General Lighting, Military, Communication, Optical Storage, and Others); By Geography - Forecast (2018-2023)", the market is set to spur due to increasing demand for industrial robotics.
Asia-Pacific continues to lead the market share during 2018-2023.
APAC is the largest market in 2017 with revenue of $5.66 billion led by the fast growing Chinese market. This segment is projected to grow to $7.37 billion by 2023 at a 4.6% CAGR as increased awareness and lowering costs drive the market. Whereas, Americas is projected to register highest growth rate of 4.8% CAGR followed by APAC and Europe. The economic outlook for Asia-Pacific region is favorable owing to the large economic developments in China and India. The APAC region is forecast to be the fastest growing market for industrial robotics. All the major global players have established their operations in this region.
Selected / Sample Analysis done in the full Report:
Among all the types, the Articulated Robot is dominating the market, which accounted for approximately 68% of the global revenue. This segment is projected to register highest revenue of $9.13 billion by 2023 from $7.51 billion in 2017 at 3.4% CAGR. Articulated robots have long reach, high speed and larger working envelope. These robots allow high level of functionality and are the most commonly used robots in next generation robotics.
To access the full report browse the link below
https://industryarc.com/Report/10629/industrial-robotics-market.html
Excerpts on Market Growth Factors Mentioned in the Full Report:
1. The rising demand for applications of industrial robots in the welding and assembling applications especially in automotive industry is certainly the key driver of the global industrial robot market.
2. The increase in labor costs and need for efficient production techniques in the developing countries are among the key drivers of the industrial robotics market.
3. Advancement in technology combined with increasing need for robotic automation driven by fast, low cost and error free operation are the major drivers for this market.
Talk to one of our sales representative about the full report by providing your details in the below link:
https://industryarc.com/support.php?id=10629
Key Players of the Industrial Robotics Market:
Fanuc Corporation and Yaskawa Motoman are the leading players in the global industrial robotics market accounting for 24% and 21% market share respectively. Fanuc Corporation, a Japan based manufacturer for industrial robots are the market leader with a wide range of product portfolio and are constantly implementing market strategies to sustain their position in the global market. Recently, Fanuc partnered with technology giant CISCO to embed the latter's technology in their industrial robots to mitigate any sort of breakdown and maintain their operational efficiency.
Industrial Robotics Market Report is Segmented as below.
Industrial Robotics Market By Type:
1. Mounted
1.1. Articulated Robots
1.1.1. Four Axis
1.1.2. Six Axis
1.1.3. Verticularly Articulated
1.2. SCARA Robots
1.3. Cylindrical Robots
1.4. Cartesian or Gantry or Rectangular Arm Robots
1.5. Delta or Parallel Robots
1.6. Polar or Spherical Robots
1.7. Dual Arm
1.8. Redundant
1.9. Human-Assist Robots
1.10. Firefighting Robots
2. Mobile/Cobots/Collaborative Robots
3. By Payload
3.1. 0-20 KG
3.2. 20-80 KG
3.3. 80-300 KG
3.4. 300-1000 KG
3.5. 1000-3000 KG
3.6. Others
4. By Components
4.1. Manipulator
4.2. Sensor Devices
4.3. Robot Tooling
4.4. RCU – Robot Controller Unit
Industrial Robotics Market By Product Type:
1. Welding
1.1. Laser Welding
1.2. Arc Welding
1.3. Gas Welding
1.4. Spot Welding
1.5. Other Welding
2. Material Handling
2.1. Selection & Picking
2.2. Moving
2.3. Packaging
2.4. Palletizing
2.5. Loading
2.6. Unloading
3. Cleaning
4. Assembling
5. Industrial Material Removal & Inspection Systems
5.1. Measurement
5.2. Inspection
5.3. Testing
5.4. Cutting
5.5. Grinding
5.6. Polishing
5.7. Deburring
5.8. Sanding
5.9. Drilling
6. Dispensing Robots
6.1. Painting
6.2. Gluing
6.3. Adhesive Sealing
6.4. Spraying
7. Coating
8. Soldering
9. Ironing
10. Machine Tending
Industrial Robotics Market By End User:
1. Automotive & Auto Parts
2. Electrical & Electronics
3. Food & Beverages
4. Metal Fabrication
5. Packaging and Palletization
6. Pharmaceuticals
7. Chemicals Construction
8. Consumer
9. Biotechnology
10. Communication
Industrial Robotics Market By Geography ( Covers 20+ Countries )
Industrial Robotics Market Entropy
Companies Citied / Interviewed
1. ABB Ltd.
2. Kuka Ag.
3. Denso Wave Inc.
4. Mitsubishi Electric Corp
5. Schunk Gmbh & Co. Kg
6. Nachi-Fujikoshi Corp.
7. Adept Technology, Inc.
8. Aurotek Corporation
9. Kawasaki Robotics Inc.
10. Stäubli International Ag
11. Seiko Epson Corporation (SEIKO Group)
12. Comau Spa.
13. Toshiba Machine Co., Ltd.
14. Company 14+
Related Report:
A. Factory Automation Mechanical Component Market
https://industryarc.com/Report/196/factory-automation-mechanical-products-market-analysis.html
B. Warehouse Robotics Market
https://industryarc.com/Report/1284/Warehouse-Robotics-Market-report.html
What can you expect from the report?
The Industrial Robotics Market Report is Prepared with the Main Agenda to Cover the following 20 points:
1. Market Size by Product Categories
2. Market trends
3. Manufacturer Landscape
4. Distributor Landscape
5. Pricing Analysis
6. Top 10 End user Analysis
7. Product Benchmarking
8. Product Developments
9. Merges & Acquisition Analysis
10. Patent Analysis
11. Demand Analysis ( By Revenue & Volume )
12. Country level Analysis (10+)
13. Competitor Analysis
14. Market Shares Analysis
15. Value Chain Analysis
16. Supply Chain Analysis
17. Strategic Analysis
18. Current & Future Market Landscape Analysis
19. Opportunity Analysis
20. Revenue and Volume Analysis
To request for a proposal provide your details in the below link:
https://industryarc.com/subscription.php
About IndustryARC:
IndustryARC is a Research and Consulting Firm that publishes more than 500 reports annually, in various industries such as Agriculture, Automotive, Automation & Instrumentation, Chemicals and Materials, Energy and Power, Electronics, Food & Beverages, Information Technology, Life sciences &Healthcare.
IndustryARC primarily focuses on Cutting Edge Technologies and Newer Applications in a Market. Our Custom Research Services are designed to provide insights on the constant flux in the global supply-demand gap of markets. Our strong team of analysts enables us to meet.
Venkat Reddy
IndustryARC
6145888538
email us here