US Engine Mounts 2017 Market by Key Players, Share, Trend, Segmentation and Forecast to 2021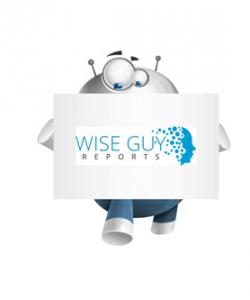 Wiseguyreports.Com Publish New Market Research Report On -"US Engine Mounts 2017 Market by Key Players, Share, Trend, Segmentation and Forecast to 2021"
PUNE, INDIA, October 31, 2017 /
EINPresswire.com
/ --
United States Engine Mounts Market 2017
This report studies the Engine Mounts market. An engine mount is the part that holds the engine to the body or to the engine frame of the car. In a typical car, the engine and transmission are bolted together and held in place by three or four mounts.
Scope of the Report:
This report focuses on the Engine Mounts in United States market, to split the market based on manufacturers, states, type and application.
Market Segment by Manufacturers, this report covers
TrelleborgVibracoustic
ContiTech
Hutchinson
Sumitomo Riko
Bridgestone
BOGE Rubber & Plastics
Toyo-Rubber
Cooper Standard
Nissin
Yamashita Rubber
Tuopu
Luoshi
Faw Foundry
PGI Far East
Hetian Automotive
SKF
Request a Sample Report @
https://www.wiseguyreports.com/sample-request/2434694-united-states-engine-mounts-market-by-manufacturers-states-type-and-application
Market Segment by States, covering
California
Texas
New York
Florida
Illinois
Market Segment by Type, covers
Conventional Engine Mount
Hydraulic Engine Mount
Market Segment by Applications, can be divided into
Passenger Car
Commercial Vehicle
Others
There are 17 Chapters to deeply display the United States Engine Mounts market.
Chapter 1, to describe Engine Mounts Introduction, product type and application, market overview, market analysis by States, market opportunities, market risk, market driving force;
Chapter 2, to analyze the manufacturers of Engine Mounts, with profile, main business, news, sales, price, revenue and market share in 2016 and 2017;
Chapter 3, to display the competitive situation among the top manufacturers, with sales, revenue and market share in 2016 and 2017;
..…..Continued
Any Query, Submit Here @
https://www.wiseguyreports.com/enquiry/2434694-united-states-engine-mounts-market-by-manufacturers-states-type-and-application
Table of Contents –Analysis of Key Points
1 Market Overview
1.1 Engine Mounts Introduction
1.2 Market Analysis by Type
1.2.1 Conventional Engine Mount
1.2.2 Hydraulic Engine Mount
1.3 Market Analysis by Applications
1.3.1 Passenger Car
1.3.2 Commercial Vehicle
1.3.3 Others
1.4 Market Analysis by States
1.4.1 California Status and Prospect (2012-2022)
1.4.2 Texas Status and Prospect (2012-2022)
1.4.3 New York Status and Prospect (2012-2022)
1.4.4 Florida Status and Prospect (2012-2022)
1.4.5 Illinois Status and Prospect (2012-2022)
1.5 Market Dynamics
1.5.1 Market Opportunities
1.5.2 Market Risk
1.5.3 Market Driving Force
2 Manufacturers Profiles
2.1 TrelleborgVibracoustic
2.1.1 Profile
2.1.2 Engine Mounts Type and Applications
2.1.2.1 Type 1
2.1.2.2 Type 2
2.1.3 TrelleborgVibracoustic Engine Mounts Sales, Price, Revenue, Gross Margin and Market Share (2016-2017)
2.1.4 Business Overview
2.1.5 TrelleborgVibracoustic News
2.2 ContiTech
2.2.1 Profile
2.2.2 Engine Mounts Type and Applications
2.2.2.1 Type 1
2.2.2.2 Type 2
2.2.3 ContiTech Engine Mounts Sales, Price, Revenue, Gross Margin and Market Share (2016-2017)
2.2.4 Business Overview
2.2.5 ContiTech News
2.3 Hutchinson
2.3.1 Profile
2.3.2 Engine Mounts Type and Applications
2.3.2.1 Type 1
2.3.2.2 Type 2
2.3.3 Hutchinson Engine Mounts Sales, Price, Revenue, Gross Margin and Market Share (2016-2017)
2.3.4 Business Overview
2.3.5 Hutchinson News
2.4 Sumitomo Riko
2.4.1 Profile
2.4.2 Engine Mounts Type and Applications
2.4.2.1 Type 1
2.4.2.2 Type 2
2.4.3 Sumitomo Riko Engine Mounts Sales, Price, Revenue, Gross Margin and Market Share (2016-2017)
2.4.4 Business Overview
2.4.5 Sumitomo Riko News
2.5 Bridgestone
2.5.1 Profile
2.5.2 Engine Mounts Type and Applications
2.5.2.1 Type 1
2.5.2.2 Type 2
2.5.3 Bridgestone Engine Mounts Sales, Price, Revenue, Gross Margin and Market Share (2016-2017)
2.5.4 Business Overview
2.5.5 Bridgestone News
2.6 BOGE Rubber & Plastics
2.6.1 Profile
2.6.2 Engine Mounts Type and Applications
2.6.2.1 Type 1
2.6.2.2 Type 2
..…..Continued
Norah Trent
wiseguyreports
+1 646 845 9349 / +44 208 133 9349
email us here