Membrane Bioreactors 2017 Global Market Expected to Grow at CAGR of 10.37% and Forecast to 2021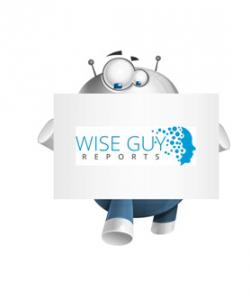 Wiseguyreports.Com Publish New Market Research Report On -"Membrane Bioreactors 2017 Global Market Expected to Grow at CAGR of 10.37% and Forecast to 2021"
PUNE, INDIA, October 16, 2017 /
EINPresswire.com
/ --
Membrane Bioreactors Market 2017
Membrane bioreactor (MBR) technology combines biological-activated sludge process and membrane filtration and has been accepted for the treatment of wastewater in recent years. However, conventional activated sludge (CAS) process cannot cope up with the composition of wastewater and fluctuations in wastewater flow rate. MBR technology is an expensive method when compared with the conventional process; however, the legal requirements in wastewater treatment plants are fulfilled with the use of membrane bioreactor technology.
The analysts forecast the global membrane bioreactors market to grow at a CAGR of 10.37% during the period 2017-2021.
Covered in this report
The report covers the present scenario and the growth prospects of the global membrane bioreactors market for 2017-2021. To calculate the market size, the report considers new installations/sales of products.
The market is divided into the following segments based on geography:
• Americas
• APAC
• EMEA
Request a Sample Report @
https://www.wiseguyreports.com/sample-request/1930744-global-membrane-bioreactors-market-2017-2021
The report, Global Membrane Bioreactors Market 2017-2021, has been prepared based on an in-depth market analysis with inputs from industry experts. The report covers the market landscape and its growth prospects over the coming years. The report also includes a discussion of the key vendors operating in this market.
Key vendors
• General Electric
• HUBER
• Koch Membrane Systems
• Mitsubishi Hitachi Power Systems Environmental Solutions
• Veolia Water Technologies
Other prominent vendors
• BI Pure Water
• Evoqua Water Technologies
• Kubota
• KUBOTA Membrane USA
• LG Electronics
• MAK Water
• newterra
• Nijhuis Industries
• Ovivo
• Pentair
• RODI Systems
• Siemens Water Technologies
• Smith & Loveless
• Telem
• TORAY INDUSTRIES
• US Filter
• Wärtsilä
Market driver
• Rapid industrialization
• For a full, detailed list, view our report
Market challenge
• Membrane fouling
• For a full, detailed list, view our report
Market trend
• Depletion of freshwater resources
• For a full, detailed list, view our report
Key questions answered in this report
• What will the market size be in 2020 and what will the growth rate be?
• What are the key market trends?
• What is driving this market?
• What are the challenges to market growth?
• Who are the key vendors in this market space?
Complete Report Details@
https://www.wiseguyreports.com/reports/1930744-global-membrane-bioreactors-market-2017-2021
Table of Contents –Analysis of Key Points
PART 01: Executive summary
PART 02: Scope of the report
PART 03: Research Methodology
PART 04: Introduction
• Market outline
PART 05: Market landscape
• Market overview
• Market size and forecast
• Five forces analysis
PART 06: Market segmentation by end-user
• Global membrane bioreactors market by end-user
• Global membrane bioreactors market by municipal sector
• Global membrane bioreactors market by industrial sector
PART 07: Geographical segmentation
• Global membrane bioreactors market by geography
• Membrane bioreactors market in APAC
• Membrane bioreactors market in EMEA
• Membrane bioreactors market in the Americas
PART 08: Decision framework
PART 09: Drivers and challenges
• Market drivers
• Market challenges
PART 10: Market trends
• Depletion of freshwater resources
• Increasing need in developing countries
• Rising patent filings
PART 11: Vendor landscape
• Competitive scenario
• Other prominent vendors
PART 12: Key vendor analysis
..…..Continued
Norah Trent
wiseguyreports
+1 646 845 9349 / +44 208 133 9349
email us here