Award winning author Linda S. Churchwell Sir Winston's LOOPHOLE...Leaps & Hounds novel a hit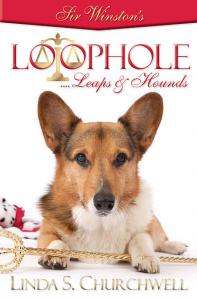 Author Linda S. Churchwell's new book is a hit among women readers
LOS ANGELES , CA, USA, September 21, 2017 /
EINPresswire.com
/ -- AWARD WINNING AUTHOR LINDA S. CHURCHWELL LAUNCHES NEW ROMANTIC- SUSPENSE-FANTASY NOVEL SERIES ENTITLED
"Sir Winston's LOOPHOLE … Leaps & Hounds
THE FIRST IN ITS "Sir Winston's" SERIES, CHURWELL'S LOOPHOLE…Leaps & Hounds FANTASY NOVEL'S WILL BE HONORED AT THE HOLLYWOOD FAME AWARDS ON NOVEMBER 8TH, 2017 AT
THE HARD ROCK CAFÉ IN HOLLYWOOD, CA
Hollywood, CA – "Sir Winston's, LOOPHOLE…Leaps & Hounds" by Linda S. Churchwell has just launched the first in her series of romantic suspense fantasy novel's Sir Winston's LOOPHOLE… Leaps & Hounds.
Two dynamic women, the two driven men they love, a formidable pact – AND A DOG – which God uses to turn their lives…indeed the world…upside down!
Texas' small-town natural beauty, Millicent E. Graves, spellbindingly depicts how what a conned world often terms weak is – in truth – valiant. It all begins when "Millie's" long prayed for, Christmas time, adoption of puppy, Winston, dog, Windsor, and kitty, Precious, insanely ignites into a terrifying abduction involving them as well as the Dustin City Animal Shelter's mysteriously handsome Director, Michael Archer, III. But are our beloved Millie - and crew - victims of happenstance, or is a grandiose divine destiny in play? The latter masterfully unfolds as this scene proves itself only the dawn of unimagined, edge-of-seat, events which panoramically catapults "LOOPHOLE'S" bevy of endearing, heart-tugging, characters into divine call, true love, organized crime, and angelic visitations which sets them each – human, hound, and feline – on the spiritual journey of a lifetime. Hold tight to Linda S. Churchwell's beautifully written epic, via its unforeseen twists and turns, to experience a life changing whirlwind of God's abiding love and faithfulness. In "LOOPHOLE'S" astounding feel-good ending, which leaves the reader hungry for its sequel, villains receive their comeuppances - mercifully wrapped within offers of redemption - while faith-leaps transport our beloved heroes from small town Loveland, and big city Dustin, all the way to Buckingham Palace – yes indeed, to the Queen – to receive royalty's unfathomable reward!
This book was given the Las Vegas FAME award earlier this year.
www.lindachurchwell.com
www.facebook.com/lindaschurchwell
LINDA CHURCHWELL WILL BE HONORED AT THE HOLLYWOOD FAME AWARDS ON NOVEMBER 8th, 2017 AT THE HARD ROCK CAFÉ IN HOLLYWOOD, CA,
Books are available online at: Barnes and Noble & Amazon.com
Linda Churchwell is available for interviews
MEDIA CONTACT:
ROGER NEAL @ NEAL PR
CELEBRATING 36 YEARS
323-366-2796
www.nealpublicrelations.com
ROGER NEAL
NEAL PR
323-366-2796
email us here