ClicTest now offers off-the-shelf products to complement every client-specific need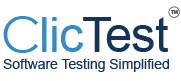 DALLAS, LONDON, HYDERABAD, USA, UK, INDIA, July 31, 2017 /
EINPresswire.com
/ --
ClicTest
, a loosely coupled comprehensive software testing solution is now offering its existing components for Functional Testing, Automation Testing, Performance Testing, Compatibility Testing, Test Management and Defect Tracking for web applications.
ClicTest suite offers the following as its
off-the-shelf products
:
• ClicAutomate – Platform Agnostic, Script-less Test Automation Tool helps in creating automation test cases without writing a single line of code.
• ClicLoad – On-Demand, Continuous Performance Testing Enabler to identify performance bottlenecks at the earliest and make load testing faster and more comprehensive
• ClicAPI – An API Testing Tool to identify issues at a rapid pace and bring unprecedented functional capabilities to your application.
• ClicManage – Intuitive Tool for Release and Test Management, helps in centralizing, organizing and planning testing activities across multiple projects.
• ClicBug – Insightful Defect Tracking Tool to bring more than a mere bug tracking to your QA with powerful insights.
• ClicBrowse – Robust Tool for Cross Browser Compatibility, to render website across browsers and browser versions on different platforms with results auto-compare.
ClicTest has taken shape as an answer to the problem of scattered testing tasks.
Having an understanding of the necessity of a solution where all types of testing needs are addressed, ClicTest evolved. ClicTest is more flexible in addressing clients' specific needs and to achieve faster time to market. By taking the advantage of loosely coupled architecture, it empowers to deliver complete end-to-end suite as "ClicTest" or independent components like "ClicAutomate" for automation testing or "ClicLoad" for performance testing or any other aforementioned products. ClicTest also gives the flexibility to combine any choice of off-the-shelf products as a single solution.
ClicTest products inherit the same delivery model "SaaS" from ClicTest and ask for no installation.
Pavan Kumar, Vice President Technology and Innovation, who is also the mastermind behind ClicTest said, "Adding comprehensiveness to an organization's software testing process was the ultimate goal of ClicTest along with the required flexibility". So far ClicTest has succeeded in catering the capabilities which an organization needs to address all of their software testing needs from manual testing to
Next-Generation Automation
Testing. Now, with this move, ClicTest will become handier for Startups, SMEs and Enterprises in surpassing the challenges associated with quality, reliability and performance of their applications and software products."
For more details, please visit
www.clictest.com
Shravan M
Ogle Media
+17326374201
email us here

EIN Presswire does not exercise editorial control over third-party content provided, uploaded, published, or distributed by users of EIN Presswire. We are a distributor, not a publisher, of 3rd party content. Such content may contain the views, opinions, statements, offers, and other material of the respective users, suppliers, participants, or authors.