Marquee Musicians Form Rock Band Brigade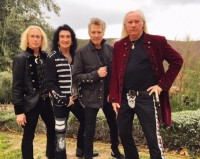 Brigade to perform at Ronnie Montrose Tribute Show Jan 21st
LOS ANGELES, CA, USA, January 20, 2017 /EINPresswire.com/ -- Prominent musicians Howard Leese, guitar (Heart, BadCo, Rock Vault, Rock-n-Roll Hall of Fame Inductee), Robin McAuley, vocalist (MSG, Survivor, Rock Vault), James Kottak, drums (The Scorpions, Kingdom Come, Montrose) and Jason Boyleston, bass (Paul Rodgers band, Starship w/Mickey Thomas, guitar, Rock Vault, guitar) announced the formation of Brigade, a new Los Angeles based rock band.
Brigade is scheduled to perform their first gig at the Ronnie Montrose Tribute Concert on Saturday, January 21, 2017, 7pm, Yost Theater, Santa Ana, CA. This tribute show, organized by former Montrose frontman Keith St. John, is part of the weekend of live entertainment during the annual NAMM (National Association of Music Merchants) convention in Anaheim, CA.
"We are all excited about this new venture, our mutual love of Rock-n-Roll and our first appearance as a band at the Ronnie Montrose Tribute Show at NAMM," said the Brigade members in a joint statement.
Brigade will be recording live in-studio later this year.
"We all love the live in-studio style of recording music, where everything is raw, honest and hopefully one-take," said the band.
Additional information including Brigade show dates and appearances will be announced shortly.
Band member endorsements include: Paul Reed Smith (Leese), Aquarian Drumheads, Ahead, Big Bang Distribution, CymPad, DW Drums and Zildjian (Kottak).
Follow the band on Twitter @Jkottak, @robin_mcauley, @JasonBoyleston, or on Facebook: http://www.facebook.com/Brigaderockband
Sharan Magnuson
SM Communications
310.600.2966
email us here

EIN Presswire does not exercise editorial control over third-party content provided, uploaded, published, or distributed by users of EIN Presswire. We are a distributor, not a publisher, of 3rd party content. Such content may contain the views, opinions, statements, offers, and other material of the respective users, suppliers, participants, or authors.