Fertilizer Global Market Is Forecast to Reach $200 Plus Billion In 2019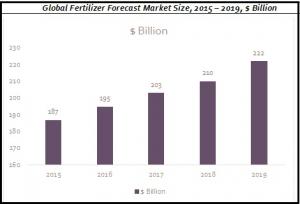 LONDON, GREATER LONDON, UNITED KINGDOM, November 26, 2016 /
EINPresswire.com
/ -- A fertilizer is any material of natural or synthetic origin that is applied to soils or to plants to supply one or more plant nutrients essential to the growth of plants.
For the full report, visit The Business Research Company:
http://www.thebusinessresearchcompany.com/our-research/chemicals/fertilizer-global-market-analytics-report-2016/
Phosphorus is being recovered from sewage, manure and other sources and made available as a fertilizer. Since phosphorus is a finite source, companies are looking for ways to recycle or recapture phosphorus to use in agriculture. Plants' available phosphorus content is increased through anaerobic digestion and composting and in sludge from sewage through acid treatment and oxidizing. Manure and sludge when treated appropriately can provide more phosphorus than traditional inorganic fertilizers.
The
fertilizer industry comprises
establishments primarily engaged in nitrogenous fertilizer manufacturing, phosphatic fertilizer manufacturing and fertilizer manufacturing.
According to The Business Research Company's Chemical Consultant, Yogesh Bathula, the
global fertilizer market
is expected to grow in the future due to the technological development. Areas of particular development are likely to be fertigation and foliar applications that require micro irrigation systems for dispensing water-soluble formulations of nutrients.
The Business Research Company expects the fertilizer market to grow to $222 billion in 2019. Asia was the largest geographic market in the fertilizer market in 2015, accounting for $104 billion or 55.5% of the global market.
The fertilizer market is fragmented. Agrium is the leading competitor, followed by PotashCorp and Eurochem.
The figure show the forecast year-on-year growth of the global fertilizer market during 2015 – 2019.
The Business Research Company Report's Coverage:-
 Market Covered:- omputer Facilities Management, Computer Systems Design Services, Software Services, Data Processing and Hosting.
 Companies Mentioned:- Telecom, IT Services, Software Products, Computer Hardware.
 Countries:- Australia, Brazil, China, France, Germany, India, Italy, Japan, Spain, Russia, UK, USA.
 Regions:- Asia, Americas, Europe, Middle East & Africa, Oceania.
 Time Series:- Five years historic and forecast.
 Data Segmentations:- Country and regional splits, market share of competitors, market segments.
 And More:- Please Visit tbrc.info
Key Points of the Fertilizer Global Market Report:
1. Market Characteristics.
2. Historic Data.
3. Forecast Data.
4.
Mergers and Acquisitions in the market
.
5. The latest trends in the market.
Follow us for the latest updates:
https://www.facebook.com/The-Business-Research-Company-1664946437159339/
https://www.linkedin.com/company/the-business-research-company
https://twitter.com/tbrc_info
About The Business Research Company
The Business Research Company is a market research and intelligence company which excels in company, market and consumer research.
It has research professionals at its offices in the UK, India and the US as well a network of trained researchers globally. It has specialist consultants in a wide range of industries including manufacturing, healthcare, chemicals and technology.
Oliver Guirdham
The Business Research Company
8897263534
email us here