Book Publishers Global Market Report From The Business Research Company Has Been Updated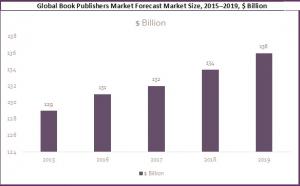 LONDON, GREATER LONDON, UNITED KINGDOM, November 26, 2016 /
EINPresswire.com
/ -- The publishing industry produces a variety of publications, including books, magazines, newspapers and directories. The publishing industry produces its material in printed materials or electronic media.
For the full report, visit
The Business Research Company
:
http://www.thebusinessresearchcompany.com/our-research/media/book-publishers-global-market-analytics-report-2016/
Book Publishers publish atlases, religious books, school textbooks, encyclopedias, technical manuals, maps and travel guide books.
• Atlas
Publishers publish maps or charts of geographies
and regions around the world.
• Religious Book Publishers publish Holy Scriptures of various religions across the world.
• Academic Publishers publish books that deal with the curriculum of schools, colleges and university students
• Technical Manual Publishers deal with documents that contain instructions for the operation, installation and maintenance of machines and equipment, including the support and requirements for training and their use.
• Encyclopedia Publishers generally work on books which give information on many subjects or on many aspects of one subject, which are typically used as reference.
• Fiction Book Publishers publish books of stories or literature created from imagination.
• Autobiography and Biography Publishers release books on written account of a person's life.
Digital audio books sales have increased exponentially over the last decade. Libraries are also adopting audio books in a big way. Some of the companies also offer a pay per usage plan that enables users to pay when they access a book title. 3M Cloud Library, Baker and Taylor, Hoopla, Overdrive and Audible are the major audiobook service providers. Book publishers are offering popular books in audio format to increase their overall revenues
According to The Business Research Company's Media Consultant, Abdul Wasay, believes that increasing government expenditure on education and the rising number of young people opting for higher education in emerging markets, is expected to drive the growth of the publishing industry. Rapid growth in internet and smart phone penetration is also driving the growth of the publishing industry as individuals prefer to read books on their mobile phones, tablets and computers.
The Business Research Company expects the
book publishers market
to grow to $136 billion in 2019. Asia was the largest geographic market in the book publishers market in 2015, accounting for $43 billion or 33.5% of the global market.
The figure shows the year-on-year growth of the global book publishers market during 2015–2019.
The Business Research Company Report's Coverage:-
 Market Covered:- Computer Facilities Management, Computer Systems Design Services, Software Services, Data Processing and Hosting.
 Companies Mentioned:- Telecom, IT Services, Software Products, Computer Hardware.
 Countries:- Australia, Brazil, China, France, Germany, India, Italy, Japan, Spain, Russia, UK, USA.
 Regions:- Asia, Americas, Europe, Middle East & Africa, Oceania.
 Time Series:- Five years historic and forecast.
 Data Segmentations:- Country and regional splits, market share of competitors, market segments.
 And More:- Please Visit tbrc.info
Key Points of the Book Publishers Global Market Report:
1. Market Characteristics.
2. Historic Data.
3. Forecast Data.
4. Mergers and Acquisitions in the market.
5. The latest trends in the market.
Follow us for the latest updates:
https://www.facebook.com/The-Business-Research-Company-1664946437159339/
https://www.linkedin.com/company/the-business-research-company
https://twitter.com/tbrc_info
About The Business Research Company
The Business Research Company is a market research and intelligence company which excels in company, market and consumer research.
It has research professionals at its offices in the UK, India and the US as well a network of trained researchers globally. It has specialist consultants in a wide range of industries including manufacturing, healthcare, chemicals and technology.
Oliver Guirdham
The Business Research Company
8897263534
email us here