President of Project Development International meets with Guinea Minister for Investment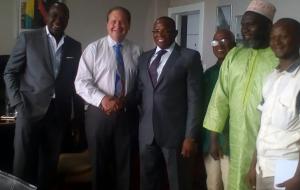 James E. Lalumiere met with Minister Ibrahima Kassory Fofana, Minister of State and Advisor for Investment to the President in the President's Office in Conakry
We are very proud to partner with the Guinea Government and local Unions to bring much needed housing units and communities to the people of Guinea
— James E> Lalumiere
CONAKRY, GUINEA, June 9, 2016 /
EINPresswire.com
/ --
Project Development International
, Inc.'s President, James E. Lalumiere, met with Minister Ibrahima Kassory Fofana, Minister of State and Advisor for Investment to the President in the President's Office to discuss the development of infrastructure projects in Guinea. Among the projects to be developed for the people of Guinea are renewable energy projects with hydropower, solar, and wind, as well as clean water supply, wastewater treatment, solid waste management (waste to energy), and housing.
Project Development International has already entered into an Agreement with Federation Syndicale Professionnelle De L'Education (FSPE), the teacher's union in Guinea, and La Confederation Nationale des Travailleurs de Guinee (CNTG), the National Confederation of Guinea Workers for the provision of 100,000 housing units throughout Guinea. This Program is part of a larger effort by the Government of Guinea to alleviate the serious housing shortage nationwide. Project Development International will assist the Government of Guinea to establish a mortgage bank to allow for loans to be extended to home buyers. Project Development International, S.A. has been established in Guinea to manage projects locally. New offices for Project Development International, S.A. are being set up in downtown Conakry.
The Program will proceed as a Public Private Partnership between the Guinea Government and Project Development International, S.A. A bank guarantee will be made available to assure that the housing units built will be purchased at the Government established sales prices.
About Project Development International:
Project Development International, Inc. (PDI) is an International Social Infrastructure Development firm headquartered in Dunedin, FL USA with affiliate offices in Santiago, Chile; Rio de Janeiro, Brasil; Abuja, Nigeria; Accra, Ghana; Libreville, Gabon; and now Conakry, Guinea. PDI has been providing Public
Owner Representative
services throughout the U.S. for more than 30 years and International Infrastructure Development Services for the past 10 years.
For more information contact Mr. James E. Lalumiere, President, in the Dunedin, FL offices at +1(727) 734-8589 or visit our website at
http://www.pdiusa.com
.
James E. Lalumiere
Project Development International, Inc.
+1 727-734-8589
email us here