ProjectHindi: Making India Employable Through Online Free Education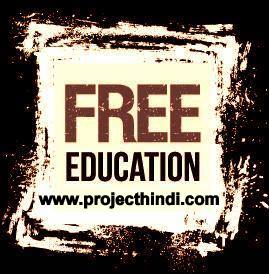 Created with Love to make India Employable for Free.
Project Hindi is one of the best E-learning website that offers students a great medium of learning through video tutorials in Hindi to help them learn things for free.
— Prateek
GHAZIABAD, UTTAR PRADESH, INDIA, March 12, 2016 /
EINPresswire.com
/ -- India –
ProjectHindi
, an online e-learning portal for imparting free education in Hindi, continues to revolutionize and equip hard-working Indians with access to important classes and courses in their native tongue. Designed to make India more employable through an easy to use online platform, ProjectHindi is completely free and self-paced, viewable on any electronic device, and backed by responsive instructors ready to answer any questions or inquires.
"My passion for disseminating free and accessible education to anyone interested in India knows no boundaries," said Prateek Singh, Creator and Founder of ProjectHindi. "ProjectHindi is the first free platform of its nature, solely dedicated to providing education and coursework on employability skills in demand in India. It's my goal to close the loophole between vacant jobs, and hard-working individuals without the skillsets necessary to excel."
Currently, courses on
Javascript
, XML, Microsoft Excel, HTML, CSS, job interviews, numerology, and many more are available in Hindi on ProjectHindi. Lessons are designed to be learning friendly and are broken down into bit sizes, conducive to successful absorption processes. Instructors are readily available to bring pupils up to speed on the course progress and answer any questions regarding the site.
"There are so many jobs waiting to be filled here in India with the intelligent and talented members of our community," said Singh. "The learning gap continues to grow as practical skills relevant today are rarely available in Hindi. Please visit my free online school for obtaining these vital attributes in the information age, and spread the word to your family and friends."
New courses and information continue to be updated and added to ProjectHindi every week.
For more information, or to get started with the new and resourceful online e-learning portal, visit:
http://www.projecthindi.com/
.
Prateek Kumar Singh
Project Hindi
9582755738
email us here