West Red Lake Gold Provides Project Updates and Outlines Strategic Path Forward
VANCOUVER, British Columbia, Oct. 03, 2023 (GLOBE NEWSWIRE) -- West Red Lake Gold Mines Ltd. ("West Red Lake Gold" or "WRLG" or the "Company") (TSXV:WRLG) is pleased to provide a project update and an outlook on project advancement in the near to medium term for the Madsen Mine and Rowan Mine projects located in the prolific Red Lake Gold District of Northwestern, Ontario, Canada.
PATH FORWARD
Additional 35,000 metre ("m") drill program planned for Rowan Property to commence in early 2024, adding second drill and to include systematic in-fill drilling and expansion drilling of high-grade zones and begin testing high priority drill targets at Mt. Jamie, Red Summit and the NT Zone.
Complete initial Preliminary Economic Assessment (the "PEA") on entire portfolio of Properties by Q2 2024 (based on drilling cutoff date of Oct 1, 2023)
Complete updated Mineral Resource Estimate ("MRE") at Rowan by Q4 2024 (to include all anticipated drilling up to Q3 2024)
Complete 3,000 m drill program at Wedge, aimed to expand deposit and complete MRE by Q4 2024
Complete 38,000 m underground drill program at Madsen Mine by Q4 2024
Complete 3,200 m of underground development by Q4 2024 for access and required infrastructure to support underground drilling.
Develop a connecting ramp between the East and West declines at Madsen to increase waste hauling capacity from the West ramp which previously crossed two public roads, further reducing operating costs.
Put the Madsen Mine back into production in 2025.
Shane Williams, President, and CEO commented: "The team has done a fantastic job since the beginning of 2023, achieving many major milestones in the relatively short life of the re-vamped West Red Lake Gold Mines. In a difficult market we have managed to complete key acquisitions, raise a considerable amount of capital to fund our growing ambitions and assembled a team of noteworthy professionals with a track record of success at both the management and board levels. We have enjoyed a tremendous amount of exploration success via the drill-bit at our Rowan project which we hope to replicate at some very exciting targets in and around our newly acquired Madsen Mine. The coming year will be a very active time for the Company as we lay the groundwork to execute on our vision to put the Madsen Mine back into production and continue to unlock significant value for our shareholders."
ROWAN PROPERTY
The 2023 drilling program at Rowan has been incredibly successful thus far. As such, the originally planned 17,000 m of drilling at the Rowan Mine target was expanded to 25,000 m and the team is on track to complete all planned drilling at Rowan.
Our understanding of the mineralization at Rowan has been greatly enhanced and results continue to confirm internal models and our exploration strategy continues to be validated by the results achieved. The mineralized set of veins at Rowan continues to deliver high-grade gold assays over significant widths that are in-line with or exceed those modelled in the December 2022 resource estimate. A few notable highlights from 2023 drilling at Rowan include:
Hole RLG-23-163B Intersected 8.3 m @ 70.80 grams per tonne ("g/t") gold ("Au") from 387 m to 395.3 m. This interval also included 0.5 m @ 1,120.19 g/t Au and represents the highest-grade intercept ever drilled at the Rowan project.
Hole RLG-23-149B Intersected 4.0 m @ 50.52 g/t Au, from 299 m to 303 m.
Hole RLG-23-153 Intersected 2.0 m @ 66.66 g/t Au, from 235 m to 237 m
Hole RLG-23-134 Intersected 8.0 m @ 10.34 g/t Au, from 71 m to 79 m
Hole RLG-23-156B Intersected 3.11 m @ 21.84 g/t Au, from 275 m to 278.11 m
Hole RLG-23-150 Intersected 4.2 m @ 15.40 g/t Au, from 384 m to 388.2 m
Hole RLG-23-154 Intersected 10.1 m @ 6.27 g/t Au, from 214.9 m to 225 m

Our strategy at Rowan for the remainder of 2023 will be to continue increasing confidence in the 827,462 ounces ("oz") Inferred resource through systematic in-fill drilling. We will also look to step out and expand the Rowan resource by targeting mineralization outside of the current model and testing the down-dip and down-plunge extensions of the high-grade zones.
We plan on staying aggressive with the exploration strategy at Rowan in 2024, which will include the addition of a second drill early in the year to continue advancing the Rowan Mine target, and to begin testing high priority drill targets at Mt. Jamie, Red Summit, and the NT Zone. An additional 35,000 m of exploration drilling is planned for the Rowan Property in 2024. An updated mineral resource estimate for Rowan is anticipated to be completed in Q4 2024 and will include all drilling through Q3 2024.
It is the Company's belief that potential synergies could exist between the high-grade Rowan deposit and our flagship Madsen Mine. Early indications suggest that the gold mineralization at Rowan could be amenable to gravity separation. As such, the Company has initiated a metallurgical study at Rowan to begin evaluating this opportunity, as well as a geotechnical study to better characterize the rock mass properties within the mineralized vein zones at Rowan.
Management maintains a high degree of confidence in the merits of the Rowan deposit and has initiated necessary baseline environmental and archaeological assessments to begin moving the Rowan project towards an Advanced Exploration Permit status – this permit will be required prior to collection of a bulk sample at Rowan.
MADSEN SATELLITE TARGETS AND REGIONAL EXPLORATION
After successfully completing the acquisition of the Madsen Mine the exploration team undertook a detailed review of the property. Several promising targets were identified and prioritized with the Wedge target emerging as our highest priority target.
Previous drilling highlights from the Wedge target include.
Hole PG17-486 Intersected 10.33 m @ 24.94 g/t Au, from 16.67 m to 27 m
Hole PG17-467 Intersected 16.6 m @ 17.49 g/t Au, from 11.45 m to 28 m
Hole PG17-482 Intersected 14.4 m @ 8.35 g/t Au, from 28 m to 42.4 m
Hole PG19-643 Intersected 1 m @ 108.5 g/t Au, from 103 m to 104 m
Surface exploration and drilling began in early September and the initial 3,000 m program is almost complete. Drilling is primarily focused on extending the high-grade zones defined at the Wedge Target. This new drilling will be used to support an updated Mineral Resource Estimate at Wedge to be completed by Q4 2024. Wedge currently hosts an Indicated resource of 56,100 oz of gold grading 5.6 g/t Au and an Inferred resource of 78,700 oz of gold grading 5.7 g/t Au1. The target is 2 km southwest of the Madsen Mine and is adjacent to the past-producing Starratt-Olsen Mine which historically processed 823,554 tonnes grading 6.16 g/t Au for ~163 koz of gold2. Drilling conducted at the Wedge target and other satellite targets near mine will be incorporated into an updated mineral resource estimate. We anticipate the update to be completed by Q4 2024.
A detailed and systematic review of all available exploration and geologic data for the Madsen property has also been initiated. This information will be digitized and compiled into working GIS and 3D modeling project files to allow for target ranking and prioritization ahead of the 2024 season. Most of the ground at Madsen remains underexplored and our geology team is already seeing a lot of opportunity for new discoveries across the district.
MADSEN PROJECT
Underground diamond drilling at Madsen has recommenced. A 38,000 m program has been designed for the first 12 months and will be focused on infill and expansion of the high-grade portions of the Austin and South Austin zones. We anticipate this drilling to define an inventory of high-confidence ore-grade (6-7 g/t Au) resource to serve as a starting point for a future restart plan. Additionally, underground development work is taking place at Madsen which will provide our team with the necessary access and infrastructure required to support the underground drilling program.
Mine design and scheduling for the first 12 months have been completed with subsequent phases to be determined based on the findings of the initial underground drilling and exploration program. The first development cuts have been taken at Madsen to provide access to the areas where infill drilling has already been planned. Mine design and scheduling consider the requirements of the operations and geology teams to ensure a full collaborative approach to advancing the project in a safe, efficient, and timely manner. Over the next 12 months the Company will complete approximately 3,200 m of underground development to support engineering and geological programs. We do not intend to conduct any stoping or commercial extraction for the next 12-15 months until the re-start strategy is significantly de-risked both technically and financially.
The Company will also develop a connecting ramp between the East and West declines. The current waste hauling at Madsen from the West ramp crosses two public roads (into Madsen town). This haul route is only allowed to be used during daylight hours. A connecting ramp would increase the number of hours the team can haul waste as well as eliminate double handling, thus reducing operating costs. It will also provide for increased safety for the surrounding community due to reduced traffic.
Additional and ongoing activities at the Madsen Mine will include, but are not limited to, shaft dewatering, water treatment and environmental monitoring.
MINERAL RESOURCE UPDATE AND PEA
The West Red Lake team is committed to a timely and successful restart that will maximize value for all our stakeholders. As such the team has engaged SRK Consulting and put in place the necessary programs required to complete a Preliminary Economic Assessment. The PEA will look to unlock and deliver robust economics by incorporating the Company's entire portfolio of Red Lake assets which is made up of our Rowan Project and Madsen Mine with its accompanying satellite deposits.
Management firmly believes this approach is in-line with its vision for the Red Lake district and a potential Hub and Spoke model utilizing the Madsen processing facilities provides plenty of optionality and opportunity to greatly bolster the project economics.
West Red Lake intends to deliver this initial PEA by the end of Q2 2024. To achieve that milestone by the anticipated deadline the decision was made to establish an Oct 1, 2023, cut-off date for 2023 Rowan drilling data to be incorporated into this PEA. As such, the updated Rowan mineral resource estimate included in the upcoming PEA will be focused primarily on the high-grade East Zone, which has been the focus of drilling at Rowan so far in 2023 and is envisioned as the first area to be mined when production from Rowan commences. The PEA will then be followed up by a more comprehensive MRE update for Rowan by Q4 2024, which will include all drilling at Rowan through Q3 2024.
RECAP OF FIRST THREE QUARTERS OF 2023
Completed the successful acquisition of 100% of the Rowan Gold Project from Evolution Mining

Appointment of new CEO, Shane Williams, to lead the Company.

Strengthened Senior Management Team with addition of a new CFO and new VPs of Exploration, Technical Services, Corporate Development, and Community Relations.

Increased board strength with key appointees including Tony Makuch, Duncan Middlemiss, and Hugh Agro.

Successfully completed the acquisition of our flagship Madsen Mine asset while concurrently raising C$ 25M.

Completed Phase 1 Exploration Program at Rowan project and initiated expanded Phase 2 drilling campaign. Results from drilling in 2023 have exceeded expectations and as a result the program was expanded from the originally announced 17,000 meters to 25,000 meters. That expanded program is well underway.

Initiated surface drilling campaign at Wedge target – 2km southwest of Madsen Mine. The program consists of 3,000 meters of drilling to upgrade and expand the existing resource at Wedge.

Successfully completed flow-through financing of C$7 million, to further strengthen treasury position.

Underground development activities and shaft dewatering are underway at Madsen Mine.

SRK was awarded the contract to conduct Preliminary Economic Assessment and work program has been initiated.
ABOUT WEST RED LAKE GOLD MINES
West Red Lake Gold Mines Ltd. is a mineral exploration company that is publicly traded and focused on advancing and developing its flagship Madsen Gold Mine and the associated 47 km2 highly prospective land package in the Red Lake district of Ontario. The highly productive Red Lake Gold District of Northwest Ontario, Canada has yielded over 30 million ounces of gold from high-grade zones and hosts some of the world's richest gold deposits. WRLG also holds the wholly owned Rowan Property in Red Lake, with an expansive property position covering 31 km2 including three past producing gold mines - Rowan, Mount Jamie, and Red Summit.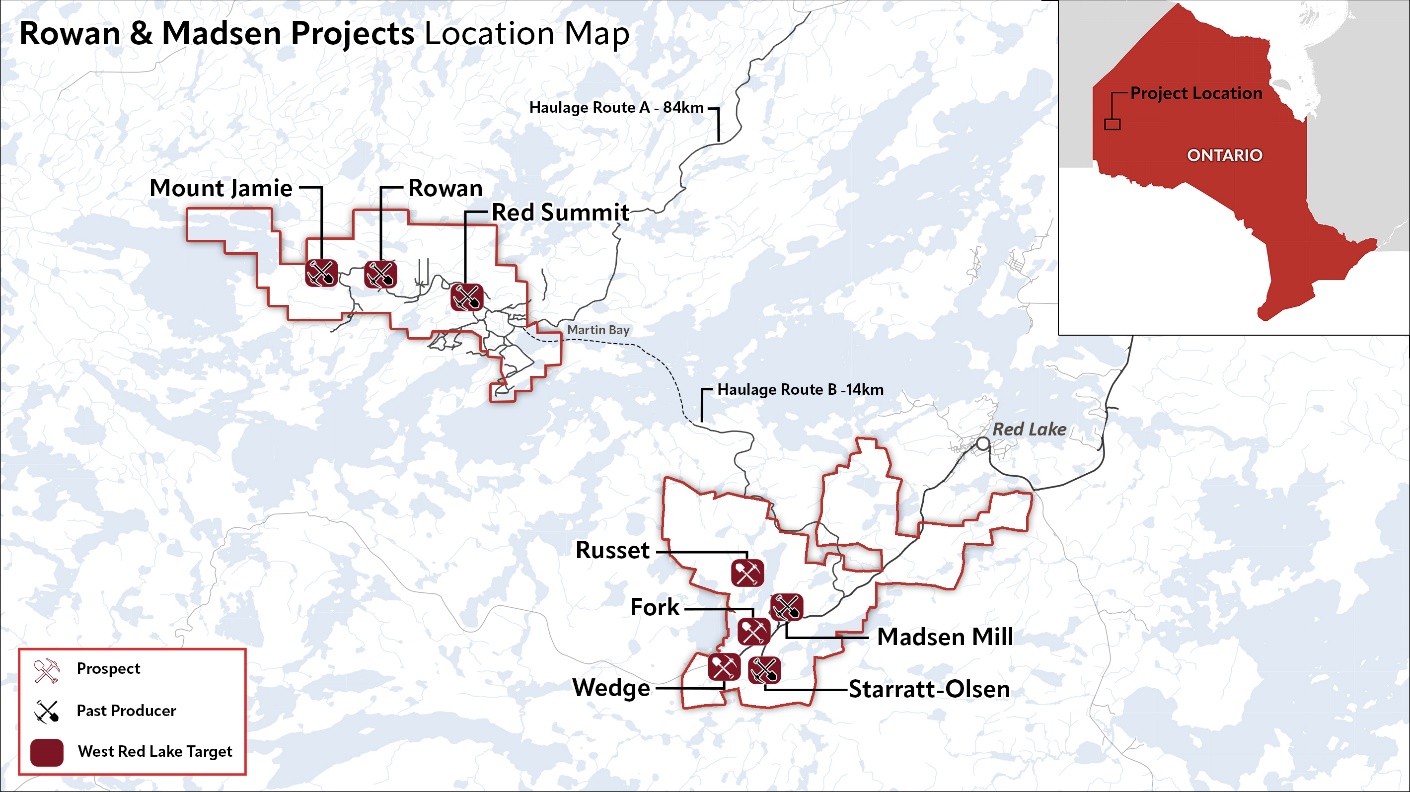 ON BEHALF OF WEST RED LAKE GOLD MINES LTD.
"Shane Williams"
Shane Williams
President & Chief Executive Officer
FOR FURTHER INFORMATION, PLEASE CONTACT:
Amandip Singh, VP Corporate Development
Tel: 416-203-9181
Email: investors@westredlakegold.com or visit the Company's website at https://www.westredlakegold.com
Neither the TSX Venture Exchange nor its Regulation Services Provider (as that term is defined in the policies of the TSX Venture Exchange) accepts responsibility for the adequacy or accuracy of this release.
Certain statements contained in this news release constitute "forward-looking statements". When used in this document, the words "anticipated", "expect", "estimated", "forecast", "planned", and similar expressions are intended to identify forward-looking statements or information. These statements are based on current expectations of management, however, they are subject to known and unknown risks, uncertainties and other factors that may cause actual results to differ materially from the forward-looking statements in this news release. Readers are cautioned not to place undue reliance on these statements. West Red Lake Gold Mines Ltd. does not undertake any obligation to revise or update any forward- looking statements as a result of new information, future events or otherwise after the date hereof, except as required by securities laws.
The forward-looking statements contained in this press release are based on certain key expectations and assumptions made by the Company, including expectations and assumptions concerning: receipt of the necessary approvals, permits and access to and sufficiency of capital. Readers are cautioned that the foregoing list is not exhaustive of all factors and assumptions which have been used.
Although the Company believes that the expectations and assumptions on which the forward-looking statements are based are reasonable, undue reliance should not be placed on the forward-looking statements because the Company can give no assurance that they will prove to be correct. Since forward-looking statements address future events and conditions, by their very nature they involve inherent risks and uncertainties. Actual results could differ materially from those currently anticipated due to a number of factors and risks. These include, but are not limited to constraint in the availability of services, commodity price and exchange rate fluctuations, changes in legislation impacting the mining industry, adverse weather conditions and uncertainties resulting from potential delays or changes in plans with respect to projects or capital expenditures. These and other risks are set out in more detail in the Company's Management's Discussion and Analysis for the quarter ended May 31, 2023.
1 Mineral resources are estimated at a cut-off grade of 3.38 g/t Au and a gold price of US$1,800/oz. Please refer to the technical report entitled "Independent NI 43-101 Technical Report and Updated Mineral Resource Estimate for the PureGold Mine, Canada", prepared by SRK Consulting (Canada) Inc. and dated June 16, 2023. A full copy of the SRK report is available on the Company's website and on SEDAR.
2 http://www.geologyontario.mndm.gov.on.ca/mndmfiles/mdi/data/records/MDI52K13NW00011.html
A photo accompanying this announcement is available at https://www.globenewswire.com/NewsRoom/AttachmentNg/6df9da38-b1d2-451f-ac2e-a6c0f88459a8