LST Optimizer Mainnet Launch - Upgrading Ethereum Liquid Staking
Ethereum Liquid Staking has a New Protocol, Blockswap's LST Optimizer. Now Everyone has Access to the Optimized Liquid Staking Token, kETH.
SAN FRANCISCO, Sept. 26, 2023 (GLOBE NEWSWIRE) --
Blockswap released a new protocol to mainnet called the LST Optimizer. 
On the release it will accept dETH, rETH, and stETH. 
Blockswap Network, a pioneer in the Ethereum staking ecosystem, unveils another ground-breaking innovation with the Mainnet release of the LST Optimizer - a protocol producing an ERC-20 token backed by ETH Liquid Staking Tokens (LST) deposits. Acting as a sophisticated token, kETH accepts a variety of LST assets, setting a target yield for kETH holders. This multi-vault protocol provides users and protocols a new primitive asset for wider Ethereum adoption.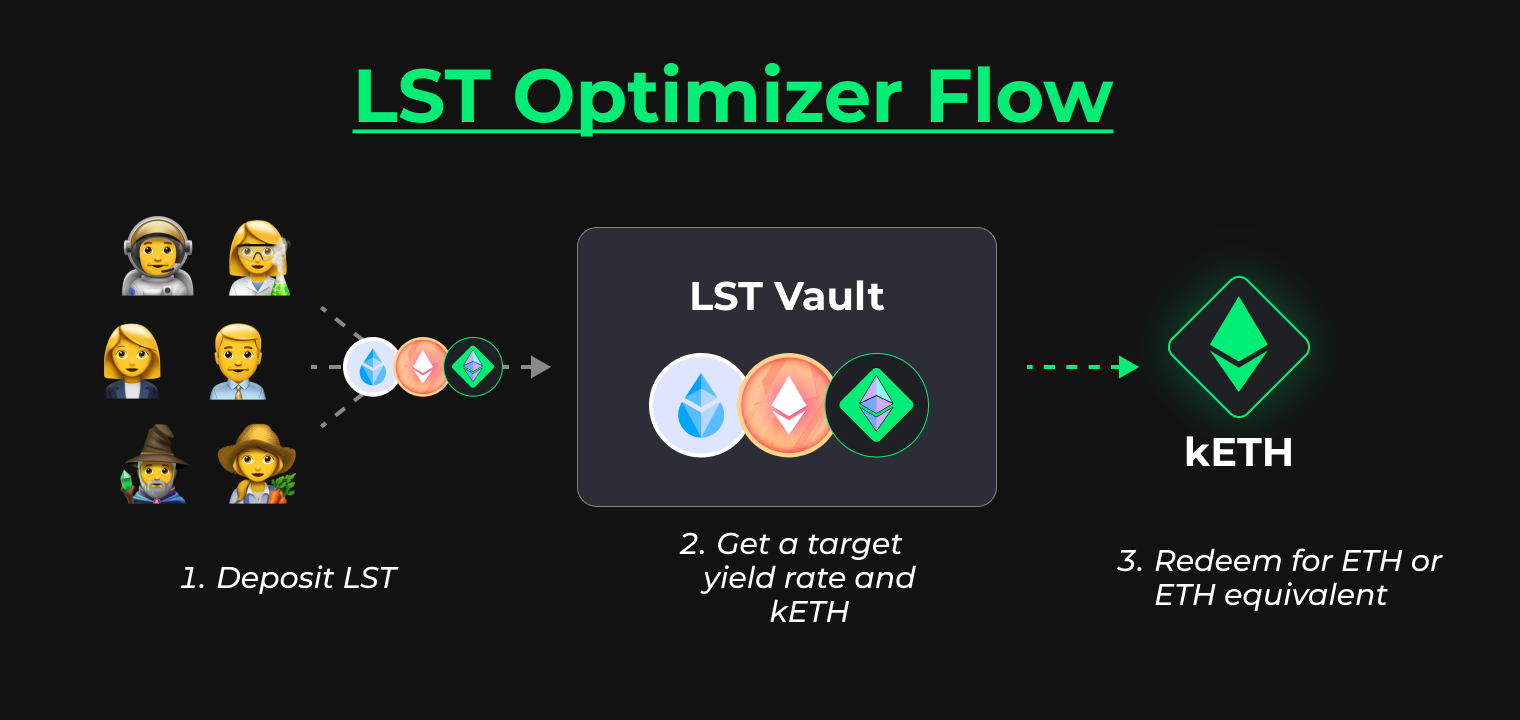 LSTs in Ethereum represent a significant advancement in decentralized finance (DeFi). LSTs offer a flexible, tradable representation of staked ETH freely circulating within the DeFi space, changing how Ethereum staking is approached by investors, holders, and developers.
kETH is the logical evolution of liquid staking and uses the Stakehouse protocol's Ethereum staking operating system. Stakehouse unlocks the ability for validators to be curated into (and out of) indexes to get high and consistent yield. With dETH's ability to yield 33% higher than the Ethereum staking rewards rate and ability to curate validators, it is the perfect asset for use in every LST basket.
The kETH LST vault auto curates the highest yielding validators available through Stakehouse to maintain a high target rate. It currently accepts stETH, rETH, and dETH. The best part is that kETH extends the cryptographic guarantees of dETH to stETH and rETH holders. No oracle is required because it allows for ETH redemption like wETH. 
The LST Optimizer dApp is a remarkable platform that allows users to deposit LSTs. The LST Optimizer enables kETH holders to stake their kETH to earn BSN rewards on top of their kETH yield.
The launch signals a paradigm shift in the Ethereum staking ecosystem, offering unprecedented flexibility, yield optimization, and risk mitigation to ETH stakers. Blockswap invites users to delve into these innovative offerings. The dawn of a new era in Ethereum staking is here, all thanks to the pioneering efforts of Blockswap. Follow Blockswap on Twitter to stay up to date with all the important details.
About Blockswap Labs
Blockswap Labs is a research and development firm. As core contributors to Restaking Cloud, Blockswap Network, and Proof of Neutrality Network, Blockswap Labs is building permissionless middle layers and catalyzing web3 development through credibly neutral public benefit infrastructure.

Derek Rickert
Director of Commercials
Blockswap Labs
stakehouse at blockswap.xyz