Westhaven Drills 17.61 g/t Gold Over 3.68 Metres, Including 27.6 g/t Gold Over 1.65 Metres; the Highest-Grade Gold Intercept Off Zone One Trend
VANCOUVER, British Columbia, Sept. 25, 2023 (GLOBE NEWSWIRE) -- Westhaven Gold Corp. (TSX-V:WHN) is pleased to provide an exploration update on its 17,623-hectare Shovelnose gold property. Shovelnose is located within the prospective Spences Bridge Gold Belt (SBGB), which borders the Coquihalla Highway 30 kilometres south of Merritt, British Columbia.

Highlights from the ongoing program include:
MIK hole SN23-360 intersected 3.68 metres (m) of 17.61 g/t gold (Au) and 31.49 g/t silver (Ag), including 1.65m of 27.6 g/t Au. Five drill holes from MIK are pending assays.
MIK hole SN23-362 intersected 2.44m of 3.43 g/t gold and 15.65 g/t silver, including 0.44m of 12.9 g/t Au and 73.2 g/t Ag.
Drilling at the Hydrothermal Breccia 2 (HBX2) extended the known mineralization by 180m, intersecting 5.51m of 0.58 g/t Au and 0.49 g/t Ag, including 1.5 g/t Au over 1.0m.
23 silt samples collected have assays over 100 ppb gold (Au), including 1985 ppb Au, 1440 ppb Au, 871 ppb Au, 328 ppb Au, 282 ppb Au.
Recent prospecting, approximately 3 kilometres (km) southeast of the South Zone (please see map below for location), has uncovered a showing of tuff containing fragments of hydrothermal quartz, within 150m of a gold soil anomaly. Grab sample assays are pending.

Gareth Thomas, President & CEO, states: "Drilling the highest-grade gold intercept (17.61 g/t gold over 3.68 metres, including 27.6 g/t gold over 1.65 metres) off the main Zone One Trend that hosts all the major discoveries since late 2018 adds to our conviction that the large and underexplored Shovelnose Gold Property has a lot more discoveries to be made. Not only has this additional drilling improved our understanding of the MIK target area, but it has also opened up a highly prospective area that warrants further follow up drilling in the near term." Thomas goes on to add, "Our technical team has been prospecting, mapping and sampling underexplored areas on Shovelnose where new showings have been discovered, including a hydrothermal outcrop approximately 3kms southeast of the South Zone along strike. We look forward to further defining these new targets with the goal to drill test them soon."
Peter Fischl, Exploration Manager, states: "Follow-up drilling of a historic drill hole intersection of 6.21 g/t Au over 0.4m (Hole 11-SH-03) at the MIK showing has now traced a north trending, moderately west dipping vein zone, over a strike-length of 120m as present in all eight drill holes. The zone comes within 150m of Zone One Trend, and it remains open to the north and south. The gap between MIK and the Zone One Trend is now viewed as an area prospective for additional near surface vein-hosted gold mineralization."
Drill Program:
Westhaven is reporting assays for 23 holes from its fully financed, ongoing drill campaign at Shovelnose. An additional 13 holes are in the lab pending assays. Recent drilling (please see the map below) has focused on newly generated, periphery targets that are off the 4-kilometre Zone One Trend.
MIK Target
In addition to testing new targets and supported by an improved understanding of controls on vein emplacement, Westhaven has been re-evaluating historic drill results on the Shovelnose Property. Drill testing has led to the identification of a shallow moderately west dipping vein system returning an initial result of 17.61g/t over 3.68m (hole SN23-360; as reported herein). The vein system was intersected in all eight new holes drilled at MIK and extends over a strike length of approximately 120m and is open to both the north and south.
Hydrothermal Breccia No.2 Target
The Hydrothermal Breccia No. 2 target was drilled this year to follow-up the initial drilling of last year that returned up to 3.28 g/t Au over 0.92m (SN22-249). Three of the four holes encountered quartz veining similar to the gold bearing vein zones encountered last year. This year's drilling has extended a zone of quartz veining southward from hole SN22-257 (1.39 g/t Au over 1.2m and 1.23 g/t Au over 6.0m) for a strike length of 180m to holes SN23-341 (0.58 g/t Au over 5.51m) and SN23-342 (0.96 g/t Au over 0.92m). Veining occurs along a north-northwest trending, moderate to steep southwest dipping structural contact between the overlying Spences Bridge Group volcanics and underlying quartz veined granodiorite basement (Nicola Group). This zone remains open to the north and south.
Franz Zone
To complement previously completed drilling at the Franz Zone, establish a mineral resource and to potentially facilitate the collection of a larger surface sample at the 165m long vein system, detailed geological mapping (press release May 21, 2023) has been completed. The mapping was used to guide the initial systematic acquisition of some 91 surface samples from the outcrop. Samples were collected by hand drilling ~30cm deep holes at 1m intervals on four lines (15 to 25m length) that profile the eastern outcrop exposure and represent an area of ~240m2. Analytical results are pending but limited past surface grab sampling at the time of discovery returned up to 51.1 g/t gold (press release August 26, 2020). Recent exploration drilling at the Franz showing returned 39.42 g/t gold over 12.0m (SN22-333) and 14.66 g/t gold over 24.95m in hole SN23-337 (press release May 21, 2023). Next steps at Franz would potentially be surface sampling of the western outcrop exposure, additional shallow delineation drilling and preliminary metallurgical test work.
Kirton Target
Twelve holes were drilled on the Kirton Target 2km southwest of Vein Zone 1 on the western portion of the Shovelnose property. Geological mapping of outcrops and historic trenches uncovered several showings of quartz veining and hydrothermal brecciation that were tested by drilling, including the Brookmere East / YJ Vein, a prominent zone of veining that has been traced northwest for 200m in outcrop. Drilling successfully intersected quartz veining down-dip from surface exposures, though no significant gold results were returned.
Odlum Target
Five holes were drilled on two northeast directed profiles at the Odlum target in the central part of the Shovelnose property. These holes tested two prominent northwest trending magnetic lows with coincident anomalous arsenic and gold soil geochemistry. One hole intersected a zone of quartz veining on the Hydrothermal Breccia No. 7 target over a 20m width, though no significant gold results were returned.
For a table of recent results please click here: http://www.westhavengold.com/_resources/shovelnose/Shovelnose-Drilling-Assay-Summary-May-2023.pdf?v=0.269
Silt Sampling Program:
Westhaven has collected sediment samples from 268 sites throughout the property, which have returned many anomalous gold results, as shown on the map below. Strong responses are evident in streams draining known mineralization associated with the recently released South Zone underground PEA I (see Press Release dated July 18th, 2023). There are prominent stream sediment anomalies situated to the east and southeast of the vein system that has yet to be drill tested to date, and that cannot be explained by any known gold occurrences. They are neither downstream, nor down-ice, and therefore suggest the presence of further low-sulphidation epithermal gold-silver mineralization on the property. Systematic soil sampling results support and enhance the stream sediment anomalies. Westhaven is currently following up on these results with prospecting, mapping and rock sampling. Several gold bearing quartz float boulders have been discovered (up to 0.5g/t gold) but the bedrock source has not been identified. Close to 700 rock samples have been collected from specific areas of interest in 2023, as well as regionally throughout the property, and additional assays are pending.
Archaeological, Cultural and Heritage Surveys:
In collaboration with local First Nation groups and consultants, Westhaven continues its ongoing Preliminary Field Reconnaissance (PFR) and Heritage Field Reconnaissance (HFR) studies. PFRs and HFRs are completed prior to any ground disturbance to assist in locating sites of potential cultural and/or historical value so they can be avoided. In 2023 alone, over 250 PFR/HFR sites have been completed on Westhaven's properties within the Spences Bridge Gold Belt, with the majority taking place on its flagship Shovelnose property.
Environmental Baseline Property (Environmental Assessment):
Westhaven is in its 3rd year of environmental baseline assessment. The purpose of this program is to support future permitting on the property with a focus on multi-year programs. Westhaven is committed to transparent, ongoing consultation with local First Nations and surrounding communities, and providing the environmental baseline reports and findings with concerned parties helps to ensure a responsible and ethical path forward.
On behalf of the Board of Directors
WESTHAVEN GOLD CORP.

"Gareth Thomas"

Gareth Thomas, President, CEO & Director
Qualified Person Statement
Peter Fischl, P.Geo., who is a Qualified Person within the context of National Instrument 43-101 has read and takes responsibility for this release.
QA/QC
Core samples were prepared using the PREP-31 package in ALS's Kamloops facility. Each core sample is crushed to better than 70 % passing a 2 mm (Tyler 9 mesh, US Std. No.10) screen. A split of 250 g is taken and pulverized to better than 85 % passing a 75-micron (Tyler 200 mesh, US Std. No. 200) screen. 0.75g of this pulverized split is digested by Four Acid and analyzed via ICP-MS (method code ME-MS61m (+Hg)), which reports a 49-element suite of elements. All samples are analyzed by Fire Assay with an AES finish, method code Au-ICP21 (30g sample size). Additional Au screening is performed using ALS's Au-SCR24 method, select samples are dry screened to 100 microns. A duplicate 50g fire assay is conducted on the undersized fraction as well as an assay on the entire oversize fraction. Total Au content, individual assays and weight fractions are reported. All analytical and assay procedures are conducted in ALS's North Vancouver facility. A QA/QC program included laboratory and field standards inserted every 25 samples. At least one field blank is inserted in every batch of 25 samples, with additional blanks inserted following samples with visible gold. Westhaven's ongoing Quality Assurance and Quality Control programs include auditing of all exploration data. Any significant changes will be reported when available.
Neither the TSX Venture Exchange nor its Regulation Services Provider (as that term is defined in the policies of the TSX Venture Exchange) accepts responsibility for the adequacy or accuracy of this release.
Westhaven has engaged the services of LFG Equities Corp. ("LFG") to provide digital media and marketing services. LFG, a Toronto based company, will provide content development, media buying and distribution, and marketing services through social media channels and online media placements to the Company. The Company and LFG act at arm's length, and LFG has no present interest, directly or indirectly, in the Company or its securities. Under the terms of the agreement, LFG will be paid $8,333 per month plus applicable taxes for a period of 3-months.
About Westhaven Gold Corp.
Westhaven is a gold-focused exploration company advancing the high-grade discovery on the Shovelnose project in Canada's newest gold district, the Spences Bridge Gold Belt. Westhaven controls 37,000 hectares (370 square kilometres) with four gold properties spread along this underexplored belt. The Shovelnose property is situated off a major highway, near power, rail, large producing mines, and within commuting distance from the city of Merritt, which translates into low-cost exploration. Westhaven trades on the TSX Venture Exchange under the ticker symbol WHN. For further information, please call 604-681-5558 or visit Westhaven's website at www.westhavengold.com.
Plan Map of Recent Drilling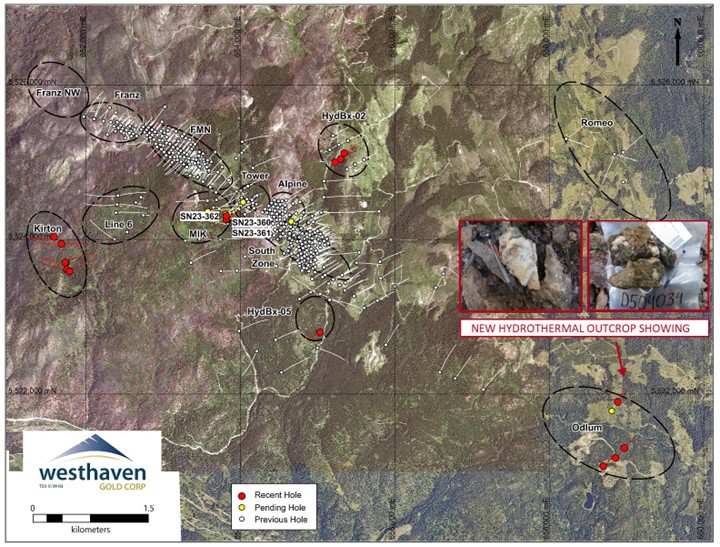 Zoomed in Map of MIK Drilling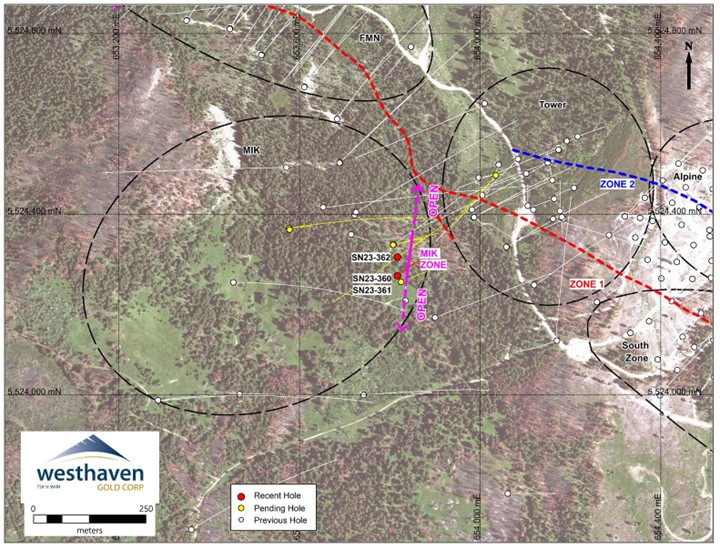 Silt Sample Assay Map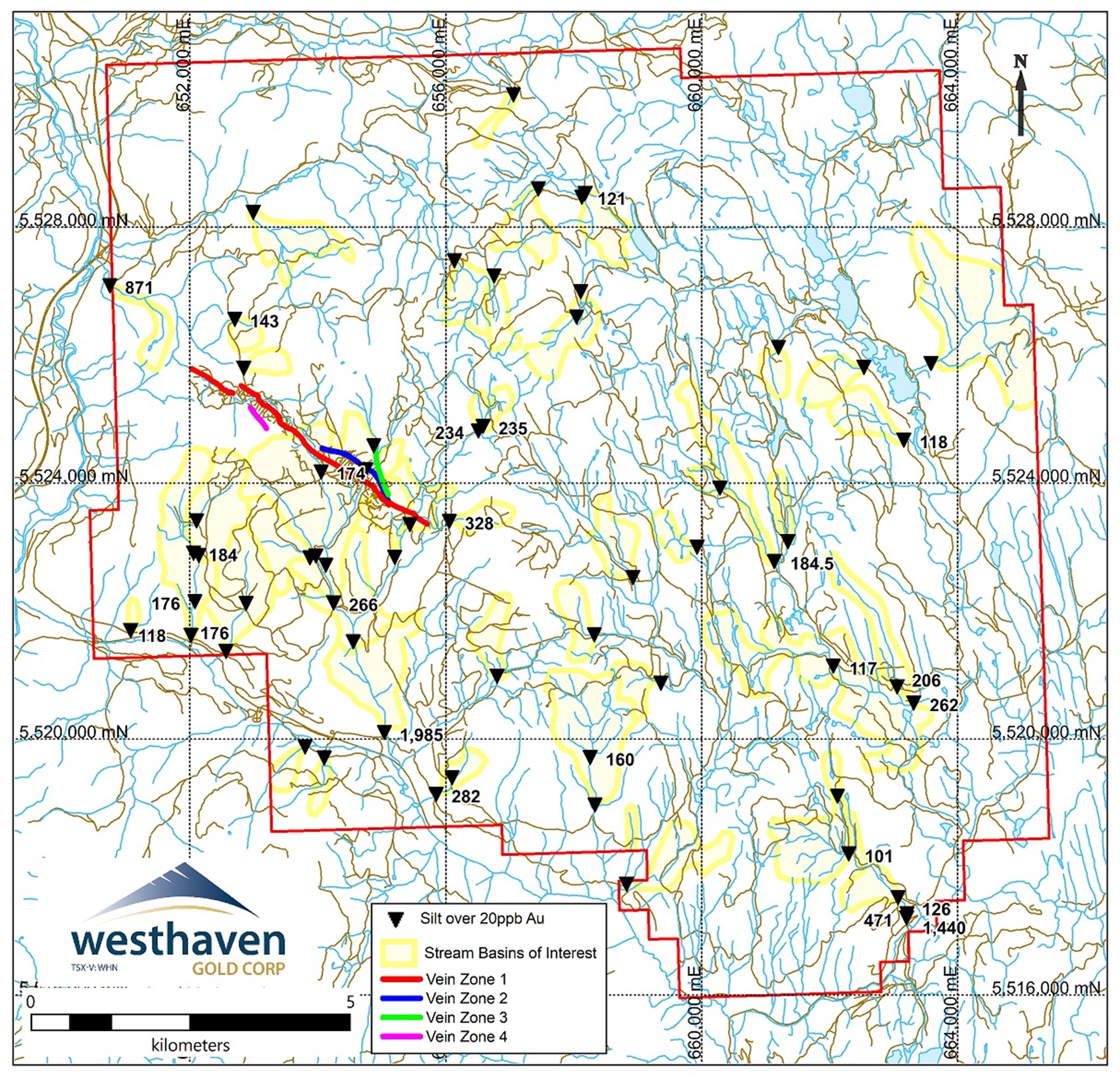 Field Work Map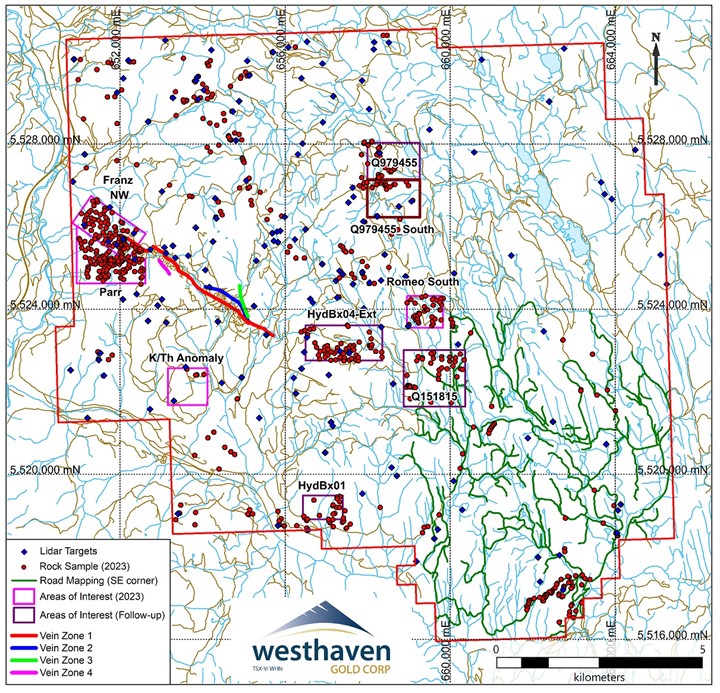 Maps accompanying this announcement are available at:
https://www.globenewswire.com/NewsRoom/AttachmentNg/ff598245-27ac-49e7-8c56-68d7e43e339d
https://www.globenewswire.com/NewsRoom/AttachmentNg/04644700-3ae2-4c4e-a67c-79cd5841d19c
https://www.globenewswire.com/NewsRoom/AttachmentNg/60fabbc9-0853-48f3-80e7-0e193fce1b22
https://www.globenewswire.com/NewsRoom/AttachmentNg/cb864cb0-6555-4b15-9c46-04134eed6752