Modularization Market to Reach USD 14.9 Billion - Top Players as Fluor Corporation, SHV Holdings N.V. and L&T Limited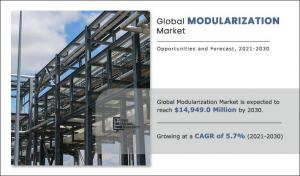 global modularization market size was $9,556.0 million in 2020, and is expected to reach $14,949.0 million by 2030, with a CAGR of 5.7%
PORTLAND, OREGON, UNITED STATES, September 21, 2023/EINPresswire.com/ -- According to a new report published by Allied Market Research, titled, "Global Modularization Market by Service, Material, and End User Industry: Global Opportunity Analysis and Industry Forecast, 2021–2030," the global modularization market size accounted for $9.5 billion in 2020, and is expected to reach $14.9 billion by 2030, registering a CAGR of 5.7% from 2021 to 2030. In 2020, Asia-Pacific dominated the market, in terms of revenue, accounting for about one-third share of the global modularization industry.
𝙂𝙚𝙩 𝙞𝙣𝙨𝙞𝙙𝙚 𝙎𝙘𝙤𝙤𝙥 𝙤𝙛 𝙩𝙝𝙚 𝙧𝙚𝙥𝙤𝙧𝙩, 𝙧𝙚𝙦𝙪𝙚𝙨𝙩 𝙛𝙤𝙧 𝙨𝙖𝙢𝙥𝙡𝙚: https://www.alliedmarketresearch.com/request-sample/12754
𝗠𝗮𝗿𝗸𝗲𝘁 𝗗𝘆𝗻𝗮𝗺𝗶𝗰𝘀
Moreover, rise in number of constructions of chemical and fertilizer industries is projected to boost the growth of the modularization market during the forecast period. For instance, Ruwais Refinery Complex – the grassroot refinery project (a chemical project) in the UAE, invested around $20 billion. The project will be completed by 2026.
𝗠𝗮𝗿𝗸𝗲𝘁 𝗦𝗶𝘇𝗲 𝗮𝗻𝗱 𝗙𝗼𝗿𝗲𝗰𝗮𝘀𝘁
Increase in drilling, and exploration activities for oil in the various countries such as Qatar, China, Japan, and others is expected to cater the growth of the market. In addition, factors such as surge in adoption of stainless-steel pipe, owing to its aesthetic look, robust, and long durable features, and rise in use of piping spools, pipe racks, and skids in end users such as petroleum and transport are anticipated to garner the growth of the global modularization market.
United Engineering Services LLC, TOCO, and United Gulf Pipe Manufacturing Co. LLC are some of the players engaged in offering products used in modular construction services, thus fueling the growth of the global modularization market.
For instance, TOCO based in Oman, deals in offering modules, skids, manifolds, pipe racks, pipe spools, pipe fabrication, and tank fabrication services. It provides fabrication services for oil & gas projects. On the contrary, huge capital investment and fluctuation in raw material prices are anticipated to hamper the growth of the global modularization market.
Due to COVID-19 pandemic situation, various manufacturers in the global modularization market had to shut down their business activities due to the lockdown initiated in countries such as the UAE, India, Brazil, and others. This break has directly impacted the sales of modularization companies globally. Also, lack of raw materials, disruption in supply chain, and lack of man power halted the supply chain of modularization products.
However, re-initiation of the modularization industry and availability of vaccines for coronavirus disease are projected to lead to the opening of the global modularization market at their full-scale capacities.
𝙈𝙖𝙠𝙚 𝙖 𝙋𝙪𝙧𝙘𝙝𝙖𝙨𝙚 𝙄𝙣𝙦𝙪𝙞𝙧𝙮: - https://www.alliedmarketresearch.com/purchase-enquiry/12754
𝗥𝗲𝗴𝗶𝗼𝗻𝗮𝗹 𝗢𝘂𝘁𝗹𝗼𝗼𝗸
Region wise, the global modularization market analysis is conducted across North America (the U.S., Canada, and Mexico), Europe (the UK, France, Germany, Italy, and Rest of Europe), Asia-Pacific (China, Japan, India, and Rest of Asia-Pacific), and LAMEA (Latin America, the Middle East, and Africa). In 2020, Asia-Pacific was the highest contributor to the global modularization market share, and is anticipated to secure a leading position during the forecast period.
The modularization market is segmented on the basis of service, material, end-user industry, and region. By service, the market is divided into prefabricated pipes (spools), process skid fabrication, process & pipe rack modules, and others. Prefabricated pipes (spools) segment generated the highest revenue in 2020. By material, the market is divided into stainless steel, carbon steel, alloy steel, and others.
Carbon steel segment dominated the market in 2020. By end user industry, the market is categorized into power plant, petroleum refineries, offshore, shipbuilding & marine, chemical & fertilizers, pharmaceuticals and others. Petroleum refineries segment generated the highest revenue in 2020.
𝗧𝗵𝗲 𝗞𝗲𝘆 𝗣𝗹𝗮𝘆𝗲𝗿𝘀
Fluor Corporation
SHV Holdings N.V. (Mammoet)
Arabian International Company for Steel Structures
Larsen & Toubro Limited (L & T Piping Center)
ENKA INSAAT VE SANAYI (CIMTAS PIPE FABRICATION AND TRADING CO. LTD.)
YENA ENGINEERING B.V.
PROSAIC STEEL AND ALLOYS
Metal Forge India
ChelPipe Group
Honeywell International Inc (Honeywell UOP)
𝙏𝙤 𝙋𝙪𝙧𝙘𝙝𝙖𝙨𝙚 𝙩𝙝𝙞𝙨 𝙋𝙧𝙚𝙢𝙞𝙪𝙢 𝙍𝙚𝙥𝙤𝙧𝙩: https://www.alliedmarketresearch.com/checkout-final/9c4dde013b1157ab0bf5e4acbed0f421
𝗔𝗻𝗮𝗹𝘆𝘀𝘁 𝗥𝗲𝘃𝗶𝗲𝘄 -
The modularization market is revolutionizing the construction and manufacturing industries by introducing speed, efficiency, cost savings, and sustainability. As businesses increasingly embrace modular construction methods, the market is poised for continued growth and innovation. By leveraging pre-fabricated modules, companies can gain a competitive edge and deliver projects faster, more cost-effectively, and with improved quality. The provided free PDF sample serves as a valuable resource for those interested in exploring the potential of modularization further and staying at the forefront of this transformative trend.
David Correa
Allied Analytics LLP
+1 800-792-5285
email us here
Visit us on social media:
Facebook
Twitter
LinkedIn