Waste Sorting Robots Market to Reach $10.1 Billion by 2031 | Clean Robotics, Tomra, Greyparrot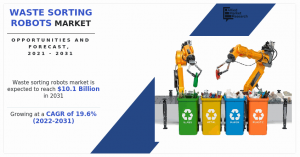 The Waste Sorting Robots market is growing at a CAGR of 19.6% by 2031
PORTLAND, OREGON, UNITED STATES, September 21, 2023/EINPresswire.com/ -- The Waste Sorting Robots Market are machines that sort out the various types of waste products and materials. The robot for waste management system is so designed that the robot that consists of two hands is capable of sorting 4000 selection per hour, which is more than the number of sorting a human can do. The use of sorting robot is very effective in waste management process. Rise in environmental related concerns to waste recycling is projected to cater to growth of the market.
The global waste sorting robots market size was valued at $1.7 billion in 2021 and is projected to reach $10.1 billion by 2031, growing at a CAGR of 19.6% from 2022 to 2031.
Download Sample PDF @ https://www.alliedmarketresearch.com/request-sample/8615
Top Leading Companies:
Machine Industries Inc., Zen Robotics Oy, Clean Robotics, Grey Parrot, AMP Robotics Corp., ABB Ltd., General Kinematics Corporation, Waste Robotics Inc., Tomra, Bolle Graaf Recycling Machinery.
Use of data analytics, sorting robots, and disposal of waste material & garbage monitoring systems to handle waste effectively are anticipated to propel growth of the market. However, high capital investments associated with waste sorting robots are anticipated to hamper waste sorting robots market growth. Technological advancements and the rise in adoption of sorting robots in developing countries are anticipated to provide lucrative opportunities.
Waste sorting robots are becoming increasingly customizable to fit the specific needs of waste sorting facilities. They can be easily integrated into existing systems and scaled up as requirements evolve. AI-powered robots collect vast amounts of data during the sorting process. This data is invaluable for optimizing waste management processes and making informed decisions. Conventional sorting methods, which largely rely on human labor, are simply unable to keep up with this influx.
Waste management is an ever-pressing global issue, with the increasing population and urbanization leading to a surge in waste production. Traditional waste sorting processes have proven to be inefficient, costly, and labor-intensive. Enter waste sorting robots, a groundbreaking solution that is transforming the waste management landscape. In this blog, we will explore the Waste Sorting Robots Market, its growth factors, benefits, and the impact it is having on the environment.
Buy This Research Report @ https://www.alliedmarketresearch.com/checkout-final/3e24eb644f68e90ed7108c60c78af718
Sorting waste manually is not only time-consuming but also hazardous to the health of workers. Exposure to toxic materials, sharp objects, and unhygienic conditions pose significant risks to human sorters. With finite resources and increasing environmental concerns, recycling has become a priority. Waste sorting robots play a crucial role in achieving recycling targets by efficiently separating recyclables from non-recyclables.
By diverting more recyclables from landfills, waste sorting robots help extend the lifespan of these disposal sites and reduce the environmental harm they cause. Sorting robots enable the extraction of valuable materials, such as metals and plastics, from the waste stream, reducing the need for virgin resources. Recycling materials requires less energy compared to manufacturing products from raw materials, leading to a reduction in greenhouse gas emissions.
The Waste Sorting Robots Market is booming as the world recognizes the urgent need for efficient waste management solutions. These robots offer a beacon of hope in a world struggling to cope with mounting waste. With advancements in technology and a growing commitment to environmental preservation, waste sorting robots are poised to play a pivotal role in a sustainable future. As the market continues to expand and evolve, it is clear that these robots are not just a trend but a necessary and transformative tool in the realm of waste management.
Regional Analysis:
The global Waste Sorting Robots Market analysis is conducted across North America (the U.S., Canada, and Mexico), Europe (UK, France, Germany, Italy, and rest of Europe), Asia-Pacific (China, Japan, India, South Korea, and rest of Asia-Pacific), and LAMEA (Latin America, the Middle East, and Africa). In 2020, Asia-Pacific was the highest contributor to the global Waste Sorting Robots Market share, and LAMEA is anticipated to secure a leading position during the forecast period.
Purchase Inquiry Before Buying @ https://www.alliedmarketresearch.com/purchase-enquiry/8615
David Correa
Allied Analytics LLP
+1 800-792-5285
email us here
Visit us on social media:
Facebook
Twitter
LinkedIn