How Cosmetic Dentistry Services at Royal East Dental Can Help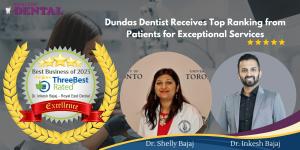 Best Reviewed Dentist in Dundas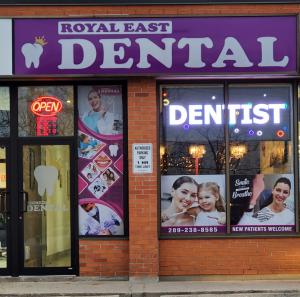 Royal East Dental Office
Three Best Rated Dentist in Dundas, Hamilton
DUNDAS, ONTARIO, CANADA, September 21, 2023 /
EINPresswire.com
/ -- The one who wears her smile like armor, not to protect herself but to inspire others, is truly a gem. Teeth are the vital cornerstone to building a great smile.
The cosmetic and esthetic aspects of dentistry have been around since time immemorial. Pre-historic artifacts show crude attempts to straighten teeth and replace missing teeth. Modern dentistry has come a long way since then, and today's cosmetic dentistry services are transformative, tech-savvy, premium, and virtually painless. Stay on as Royal East Dental take this opportunity to talk about the
best cosmetic dentistry in Dundas
, keeping in mind affordable dental care.
Looking To Transform Smiles with Cosmetic Dentistry Services?
Cosmetic dentistry is a fairly popular dental service today. Millions are attracted to the transformative power of cosmetic dentistry services. The market is also full of products that claim to magically sculpt smile overnight. Amidst all this, it's imperative to understand the real science of dental esthetics and how it can be customized.
Here are the key features of cosmetic dentistry in Dundas:
Tooth Bonding
The simplest and by far the most affordable dental care option in dental cosmetics is a dental bonding/tooth bonding, or composite filling.
Composites are moldable, tooth-colored filling materials that are bonded onto the unesthetic chips/cracks/gaps/cavities of the tooth. They come in innumerable colors, hues, and chromas to perfectly match the plethora of enamel shades. They are also available in different consistencies to replicate the translucency of natural teeth.
Be it minor gaps in the teeth or a minutely fractured tooth, tooth bonding can fix such issues.
Teeth Whitening
Whiter teeth are the world's most-coveted beauty hack. Irrespective of ethnicity or age, humans fancy their pearly whites. Dentistry today offers technologically advanced teeth whitening, also known as dental bleaching, that lightens the yellowish shade of natural teeth to make them shiny white.
From coffee stains to smoke marks, dental bleaching is effective in all conditions. It uses a bio-friendly, peroxide-based bleaching agent that churns out stubborn stains and discoloration to add that perfect glow to the teeth. Teeth whitening with dental lasers is an efficient spin-off of the treatment that can give highly promising results.
Dental Veneers
Veneers are paper-thin, ceramic shells that can be bonded onto the front surface of the teeth to camouflage issues like discolorations, gaps, chips, cracks, and malalignments.
The procedure to get dental veneers is virtually painless, as it requires minimal tooth shaping. Dental veneers are made of top-notch ceramics like zirconia or E-max and blend beautifully with the natural teeth, gums, and lip color.
Snap-on dental veneers are the latest trend in town that allows the sticking of ready-made veneers on the teeth before a social event to revamp the smile! They are removable and do not require prior preparation.
Teeth Aligners
Invisible aligners are the most discreet, esthetic, and comfortable way of straightening teeth today.
They have made adult orthodontic treatment a seamless reality! Unlike braces, aligners are soft, transparent resin trays that snugly fit around the teeth. They are free of wires and loops, work faster, and can be removed while eating food and brushing teeth.
Voila! With zero food restrictions and perfect oral hygiene, aligners are one of the best cosmetic dentistry services that can offer the
perfect smile makeover
with long-lasting outcomes.
Dental Crowns and Bridges
Prosthetic rehabilitation with dental crowns and bridges have stood the test of time. They are tooth-colored caps that circumferentially cover all surfaces of the tooth, protecting it firmly for longer periods of time.
Essentially made of different types of porcelain and ceramics like zirconia and lithium disilicate, dental crowns and bridges replace missing teeth, rehabilitating the smile and the chewing efficiency.
Dental crowns can either be natural tooth-supported or dental implant-supported. Dental implants are small titanium inserts that replace lost teeth permanently and last a lifetime. Implant crowns are the best prosthetic intervention that esthetic dentistry offers now!
Who is a Perfect Candidate for Smile Transformation?
Anyone unhappy with their smile can use cosmetic dentistry services. Here are a few situations that can be perfectly corrected with esthetic dental treatments:
Gaps in-between teeth
Chipped and fractured teeth
Crooked, malaligned dentition
Gummy smiles
Open bite
Deep bite
Crossbite
Missing teeth
Broken teeth
Teeth with extrinsic tea/coffee stains
Teeth with intrinsic stains by birth
Teeth with fluorosis stains
Tooth deformities from childhood
Any of the above conditions can be perfectly managed with cosmetic dentistry in no time!
Conclusion
When choosing a dental clinic, Dundas for cosmetic dentistry services, make sure to evaluate the accreditations of the cosmetic dentist, see before and after cosmetic transformation photos, and have a frank chat with him about needs and expectations from the treatment. Any
dentist in Dundas, ON
, will be happy to help all the residents and beyond on a smile transformation journey.
Inkesh Bajaj
Royal East Dental - Dundas
+1 289-769-0776
email us here
Visit us on social media:
Facebook
Twitter
LinkedIn
Instagram
TikTok