Bearden Chiropractor, Dr. Chris Talley, Relaunches as Innate Wellness in Bearden, TN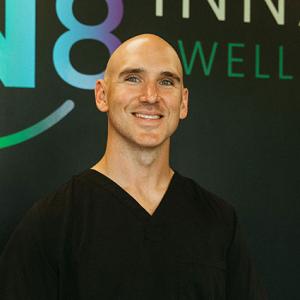 Dr. Chris Talley
Chiropractor giving adjustment in Bearden, TN
A view of the inside of Innate Wellness
Chiropractor, Dr. Chris Talley, relaunches as Innate Wellness in Bearden, TN, offering holistic chiropractic and therapy services.
The transition helps us in our desire to be your #1 advocate in long-term wellness. Whether you need chiropractic care, physiotherapy, ultrasound, or another treatment option."
— Dr. Chris Talley
KNOXVILLE, TN, UNITED STATES, September 20, 2023/
EINPresswire.com
/ -- Esteemed
Bearden chiropractor
, Dr. Chris Talley, announces the expansive relaunch of his practice under the fresh banner of
Innate Wellness
. This transformation embodies a renewed commitment to holistic health, offering a wide variety of treatments ranging from chiropractic services to
cold laser therapy
, physiotherapy, massage therapy, and ultrasound therapy.
While Innate Wellness heralds a new chapter, the practice stands firm on a foundation rich in history and dedication to East Tennessee. Dr. Talley, who was born and raised amid the stunning vistas of the region, has been at the forefront of chiropractic care in Knoxville for over seven years. A former standout athlete in both football and baseball at Alcoa High School, Dr. Talley extended his football prowess into college, playing for Rhodes College. His dedication to teamwork, sportsmanship, and excellence echoes in his chiropractic practice.
Driven by a passion for continual learning and excellence, Dr. Talley is not one to rest on his laurels. He invests significant time outside his practice to master the latest techniques and acquire certifications in chiropractic and holistic wellness. Among the many strings to his bow, Dr. Talley specializes in CrossFit training, extremity care, Rock Tape application, and functional movement training.
At Innate Wellness, the emphasis on a patient-centered technique is paramount. Recognizing that each individual is unique, with distinct health needs and wellness goals, Dr. Chris Talley and his team adopt a tailored approach that places the patient at the core of every treatment plan. From the initial consultation to ongoing care, the team ensures a holistic understanding of the patient's condition, lifestyle, and aspirations. This commitment to individualized care means that every session is designed not only to address immediate concerns but also to provide long-term strategies and solutions. By fostering an environment where patients feel heard, understood, and genuinely cared for, Innate Wellness ensures an optimal healing journey for all its practice members.
Speaking about the transition, Dr. Talley mentioned, "This shift to Innate Wellness is more than just a name change. It's a renewed promise to be your staunchest advocate for long-term wellness. Be it chiropractic adjustments, physiotherapy, ultrasound treatments, or any other therapeutic need, our doors are open, ensuring the highest quality of care for all."
Innate Wellness stands as a beacon of holistic health in Bearden, drawing upon years of expertise, community involvement, and an unwavering commitment to improving the lives of its patients.
For more details, testimonials, or to schedule an appointment with the region's leading chiropractic care provider, please reach out to Innate Wellness at
https://www.innateknox.com
.
Dr. Chris Talley
Innate Wellness
+1 865-240-4966
info@innateknox.com