CertiK Forges Partnership with CrossAngle (Xangle) to Elevate Web3 Security and Data Transparency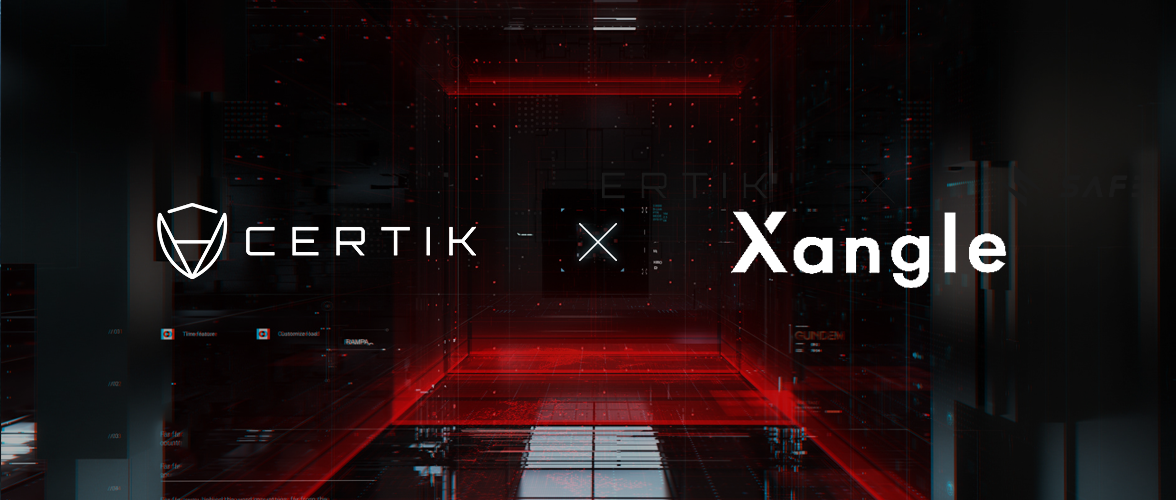 New York, Sept. 20, 2023 (GLOBE NEWSWIRE) --  CertiK, a leader in Web3 security and CrossAngle, the Web3 data intelligence provider behind the Xangle platform today announced a landmark strategic partnership to raise the standards of security and transparency across the Web3 ecosystem.
Through this partnership, CrossAngle will feature CertiK research reports on the Xangle platform, which is available in both English and Korean. These reports provide users with critical insights, deepening their understanding of the crypto landscape and supporting Web3 mass adoption
Additionally, CertiK will integrate Xangle's comprehensive API data, which encompasses market prices, weighted indices, project profiles, and research reports. In return, CertiK will offer Xangle access to security data from Skynet, an all-in-one security insights dashboard for over 10,000 Web3 platforms.
"We are thrilled to partner with Xangle, a leader in Web3 data analytics," said Jason Jiang, Chief Business Officer at CertiK. "This collaboration not only underscores our mutual commitment to enhancing security and transparency in the blockchain space but also paves the way for a more informed and secure Web3 ecosystem. Together, we aim to set new industry standards, ensuring that users and projects have access to the best resources and data-driven insights."
Jake Lim, Xangle's Chief Business Development Officer, also expressed his excitement:, "We are very pleased to establish this partnership with CertiK. We anticipate the synergy that it will create with Xangle's strong on-chain data analysis capabilities." He further believes that "the collaboration between Xangle and CertiK will contribute to advancing the ongoing mass adoption of Web3."
Both entities are committed to fostering a sustainable, reliable, and user-friendly Web3 ecosystem. This partnership underscores their mutual dedication to this vision, with a focus on data-driven insights and top-tier security.
About CertiK
CertiK is a pioneer in blockchain security, combining expert manual review with best-in-class AI technology to protect and monitor blockchain protocols and smart contracts. Founded in 2018 by professors from Yale University and Columbia University, CertiK's mission is to secure the web3 world. CertiK applies cutting-edge innovations from academia to enterprise, enabling mission-critical applications to scale with safety and correctness.
One of the fastest-growing and most trusted companies in blockchain security, CertiK is a true market leader. To date, CertiK has worked with nearly 4,000 enterprise clients, secured over $360 billion worth of digital assets, and has detected almost 70,000 vulnerabilities in blockchain code. Our clients include leading projects such as Aptos, Ripple, Sandbox, Polygon, BNB Chain, and TON.
​​CertiK is backed by InsightPartners, Sequoia, Tiger Global, Coatue Management, Lightspeed, Advent International, SoftBank, Hillhouse Capital, Goldman Sachs, Coinbase Ventures, Binance, Shunwei Capital, IDG Capital, Wing, Legend Star, Danhua Capital and other investors.
About CrossAngle
CrossAngle, the operator of the global Web3 data intelligence platform Xangle, has committed itself to resolving information asymmetry within the blockchain ecosystem and achieving mass adoption of Web3 since its founding in 2018. Over the years, CrossAngle has consistently released high-quality industry analysis reports with the goal of fostering a transparent and robust Web3 industry environment. The reports have earned recognition for their expertise and have been featured on prominent local and global crypto and financial information platforms, including Bloomberg Terminal, CoinMarketCap , Yonhap Infomax, and FnGuide.
In April 2022, Xangle achieved a significant milestone by securing a Series B investment from established traditional financial institutions, including KB Investment and Shinhan Capital Investment. Xangle has gained widespread recognition as a leading industry player in the Web3 industry, focusing on industry analysis and infrastructure provision. As part of its mission to promote Web3 adoption, Xangle is gearing up to launch two key products this year – "Explorer," designed for on-chain data search and analysis, and "Xangle Beacon," a comprehensive Web3 ERP solution.

Hari Govindarajan
PR & Comms Specialist, Luna PR
hari@lunapr.io