Autistic American Manga Creator, Ryan MacCarthy, Goes on National Tour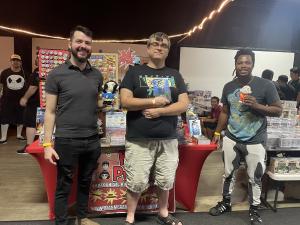 Ryan McCarthy at Little Lions Collectables promoting his manga Tamashi. He is joined alongside the Southern Senpais
The manga artist Ryan showcases volume 10 of his on going series "TAMASHI".
LOS ANGELES, CALIFORNIA, USA, September 17, 2023/EINPresswire.com/ -- Manga creator Ryan McCarthy has recently gone on a national tour with his manga, Tamashi. He will be appearing at several majors comic conventions around the nation. Tamashi has gained popularity in recent years and is taking the nation by storm. Originally an idea he had over 10 years ago, it now has multiple volumes, a card game and gained a large following.
His manga "Tamashi" has of thousands of views online and sold copies nationally in several different distribution platforms. He was recently interviewed by the Southern Senpais radio show, on KHTS 98.1 FM, about his recent volume at the Little Lion Collections. Southern Senpais is a radio show and podcast that focuses on reviewing anime and manga. Ryan's new volume, volume 10, is the latest addition to the series.
Ryan is originally from a small town in Massachusetts. Without much to do, Ryan grew up loving cartoons and art, with some of his biggest inspirations being "Ed, Edd and Eddie" and the anime "Zach Bell". Growing up with autism, Ryan faced many limitations. Many of them steaming from what people assumed he was able to do. Now, years later, he is a successful cartoonist with several published series including "RANDOM!" and "Student of the Underworld". He is inspiring other people with mental disabilities to not be limited to what other people may think of them. He is proving that with hard work anything is possible.
The manga "Tamashi" is an isekai about a girl who gets sent to another world called the Ancient Land. She wakes up with no memories and powers beyond her belief. She has to master her new abilities with the help of her friends if she ever wants to get home. "Tamashi", while a shonen, is a manga for all ages. This has helped it gain popularity among many young readers. "Tamashi" volume 10 is available in print on Amazon or can be read online at globalcomix.com.
Nicholas Killian
Film Center News
Info@filmcenternews.com