Navigating the Hidden Costs, Challenges, and Total Cost of Ownership of Generative AI Adoption in the Enterprise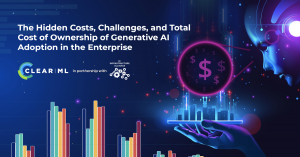 The Hidden Costs, Challenges, and Total Cost of Ownership of Generative AI Adoption in the Enterprise

New global Fortune 1000 survey reveals the profound gap between hyper-inflated expectations and the hard business reality
SAN FRANCISCO, CALIFORNIA, UNITED STATES, September 12, 2023/
EINPresswire.com
/ --
ClearML
, in partnership with the AI Infrastructure Alliance (AIIA), today announced it has published "The Hidden Costs, Challenges, and Total Cost of Ownership of Generative AI Adoption in the Enterprise,"
a new global survey
of Fortune 1000 companies and enterprises.
The extensive global survey delivers key insights into critical cost considerations, investment benchmarks, primary use cases, and pricing considerations and metrics through responses from 1,000 CDOs, CIOs, CDAOs, CTOs, and VPs of AI in charge of adopting and spearheading Generative AI transformation in Fortune 1000 companies and enterprises.
"In this new report, we unpack how Gen AI leaders are navigating the uncharted territory of hidden running and variable costs and explore how global companies plan to balance their AI investments with expected outcomes," said Moses Guttmann, Co-founder and CEO of ClearML. "Our findings show that it is essential for organizations and AI leadership to develop an effective, strategic approach to calculating, forecasting, and controlling costs tailored to their own organization and its unique business use cases."
Download your copy here:
https://go.clear.ml/the_hidden_costs_challenges_and_tco_of_gen_ai_adoption
Key Findings
Based on survey answers, we found that most respondents believe their Gen AI costs are centered around model development, training, and systems infrastructure (e.g., the costs associated with how a model works – human capital, the tools and systems to run it, and the app/UI for users). Unfortunately, the reality is a lot more complex. We believe respondents might be underestimating critical hidden costs, for example, how messy data can be and the heavy lifting needed for data prep. This is echoed by a shockingly low 8% of respondents who are thinking about running costs, which we expect is going to be a huge surprise for them given its pivotal impact on TCO as a pricey cost driver.
Nearly every respondent (91%) plans to resource or staff in-house to support future Gen AI efforts. That requires some serious cost considerations for how they are budgeting going forward and how to be most efficient using their budgets year-over-year. It's interesting that 21% of respondents want to use their existing team, which means finding more ways to scale themselves efficiently to do more with less -- or just produce fewer models.
While 82% of respondents are considering 4-9 Generative AI use cases for their organization with expected number of end users ranging from 501-5,000, an alarmingly low 20% of respondents have allocated an annual budget of more than $2 million. That is worrying, as according to ClearML's TCO calculator, the first year of training, fine-tuning, and serving a model for 3,000 employees hovers around $1 million (depending on data corpus and use case) using an in-house team, with future economies of scale possible through shared compute usage.
50% of respondents said that they will try to find savings through economies of scale. However, achieving economies of scale through AI as a Service is virtually impossible because the price to use the service increases linearly with usage.
Another concern that highlights the gap between hyped vision and reality is the willingness to give employees access to Gen AI, which will lead to spiraling costs that may catch organizations unawares. Underestimating costs as usage goes up is a common theme in this report.
"Enterprises are betting big on Gen AI, but it's going to take time to see the best strategy play out. Should teams stack talent in house or go with outside platforms and resources? It will be a battle to get the best talent with all these companies looking to weave AI into everything they do. But one thing is for sure, big companies are looking to transform the way they do business in a shift that looks to be as big as the internet and the digital transformation," said Daniel Jeffries, Managing Director of the AI Infrastructure Alliance.
The bottom line is that organizations of all sizes seem ill-prepared to scale Generative AI. While they recognize running costs are high, they are not accounting for them in their forecasts and estimations of cost drivers. We believe organizations need to better align their Generative AI strategy with their business goals and operating budgets and allocate the necessary resources and governance in order to bridge the gap between their vision and reality.
Download the report now to discover just how astoundingly difficult it is for AI leaders to predict the future hidden costs of Gen AI for their business:
https://go.clear.ml/the_hidden_costs_challenges_and_tco_of_gen_ai_adoption
About AIIA
The AI Infrastructure Alliance is dedicated to bringing together the essential building blocks for the Artificial Intelligence applications of today and tomorrow. The Alliance and its members bring striking clarity to this quickly developing field by highlighting the strongest platforms and showing how different components of a complete enterprise machine-learning stack can and should interoperate. They deliver essential reports and research, virtual events packed with fantastic speakers, and visual graphics that make sense of an ever-changing landscape. To learn more, visit
https://ai-infrastructure.org/
.
About ClearML
ClearML is used by more than 1,300 enterprise customers to develop a highly repeatable process for their end-to-end AI model lifecycle, from product feature exploration to model deployment and monitoring in production. Use all of our modules for a complete ecosystem or plug in and play with the tools you have. ClearML is trusted by more than 150,000 forward-thinking Data Scientists, Data Engineers, ML Engineers, DevOps, Product Managers and business unit decision makers at leading Fortune 500 companies, enterprises, academia, and innovative start-ups worldwide. To learn more, visit the company's website at
https://clear.ml
.
Noam Harel
ClearML
email us here
Visit us on social media:
Twitter
LinkedIn
YouTube