SOUTH AFRICAN TELECOMS CUSTOMERS ONLY PREPARED TO WAIT 5 MIN FOR HELP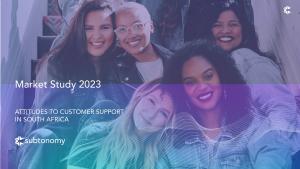 Market Study: Customer Attitudes to Support in South Africa 2023
Subtonomy logotype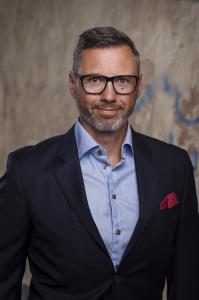 Fredrik Edwall - SVP Sales & Marketing Subtonomy
STOCKHOLM, SWEDEN, September 12, 2023/
EINPresswire.com
/ -- SUBTONOMY, the world's leading telecoms technical customer support vendor, today reveals new research on the South African market, providing key insights into the online habits and customer support expectations of South Africans.
South Africans are spending increasing amounts of time online
The global wave of increased digitalisation hasn't bypassed Southern Africa. As internet access has grown, and smartphone penetration increased, its youthful population and rapid urbanization have emerged as strong drivers of increased digitalisation. According to a recent ProxyRack report, for example, the average South African now spends 9 hours and 38 minutes online each day – making them the world's heaviest internet users.
When they get online, South Africans quickly adopt similar behaviors to those seen in mature Western European markets.
Subtonomy's study reveals, for example, that:
• 97% are using at least one social media platform
• 88% are watching the latest movies or streaming TV
• 86% are paying bills or reading news online
• 74% are using their mobiles to work from home or to access video conferencing apps
• 56% are gaming on their handsets
• 28% are controlling smart home applications.
South Africans' experience of using these services isn't always good though, with 7 in 10 saying it's continually disrupted. This is because in addition to having to manage planned engineering, the effects of more demanding traffic (such as video), and millions of new users, South African operators face challenges not experienced in Europe, such as
frequent electricity outages
(known as 'load shedding'), which sees customers unable to access parts of the network (sometimes for hours at a time).
Excellent customer support has become a critical decision point for customers
South Africans don't necessarily blame their service provider – indeed 8 out of 10 say they're doing a great job supporting them – but disruptions to their service have become such a significant issue that the quality of customer support is seen as a key decision point when selecting which network to use.
But what does excellent customer service look like to the average South African? Increasingly, they expect it to be fast, convenient, proactive and digital.
• FAST – 53% of customers say they're only prepared to wait a maximum of 5 minutes to access service.
• CONVENIENT – 39% of customers expect round-the-clock support, and in the 50-54 demographic this rises to 56% of customers.
• PROACTIVE – 94% of customers say they'd like to be notified about planned maintenance ahead of time, so they can take mitigation actions, and want to be notified in real time about any outages.
• DIGITAL – although 51% of customers are resolving their problems via the call centre, 30% said digital self-service is now their preferred support channel, and a further 56% said they'd choose self-service via their mobile app IF their service provider could troubleshoot and fully resolve problems from within the app.  
It's Gen X leading the demand for digital care
One of the surprising findings of this study was that the most demanding South African customers are not digitally savvy Gen Zs like in Europe, but those in their 40s and 50s. For example, 66% of 50-54 year olds expect to access customer support in less than five minutes, and 56% expect support to be available whenever it suits them. The highest proportion of customers dissatisfied with their service provider's current customer support offering (11%) is also found in this age group. This is because it's these customers who can afford smartphones and to utilize advanced data services in what is predominantly a prepaid market, and therefore need and expect good quality support.
Fast, convenient, proactive, digital support is available today
"All networks experience both planned and unplanned problems at one time or another," explains Fredrik Edwall, EVP Sales & Marketing, Subtonomy. "But what differentiates service providers is the ability to rapidly pinpoint exactly what's causing their customer's problem and then quickly resolve it, while at the same time keeping the customer informed and updated throughout."
The good news for South African operators and their customers is that fast, convenient, proactive and precise digital support has already been developed, tried and tested in the advanced mobile markets of Scandinavia. "Our technology is not only rapidly deployable to support Southern Africa's current and future customer support needs, but it can begin driving down support costs in a matter of weeks, while delivering a world-class digital support experience to customers," notes Edwall.
ABOUT SUBTONOMY
As the only telecoms vendor dedicated to technical customer support, Subtonomy isn't just a solution, we're at the forefront of a customer experience revolution – blending cutting-edge technology with user-friendly tools to break down barriers, streamline and future-proof telecom operators' businesses.
• When precision matters our solutions dive deep, revealing detailed service experiences and addressing current needs while preparing for the dynamic telecoms market of tomorrow.
• Harnessing automation to meet customer expectations via Subtonomy's Self-Service API which helps enhance every digital touchpoint, with effortless but complex troubleshooting thrown in.
• When shifting from reactivity to proactivity our advanced tech support solutions mean you're not just acting faster, but reaching out proactively to keep customers informed via mobile app, website, or IVR.
To find out more about how Subtonomy is reshaping customer support and helping deliver stellar customer experiences today see Subtonomy's website.
Click here to download a full copy of Market Study 2023: Customer Attitudes
to Support in South Africa.
Or contact Tina Rosén to set up an interview: tina.rosen@subtonomy.com
Tina Rosén
Subtonomy
tina.rosen@subtonomy.com